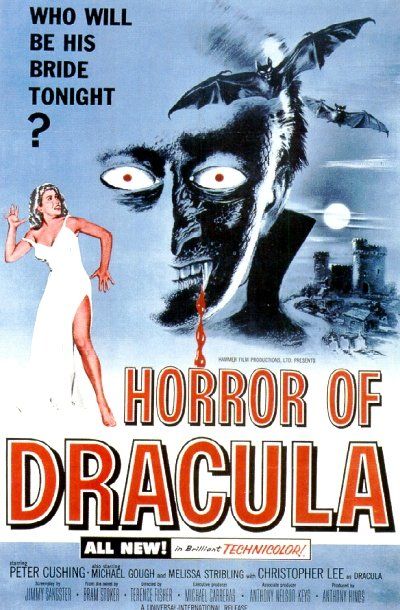 Horror of Dracula
1958
Director:
Terence Fisher
Starring:
Christopher Lee, Peter Cushing, Michael Gough
Vampire myth and legend has been squarely in the public consciousness for more than a century. While Bram Stoker's novel
Dracula
was hardly the first incidence of vampires in fiction, it was perhaps the most successful, and with such recent additions as *shudder*
Twilight
and
Abraham Lincoln: Vampire Hunter
, vampires still continue to fascinate, whether they sparkle or no. In the 1950s, possibly the most iconic vampire film comes from the fabled Hammer studio of England,
Horror of Dracula
.
Inspired by but hardly faithful to Bram Stoker's original novel, the movie tells the story of first Jonathan Harker (John Van Eyssen) and then Van Helsing (Cushing) as they track and stalk the vampire Count Dracula (Lee). Harker tries his hand at destroying Dracula by going out to the Count's castle on his own, but he is quickly overcome by the Count and his female underling. We then cut back to Harker's fiancée Lucy, who is sickly because she too is being haunted by the Count. Van Helsing explains to Lucy's brother Arthur (Gough) that she must be protected from the vampire as well.
Hammer Horror is one of the most famous horror studios of all time, putting out a tremendous number of films for decades.
Horror of Dracula
was hardly their first film, the studio having been making films since the 1930s, but the studio underwent a rebirth in the fifties, one that was helped along greatly by the tremendous box office success of this movie. This rebirth helped to define what has now become recognizable as the trademarks of Hammer Horror.