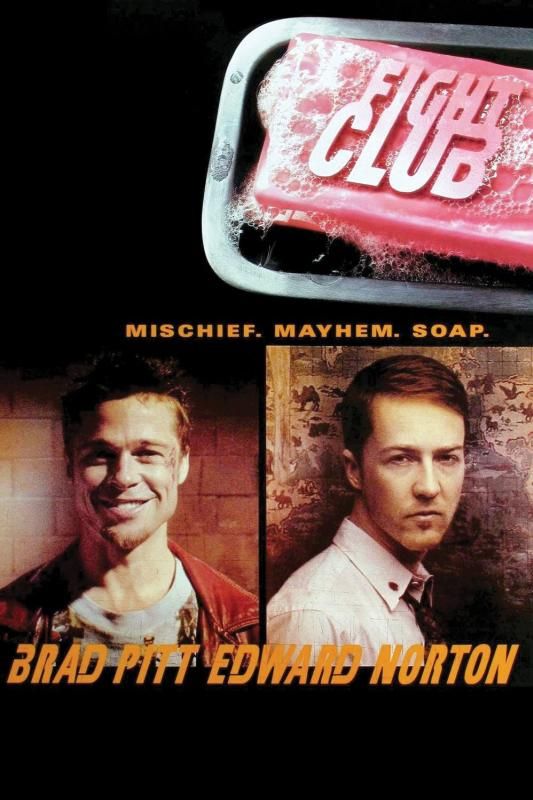 Starring
: Edward Norton, Brad Pitt, Helena Bonham Carter, Meat Loaf
Okay, let's get this out of the way right now: I just watched Fight Club for the very first time two days before writing this review (ETA: which was, in fact, about a year ago, it just took me awhile to post this review, because that's how I roll, yo.)
"What?" "OMG!" "You've NEVER seen it before?" "What's wrong with you?" "BEST MOVIE EVER!"
There.

Is that out of your system now?

Good, I may continue with my review.
Fight Club
pissed me off, but not in the way you'd think.

It pissed me off because as I was watching it, I kept on thinking of how damn GOOD it is.

How, cinematically speaking, it's both accessible and daring.

And then I remembered that it's fundamentally a GUY movie.

You know, a guy movie – guys love it, girls hate it.

Dark, gritty, lots of guns and violence, very few female characters.
Because the best of the guy movies are awesome.

Seriously, spectacularly awesome pieces of cinema.

In the last twenty-five years, guy movies have given us Seven (same dude, yes, I know), all of Christopher Nolan's films (Memento, Inception, The Dark Knight), Donnie Darko, Goodfellas, etc.

What fantastic films.

And guys love them.

They are not hard films to love.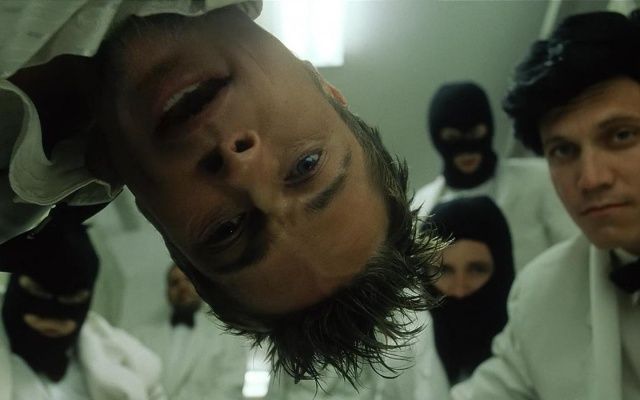 What are the "great chick flicks" of the last twenty-five years?

Titanic?

Vomit.

The Princess Diaries?

Are you serious?

Under the Tuscan Sun?

Passable at best.

I can get behind Notting Hill, but Notting Hill is not a cinematic masterpiece.

I mean, it's awesome, but in a "I can turn off my brain now and the movie will amuse me" kind of way.

It's hardly challenging.
The best guy movies ARE challenging.

The best recent chick flicks… well… aren't.
Because Fight Club is such a great cinematic work, and it's so fundamentally masculine, and chick flicks are shitty.
Why are chick flicks so shitty?

Why does Hollywood think that women are content to settle for utter rubbish as long as there's a hot guy walking around half naked?

Ladies, here's a hint – Brad Pitt walks around half naked in Fight Club, and this movie is much more worthy of your time than, say, Letters to Juliet.
Oh, right, I should probably try to review Fight Club rather than just rant about the dearth of quality "female films" being made in Hollywood.

It tells the story of a desensitized, insomniac insurance claim investigator (Norton) who meets childish and arrogant soap salesman-cum-explosives expert Tyler Durden (Pitt).

Together, they form the eponymous Fight Club.

Marla (Bonham Carter) takes up with Tyler, much to the chagrin of our narrator.

Things start to spin out of control when the men involved in Fight Club start branching out from just hitting each other.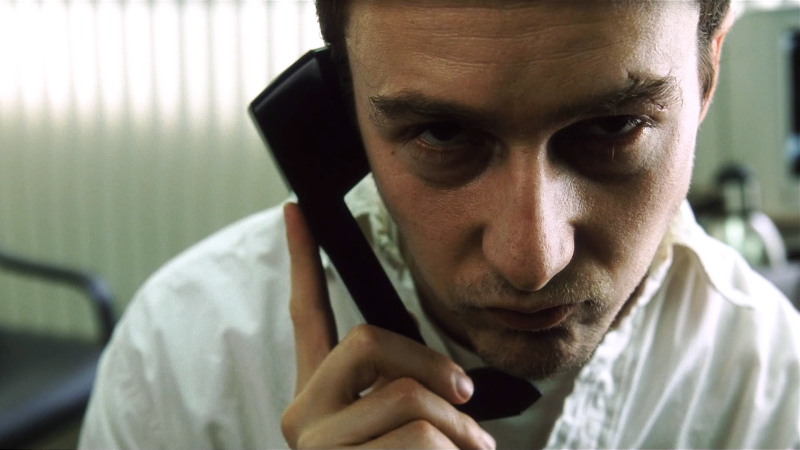 For my money, the first half hour of Fight Club is perfect.

Sheer, cinematic perfection.

It's funny, it's witty, it's engaging, and it's damn unique.

Just when you think you know what's coming, David Fincher spins the film in a completely new direction.

There's voice-over narration that blends seamlessly into actual dialogue.

We go from Marla and Norton bickering over which support group the other "gets," to vibrating dildos in airline luggage, to Meat Loaf's "bitch tits," to what you'd name a tumor if you had one.

The camerawork is dizzyingly fresh, zooming through gas lines or up and down a waste bucket, places we wouldn't expect to see.

The fourth wall gets broken during a brief scene that is so unexpected and so funny, you can't help but smile.

The film even opens at the neural synapses of the brain and zooms out to Norton's face, a journey which is disconcerting and takes awhile to place.

The first half hour, man.

It's so unlike other films.

It's so entertaining.

It's funny and sharp and unique.

It's perfect.
The rest of the film is very good, but it's not like the first half hour.

With the formation of the actual Fight Club, the film becomes more traditional in its narrative (or rather, as traditional as an out-there story like Fight Club can be).

The ingenuity shown in the filmmaking process of the first thirty minutes gives way to much more straightforward storytelling.

I suppose, in a weird way, it would have been far too exhausting to create a film that was as off the wall as those first thirty minutes.
Accompanying this shift in technique is a marked shift in tone as well.

The film becomes significantly darker and bleaker as we go into more traditional movie mode.

It's interesting rewatching Fight Club (yes, this means that I'm watching it twice in two days; rewatching helps inspire me when I write about a movie) and remembering just how funny it starts, and just how dark it becomes.

The narrative is driven to a very frightening place; things go wrong, and it seems as if nothing will ever go right.

Unfortunately, I also feel that, despite the intriguing social commentary, the film starts to feel water-logged.

It gets a bit too heavy, a bit too dreary.

It starts to lag, pace-wise.

It can't keep up with the fresh and fast pace of the opening.

That being said, Fincher, at the very last moment, brings Fight Club back from the edge of being the most depressing tragedy you've seen in awhile and reiterates that what you've just watched is, in fact, a comedy.

Technically speaking, in the most basic of all dramatic terms, the difference between comedy and tragedy hinges on death, and for most of the central story of the film, we seem to be careening toward the chasm of tragedy.

There's funny stuff in the first third, but it becomes so dark and heavy, the "comic" ending feels unnatural for most of the film.

I understand it, though.

It's bringing the movie full circle, back to the significantly lighter comedy of the opening.
The two leads, Norton and Pitt, are fantastic.

Norton, as our lead, is the one who takes us on a journey from trapped office worker to rebellious fighter to frightened desperado, and, in what I have come to expect from Edward Norton, is phenomenal.

He's funny when he needs to be, he's pathetic when he needs to be, and more than anything, he's believable.

Dancing around him are the two crazies of Brad Pitt and Helena Bonham Carter.

Pitt is the embodiment of the id, easily flaunting society's rules by only doing what feels good, then literally rewriting the rules of civilization.

While I don't think his work here is better than his role in Twelve Monkeys (because I love Twelve Monkeys… which I just realized is probably a "guy movie…" dammit…), Pitt does his half-naked crazy dance well.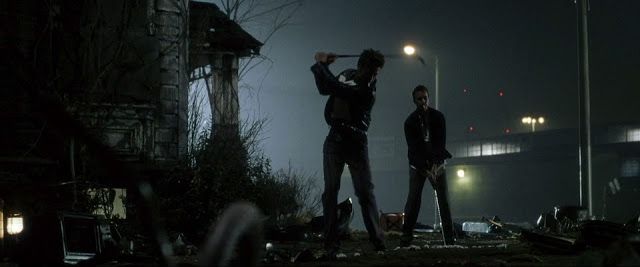 There's a hyperrealism to the photography in Fight Club that manages to make the movie both ugly and beautiful, real and unreal, all at the same time.

Everything looks like things we know.

The pay phone is a pay phone.

It's scratched and dirty, like a real pay phone.

But then the camera zooms up close, closer than we expect, and the scratches keep getting thrown into more stark relief, there is more detail than you could possibly have imagined.

The film is full of photographic touches like that; familiar things shot with such excruciating detail that they become artificial.
There was a surprising amount of fairly accurate chemistry in the movie. (Yes, I am now about to nerd out about chemistry.

Brace yourself.)

For the record, as a chemistry teacher, every year I teach the definition of "saponification."

(the making of soap)

And nearly every year, I've had at least one student say, "Oh, like in Fight Club!"

Now I can respond with a tangential discussion of how great the film is, huzzah!

There's a scene with a chemical burn (I'm guessing it was some sort of hydroxide) that was painful for me to watch because a) I have firsthand experience with chemical burns and b) I actively spend my days trying to prevent such things happening to my darling little students.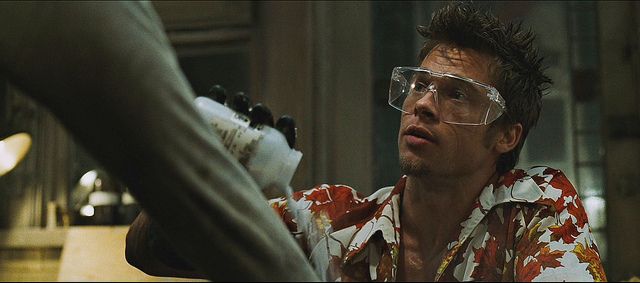 Seriously, you guys, this scene made me cringe because it's exactly what I DON'T want happening to all my lovely little students...
For a film titled Fight Club, I was bracing myself for a level of violence that was damn near unwatchable.

Apparently, my hypersensitivity to violence is mostly confined to war films, because I was surprisingly accepting of the violence in this film.

There is no shortage of deep purple fake blood and plasma, to be sure, and the sound of flesh thwacking against cold hard concrete is distinct and a little stomach churning, but the violence is also not nearly as nonstop as you would imagine.

The focal point, the main message of the film, is much more about eschewing society's rules (and possible repercussions therein), and much less about violence for violence's sake.
Fight Club
would make a great double feature with Office Space, made the same year.

I am CERTAIN I am not the first person to associate these two films together, but they both deal with a central character who, tired of the cubicle life, starts to break free from American cultural expectations.

Fight Club makes its point with wild violence and hyperbolic antiestablishmentarianism gestures.

Office Space makes its point with funny gags and a red stapler.

Two drastically different comedies, but an intriguing double feature.

At the very least, I anticipate such a double feature would have you wishing you could properly tick off your boss more.
Or, in my case, it would make me angry about why guy films are so intriguing and chick flicks are so braindead.
Arbitrary Rating: 9/10.

Ironically, considering the overall message, I think the film starts to run out of steam in the second half.

But that doesn't stop the whole movie from being AWESOME!