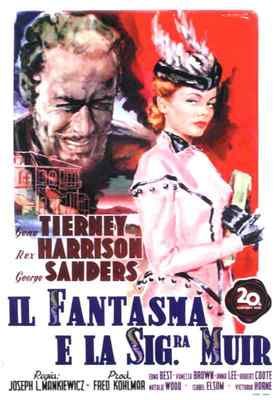 The Ghost and Mrs. Muir
1947
Director:
Joseph Mankiewicz
Starring:
Gene Tierney, Rex Harrison, George Sanders
A young widow (Tierney) emancipates herself from her in-laws and moves herself and her young daughter (a young Natalie Wood) to a rustic seaside cottage. Problem is, the cottage is haunted by the singularly unthreatening ghost of a former sea captain (Harrison). The two strike up a friendship, as the captain allows Mrs. Muir to occupy his former house. When she is in need of money, he helps her get some by having her pen his biography. When she falls for a sleazy gentlemen (when has George Sanders ever NOT played a sleazeball?) he tries to protect her. Can the relationship between the ghost and Mrs. Muir overcome obstacles of love and mortality?
I can't help but get the feeling that in the hands of a more competent actress, this would have been a much more compelling romantic drama. Despite the fact that she's the title character in one of my all-time favorite films (
Laura
), Tierney was the weakest link of that particular film, and she is unquestionably the weakest link here. She is flat and unconvincing in her portrayal of Mrs. Lucy Muir. Mrs. Muir is supposedly some sort of Victorian feminist: insisting on casting off her obnoxious in-laws, anxious to live her own life, undeterred by the prospect of ghosts. Tierney, however, just can't pull it off. We are supposed to watch Mrs. Muir's voyage from uptight snooty widow to hair-let-down romantic, but Tierney is too clunky in her transition. When Mrs. Muir actually swears (granted, by saying "blast" and "push off"), it's not in any way shocking or sensational or liberating. It's awkward and laughable.