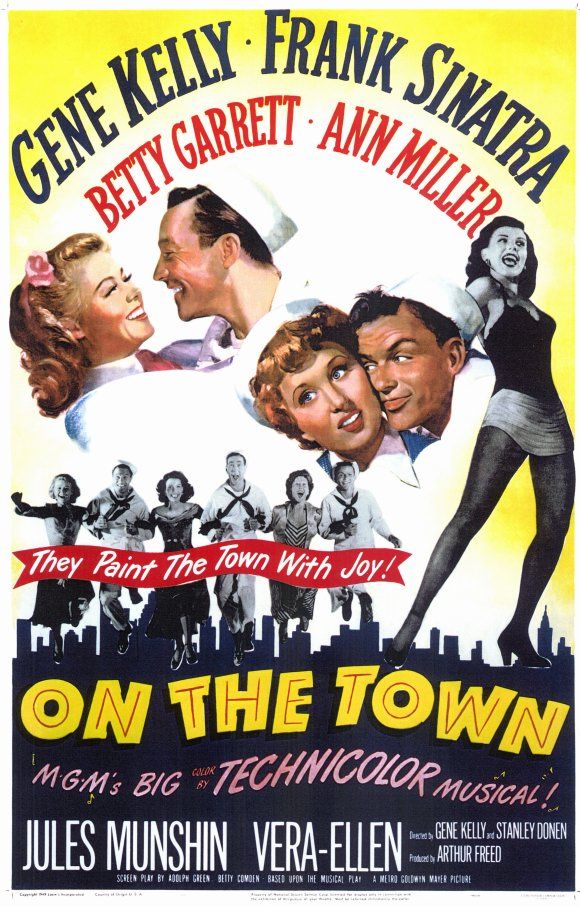 Director
: Stanley Donen, Gene Kelly
Starring
: Gene Kelly, Frank Sinatra, Jules Munshin, Vera-Ellen, Ann Miller, Betty Garrett
I love MGM musicals.

Unabashedly.

And in my opinion, On the Town is one of the finest musicals to come from that studio.

Like Mary Poppins, it's practically perfect in every way.
Three sailors have 24 hours shore leave in New York City, and are determined to make the most of their time.

Gabey (Kelly) wants to find a date, and becomes fixated on taking out Miss Turnstiles Ivy Smith (Ellen).

Chip (Sinatra) wants to see the sites, and cab driver Hildey (Garrett) helps him out.

Ozzie (Munshin) finds anthropologist Claire (Miller).

Together, the three couples go "On the Town."
Like nearly all classic musicals, On the Town is definitely a comedy set in a frothy fantasy world that is, for me, a world of wonderful escapism.

Apart from being a very funny film, however, On the Town is also surprisingly sexy.

There are raunchy jokes laid between nearly every other line of dialogue, and sight gags make it perfectly clear what's REALLY on the sailors' minds.

With song lyrics like "I *really* love tom-toms," and jokes like, "Dr. Kinsey, I presume," Donen and Kelly managed to clearly allude to what sailors are really like on leave, all while keeping the surface seemingly squeaky clean.

Just like in noir, when the camera cuts to the softly billowing window curtains and we understand that our main characters are having sex, there is a similar sort of cut in On the Town.

The film accounts for nearly all of the 24 hours the sailors are in New York with marked clarity - except for the afternoon.

In said afternoon, Gabey is desperately searching for Ivy Smith, but Ozzie would rather canoodle with Claire, and Chip hangs out in Hildey's apartment.

We go from the early afternoon, no later than 1pm or so, to 8:30pm.

There is a gap of at least 7 hours in their day that we never see.

I wonder – what on EARTH could Ozzie and Claire have been up to?

Or Chip and Hildey, for that matter?

This film, while G-rated on the outside, is far more sexualized under the shallow surface.

I'd be hard pressed to come up with a classic-era musical that's sexier than On the Town.
Nearly every musical piece in the film is a winner.

"Let's Go to My Place" is funny and clever, "You're Awful" is sweet without being too much, and "New York, New York (A Wonderful Town)" has become embedded in pop culture consciousness.

The sequence for the latter was one of the first movie sequences to be filmed on an urban location.

While most of the movie was shot on soundstages, Donen and Kelly thought outside the box and took the crew to Manhattan.

Because we're used to location shooting now, it's funny thinking about just how novel this was back in 1949.

And a bit of fun trivia about this particular number as well: each of the three actors has a verse where they sing the lead.

For Munshin's verse, the film was shot on top of an actual skyscraper in Manhattan.

Munshin, however, apparently had a paralyzing fear of heights and was terrified during the filming of this sequence.

You'll notice in the song, when he sings, he is also constantly touching either Gene Kelly, Frank Sinatra, or the building around him – to make sure he doesn't fall.
One of the best numbers in the film is the early "Miss Turnstiles" ballet sequence, where Gabey reads her attributes as Vera-Ellen dances them out in a fantasy sequence.

It's clever, fast-paced, and a great example of how Stanley Donen and Gene Kelly helped reimagine movie musicals.

Playing to Vera-Ellen's strengths as a dancer rather than as a singer, it's not part of the narrative in any way, but a great showcase of the sort of musical number that could only be in the movies.

There are costume changes and match cuts galore, as Gabey imagines what this dream girl must be like.

There could certainly be a similar number on stage, but it wouldn't look the same as this one.

It's magical!
While that set piece was Vera-Ellen's showcase, Ann Miller, that tap dancing phenom, gets her chance in the "Modern Man" number, a personal favorite of mine.

Funny, clever, sexy, and full of sight gags and general craziness, ultimately, Miller's dancing takes the cake.

I got the chance to see On the Town in a theater this week, and the "Modern Man" number was the only one after which the audience actually applauded.

All of the stars in MGM's musical stable had their special calling, and there was no actress who could tap dance better than Miller.

She's just amazing.
That being said, my absolute favorite number is the charming "You Can Count on Me" from the second half of the movie.

It's cute, it's simple, it's funny, and dammit if it isn't a great tune cootie.

I swear, it'll get stuck in your all day if you're not careful.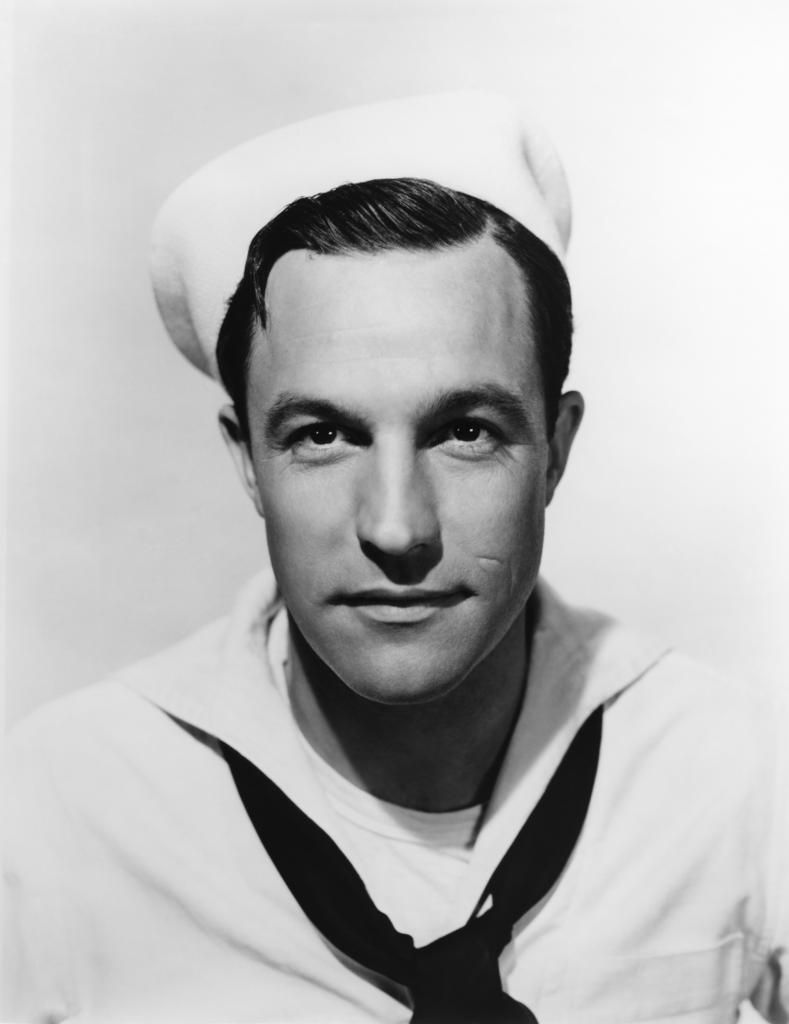 Mmmmmmmm...
I could watch Gene Kelly dance all day and never get tired of it.

I could also watch him play the lovesick hero all day and never get bored.

He's one of my favorite movie stars of all time, and he's fantastic in On the Town, bringing his best muscular, masculine athleticism to some of the most graceful dance moves you'll see.

As co-director, he clearly had more artistic freedom in this film than, say his breakout role in Cover Girl (1946).

The longer ballet sequence at the end featuring Leonard Bernstein's music is Kelly's showstopper of the film.

The colors and the dancing are beyond compare.
When I was growing up, my parents raised me and my sister on MGM musicals.

They would go to the video rental store and come back with titles like Singin' in the Rain, Barkley's of Broadway, Easter Parade, and, of course, On the Town.

We liked On the Town so much that we insisted to rent it time and time again.

Ultimately, my parents realized it would be cheaper if they just bought the tape of it.

I think they made their money back pretty quickly.

On the Town still holds a very special place in my heart.

Although I do think that Kelly's subsequent Singin' in the Rain is a superior film, I really love this one too.