Starring
: Buster Keaton, Ruth Dwyer, T. Roy Barnes, Snitz Edwards
Every time, every damn time I watch Buster Keaton, I'm flummoxed.

Immaculate actor is immaculate.

He's perfect, amazing, fantastic.

But it's not just his acting, it's everything in his films.

Everything is so perfectly choreographed and timed.

Seven Chances is no exception.

For a film that is nearly 90 years old to still provide laughs is amazing enough, but Keaton's work doesn't just give you a few laughs, he gives you plenty, and then some.
Jimmie Shannon (Keaton) is a broker at a firm that's facing some financial difficulties.

When a lawyer (Edwards) comes to tell him and his partner (Barnes) that Jimmie stands to inherit seven million dollars, they are relieved.

But there are stipulations on the funds; Jimmie must be married by 7pm on the day of his twenty-seventh birthday in order to claim the inheritance.

Jimmie knows who he WANTS to marry – Mary (Dwyer), the girl he's loved for over a year but been unable to confess his feelings to – but when he botches the proposal, he becomes desperate to find a bride, ANY bride, by 7pm.

Antics ensue.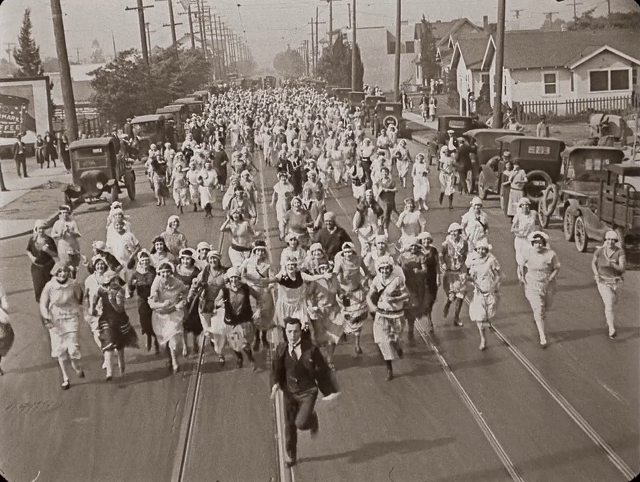 This scant plot, which is laid out entirely in the first 15 minutes of the film, is all Keaton needs to produce some of the finest silent era comedy I've seen.

This is a funny, funny movie.

Although I wasn't laughing the entire time, I do know that I was smiling the entire time.

Right from the glorious opening scene that establishes Jimmie's love for Mary, the film won me over.

I was happy and cheery while watching it.

Seven Chances is the film equivalent of valium: watch this movie, and all your woes simply disappear.

You are transported into the gloriously sunny world of Keaton's comedic shenanigans, and all will be well.
That's the mood of the film, but I now MUST talk about the laughs, because holy crap on a cracker, this film has them in spades.

Picking a favorite is utterly pointless, because as I watch this over again, there are simply too many to choose from (the hat check girl, the avalanche, the girls on the stairs, the proposal by Jimmie's partner, the football game, Jimmie's car unexpectedly hitting a tree, and the classic bride chase sequence are all grand).

What I will say about the spectacular gags is the fact that they all work.

More than that, not a single piece of the comedy feels extraneous.

None of it is there for a cheap laugh.

It's staggering how well choreographed all the comedy is; one set piece blends seamlessly into the next.

It's much the same sense of cogency that Keaton has on full display in The General that is, frankly, lacking in many other silent comedies.

In all honesty, maybe this is my favorite thing about Seven Chances; it's a funny movie that never feels like a disconnected string of skits or gags.

Every laugh you have is because of Jimmie's attempt to find a bride and get married by 7pm.

We never lose sight of this for a second.
Seven Chances
was set in the modern day of the time, and I couldn't get enough of the costumes.

The 1920s fashion that is on display in this film is sublime.

Given that Jimmie is trying to find a bride, we get to see many different women, and they are all decked out to the nines in dripping fringe, cloche hats, fur collars, fantastic coats, and t-strap shoes.

The men are all dapper in straw boaters and immaculately fitted three piece suits.

The wardrobe department did a great job of making everyone look like a million bucks.

If the comedy isn't enough of a sell, the fashion plate of the film should be.

(I'll add that I was much amused by all the makeshift veils the horde of brides wears at the end of the film – tartans, towels, bed sheets, whatever will do in a pinch!)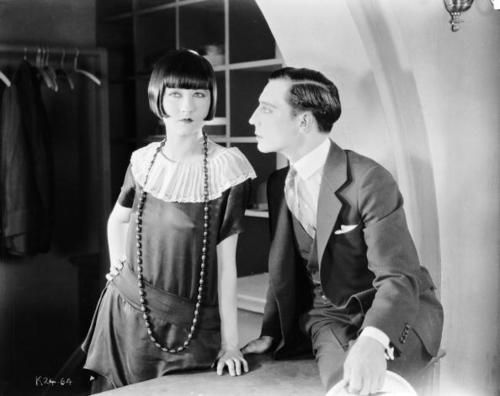 And then there's the man himself.

Keaton.

Keaton Keaton Keaton.

With this rewatch of Seven Chances, he sealed his case for being my favorite of all the silent comedians (not that there was much doubt).

His classic "stone face" expression provides a straight man around which all sorts of craziness bounces around, and his films are funnier for it.

And then there's the fact that he does his own stunts, and the stunts in Seven Chances, while not as jaw dropping as those in The General, don't lack for excitement.

The avalanche sequence in particular is stunning.

And finally, I'll come right out and admit that despite the fact that this is an old movie, y'know what, I have a bit of a crush on Buster Keaton.

I'll just leave it at the fact that the man looked damn fine in tight trousers (so much so that I actually managed to find some slightly inappropriate pictures I am choosing not to include here…).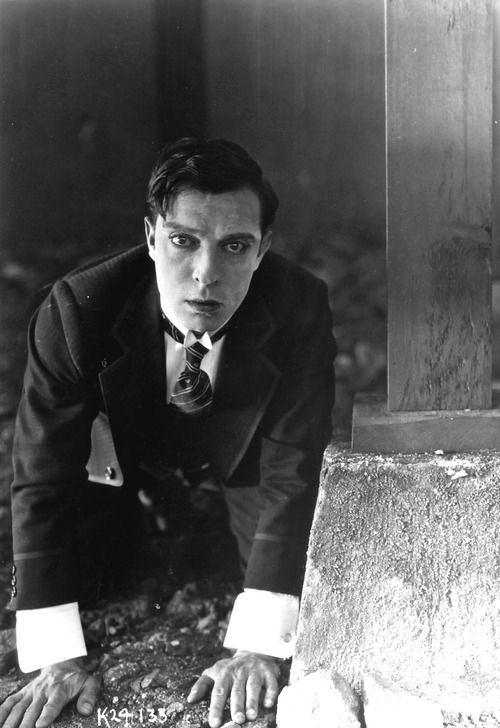 I also have a note on the version I watched, the Kino International edition and that which is available for streaming on Netflix Instant.

The opening shocked me, as it was in color.

A quick bit of research and I discovered this was not added after the fact; Keaton actually shot the opening sequence, where we see Jimmie try to tell Mary how he feels about her over the course of the changing seasons of a year, in Technicolor.

I had known that the three strip Technicolor process was around and available earlier than most people think, but this is the earliest film I've ever seen that employed that technology.

It's stunning, flat out stunning, seeing the flowers and the fashions in an unretouched, true color.

This fact is enough to recommend this particular version of the film, but I will add that the rest of the film, shot in a sepia-toned black and white, is gorgeous and crisp and clear; it looks beautiful even on our 52 inch widescreen television.

I tip my hat to Kino; the Keaton films I've seen by them have been gorgeously transferred.

Nice work, guys and gals.

(Their score also works extremely well.)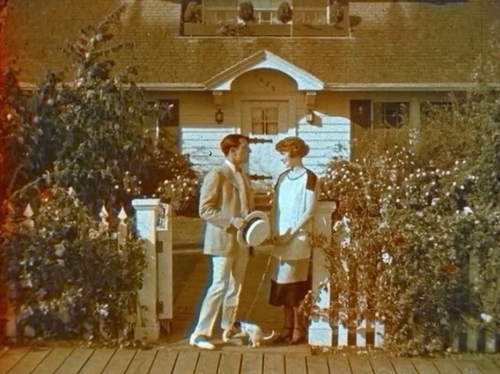 Seven Chances
is a perfect movie to show someone who has never seen a silent film before.

It's short, it's light, it's funny, it moves well, it WORKS.

Keaton was a comedy genius; what he managed to craft in the early days of Hollywood is still so funny it can elicit laughs from modern viewers today.

Seven Chances is absolutely no exception.