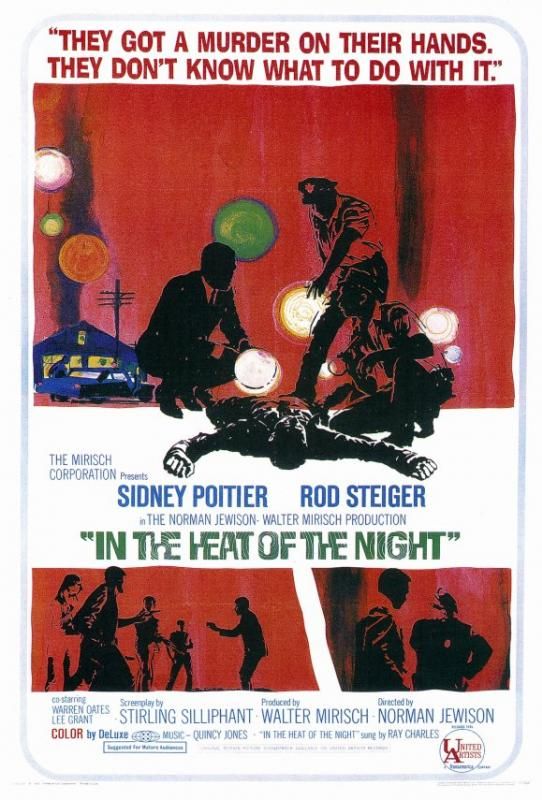 Starring
: Sidney Poitier, Rod Steiger, Warren Oates
Message films can be a difficult sell.

They have to make a point, a point they feel is terrifically important, and this usually results in the filmmakers going to great lengths to drive that point home.

Which, in turn, inevitably leads to heavy handed and soggy films at which I wind up rolling my eyes.
This is not the case with In the Heat of the Night, no sir, not in the slightest.

It has a point to make, and it makes it fiercely, but it never once feels soggy or ham fisted.
Cop Sam Wood (Oates) comes across a dead body on his night patrol in the teeny Mississippi town of Sparta.

Police Chief Gillespie (Steiger) is flummoxed, so when Wood finds a black man in the train station, he thinks he has his killer.

Turns out he couldn't be more wrong, as instead he found Philadelphia cop and expert homicide detective Virgil Tibbs (Poitier), who slowly and reluctantly starts to help the local cops solve the case while coming up against dangerous racial prejudices at every turn.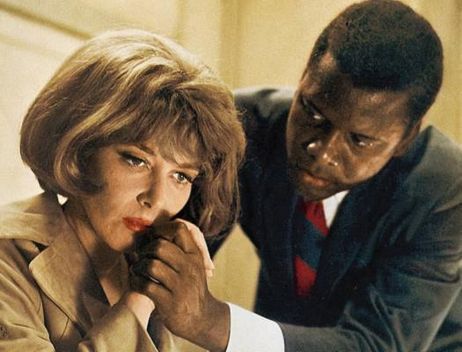 The performances and the smart writing, which work hand in hand with one another, are what set In the Heat of the Night apart from other, lesser message movies.

This film was adapted from its source novel with the specific intention of being a vehicle for Sidney Poitier, and he fills the screen with his enormous, quiet, powerful charisma every moment.

Poitier, who barely utters more than two dozen words in the first twenty minutes of the film as his character is arrested without being questioned, nonetheless exudes a palpable feeling of barely reigned in righteous indignation.

He holds such disdain for the bigoted people he finds himself surrounded with, yet also knows that he has to be careful, too careful, in order to get out of his situation alive.

Poitier exudes this frustration, only rarely allowing it to bubble to the surface, but when it does, as in the famous scene where he slaps a rich and influential white man after being slapped first, it is powerful and almost a little frightening.

Watch how he utterly commands Harvey Oberst when he is locked in a jail cell with him by merely raising a finger.

In the half dozen films or so that I've seen of Poitier's, this is the role that feels most iconic to me.

When I think Sidney Poitier, I think smart, reserved, unrelenting Virgil Tibbs.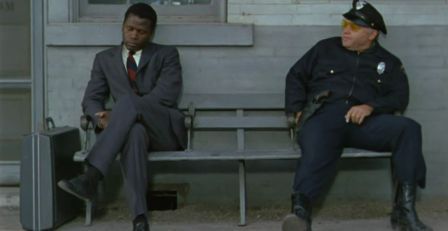 Matching Poitier every step of the way is Rod Steiger as Chief Gillespie, a role that won Steiger his Oscar.

As much as I love Poitier in this film, I grudgingly admit that it is Steiger who has a more challenging role to play.

Gillespie has to slowly, too slowly, come to terms with his own racial prejudices and begin to overturn them, but never too quickly, and probably not altogether.

What makes this movie work so well is the central tension between Gillespie and Virgil Tibbs.

Things are not resolved once it is revealed that Tibbs is a cop; if anything, that's just the beginning of the turmoil.

Steiger's Gillespie keeps me on my toes in this film as the very definition of unpredictable.

One moment he's practically begging Tibbs for his help on the case, and the next he's chucking him back on a train to go back home.

It's this vacillation that Steiger plays so well, laying bare for us a man who is very proud and cannot admit he was wrong, yet he must, and does.

In one of the scenes leading up to the finale, Gillespie and Tibbs share a drink at Gillespie's house, and Gillespie starts a monologue about being lonely.

The moment that Tibbs shows any empathy for Gillespie, Gillespie retreats back into his hardened shell and tucks his soft underbelly away from the barbs of the outside world.

It's a great scene, and a fantastic example of what I mean when I say this film is never heavy handed about its message.

A lesser film would have the two men crying in each other's arms, overwhelmed with their newfound respect for the other, but In the Heat of the Night, and Rod Steiger as well, knows that things are rarely that simple.

Gillespie battles with himself every single step of the way, and Steiger is towering in his portrayal of a prejudiced man learning to be better.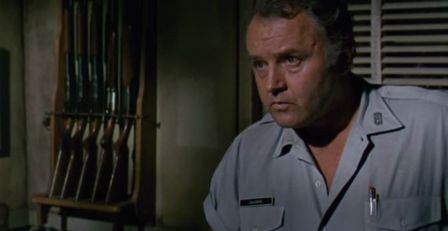 On top of the two sizzling performances of the leads, I love how the detective story unfolds in In the Heat of the Night.

Yes, In the Heat of the Night is first and foremost about racial tensions, but it is also a murder mystery.

What I find interesting in how the mystery unfolds is that it is an early example of how forensics and hard evidence are used to solve a case, winning out over "gut" and "instinct" and "hunches."

Tibbs is a crackerjack Philly homicide cop because he uses forensics; Gillespie is old school and relies on hunches, a fact not helped along by his prejudices.

Tibbs has to fight Gillespie every step of the way with hard evidence, and that's frustrating, adding on another layer of tension to the already tense film.

Tibbs has to prove his story, and he does it well, but with every new piece of evidence comes a new wrong conclusion that must be fought.

Considering forensic crime dramas command a significant percentage of the television airwaves these days, it may seem quaint to see such simplistic evidence analysis in In the Heat of the Night, but there's something to be said for being an early trailblazer.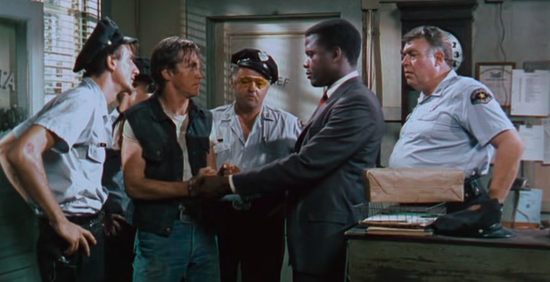 As I watched In the Heat of the Night, I kept on thinking to myself "would a black man today really get beat up, or even killed, just for being black?"

I know how I'd like to answer that question; I want desperately to say "No."

But then I remember the all-too-recent case of Trayvon Martin, and I gulp down my answer.

And then I transplant the word "black" with the word "gay," and the question becomes even harder to answer.

Prejudice is still with us, undeniably, as much as I wish it wasn't.

The message in films like In the Heat of the Night, filled with great performances and smart writing, are still just as relevant today, even though I badly wish they weren't.