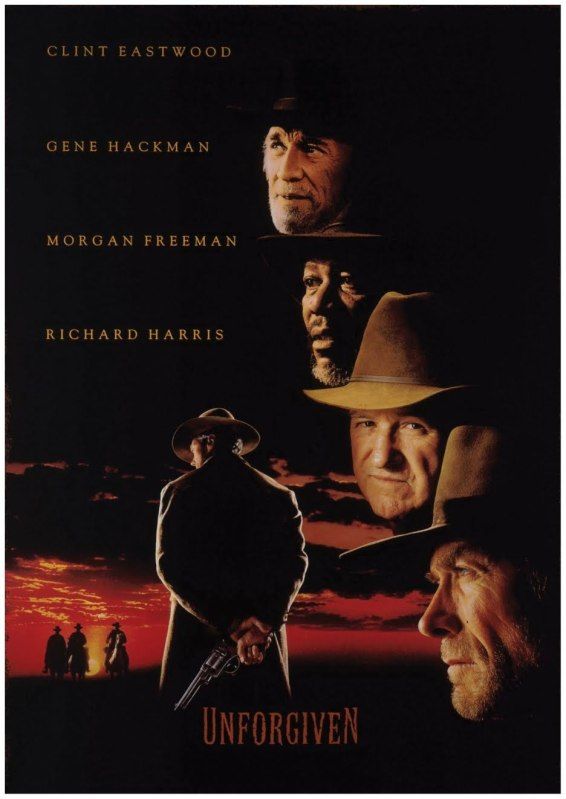 Unforgiven
1992
Director:
Clint Eastwood
Starring:
Clint Eastwood, Gene Hackman, Morgan Freeman, Frances Fisher, Richard Harris
Clint Eastwood made a lot of westerns in his career. His is a face that is forever linked with the genre.
Unforgiven
plays like a swan song; indeed, thus far, it's the last western Eastwood made. It feels like Eastwood is thanking the genre for what westerns have done for him as he gracefully exits stage left.
A cowboy attacks a prostitute with a knife, cutting up her face. This prompts the madam at the brothel, Strawberry Alice (Fisher), to call for the man's blood. The sheriff in town, Little Bill (Hackman), decides on a much more sedate punishment, prompting Alice to offer reward money. First to town comes outlaw English Bob (Harris), who is promptly dealt with by Little Bill. But the money also tempts William Munny (Eastwood) out of retirement, along with his friend Ned Logan (Freeman), leading to the inevitable showdown.
To me,
Unforgiven
is all about aging, and the passing of a generation. Eastwood does not try to hide his age, nor anyone else's. Rather, he plays it up. "I'm not twenty-five anymore," he seems to say. His character can't mount a horse anymore and can't aim a gun well anymore. He and Morgan Freeman's character both complain about sleeping on the trail, rocks in their backs, aches and pains all over. After a bad rainstorm, Will Munny doesn't fare so well, coming down with a fever. Ned Logan and Will Munny have, as a companion, a greenhorn outlaw who calls himself the Schofield Kid, after the gun he carries. The Kid is constantly nipping at Ned and Will's heels, impatient at their lagging, ready for a fight, but Will and Ned have been there, have actually killed people before, and it doesn't come back to them as easily as they thought it would. There is constantly a distinction being made between the two generations of men in the film. Even the villain, per se, of the film, Little Bill, seems annoyed whenever he has to report for sheriff duty. His deputies are all at least twenty years younger than him and seem incapable of making a decision on their own. They report to him and follow orders. For his part, it seems he would much rather stay at his little plot of land by the river and work on building his porch, which doesn't amount to much more than an old man pottering around in his garage.
Furthermore, there seems to be a focus on the idea of a legacy. What will be remembered about you? Will you be remembered at all? What will the next generation say about your life? When English Bob rides into town, he is accompanied by his "biographer," a dime novelist, who has "immortalized" Bob's most lurid and tramped up stories into a piece called
Duke of Death
. When Little Bill disposes of Bob, the biographer switches allegiances, deciding that Little Bill would make an even more interesting story than English Bob. Bill is fascinated and latches on to this idea immediately, regaling the novelist with tales from his past.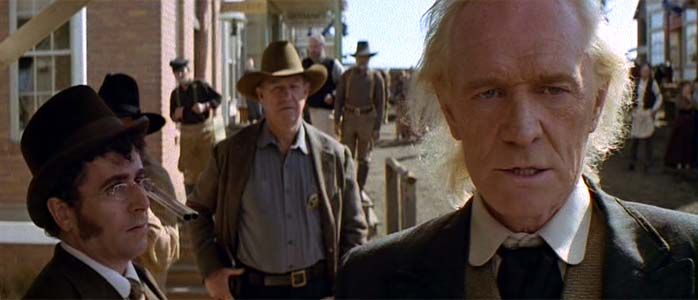 While some people have said that
Unforgiven
takes western stereotypes and subverts expectations by spinning the stereotypes on their heads, I don't quite see it that way. All those little touches where things don't quite pan out as you would expect in them to tend to be done in service of the idea of aging. Will can't mount a horse quickly because he's old and out of practice. These are cowboys at the end of their lives, facing the reality of the world around them. They talk about how hard it is to actually shoot a man several times; Will Munny and The Kid discuss this, Little Bill discusses this, and Ned Logan is overcome with the inability to carry out a hit. Old men looking back at what they did and if they are capable of doing it now; most often, the answer seems to be "no."
In terms of visual style,
Unforgiven
looks like the westerns of the 1960s and 1970s. A great deal of stark beauty, whitewashed natural vistas, and autumnal hues, which echoes the sense of approaching the end of one's life.
Unforgiven
's town looks like the town from
High Plains Drifter
, but that makes sense as they are both directed by Eastwood. It's clear that Eastwood was paying attention when he was shooting with Sergio Leone in all those spaghetti westerns; there are cues to that particular style all over the place. To me, I like that the film visually evokes an older era of westerns. Don't get me wrong,
Unforgiven
has pretty shots, but it feels appropriate for it to look like an older film. It makes sense, for lack of a better term, given that the movie is about Eastwood "aging out" of westerns. 'This was my world,' he seems to be saying. 'It's not anymore.'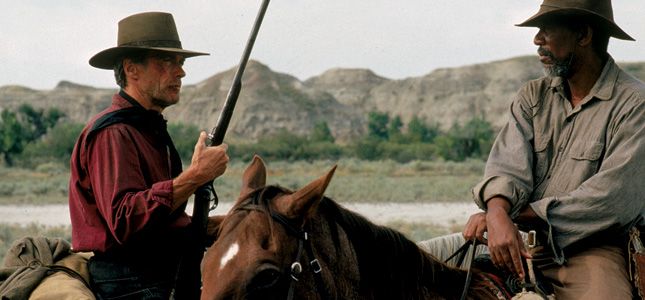 Hackman's Little Bill is a great performance, and an Oscar-winning one at that. Little Bill is a sheriff who has his own very discreet moral code, one where slashing up whores is no biggie, but carrying a gun into town warrants a near-death beating. Hackman plays him as an aging man, proud of his life's work, but also very clearly with a screw loose or two. He is constantly taunting those around him to break the rules, but threatening terror if they do. We come to realize that Little Bill is, very clearly, a sadist; the joy he takes in causing great physical pain slowly reveals itself throughout the film. While he is a little comical at first, he becomes a great deal more frightening as we progress. I like that kind of villain. Keeps you on your toes.
I've said it a billion times before, but I don't care, I'll say it again: I'm not a fan of westerns. But I liked
Unforgiven
. There was enough novelty in it to keep me engaged. Nearly all mythology of westerns is stripped away; these are just a handful of old men fighting it out over some random thing that got blown out of proportion. If anything, this is a movie I'd like to see again as I get older. I think it would resonate more for me then.
Arbitrary Rating: 8/10.