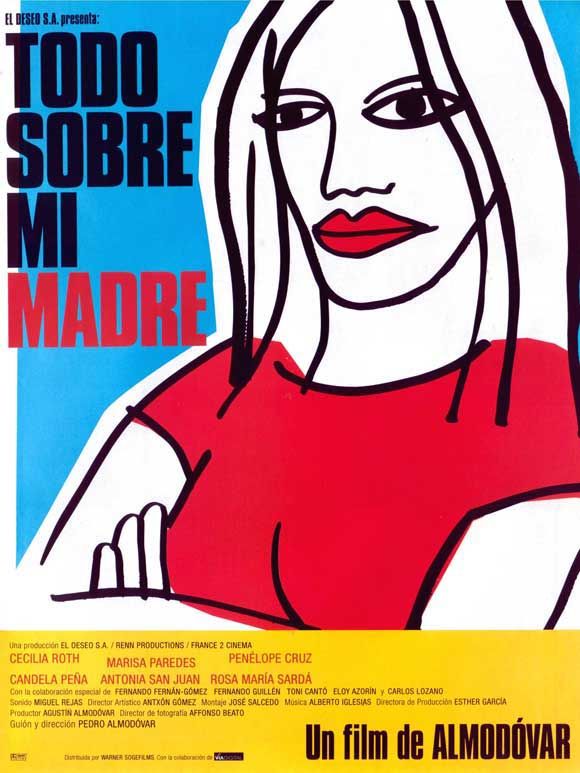 Director
: Pedro Almodovar
Starring
: Cecilia Roth, Antonia San Juan, Penelope Cruz
Pedro Almodovar is a director whom I have heard a great deal about, but never actually seen a single one of their films.

That's a little strange, I know, but All About My Mother was my first Almodovar experience.

Quick version of the review?

I was entranced, I was moved, and, well, I loved it.
Manuela (Roth) is a single mother in her thirties, doting on her 18 year old son Esteban, an aspiring writer.

When Esteban is killed by a car when crossing the road, Manuela's grief is extreme.

She moves to Barcelona and reconnects with an old friend, transgender/transvestite prostitute Agrado (San Juan), while making new friends in the form of nun Rosa (Cruz) and famous actress Huma (Marisa Paredes).

All of these women have their own issues, their own stories, their own tragedies, but fate seems to insist on bringing them all together to deal with their problems.
In this film of women, men who dress like women, and men who are women, there's a distinct feeling of kinswomanship and found families.

I cannot now remember if Manuela's parents were alive or not, but she constantly manages to surround herself with those who become family.

At several points in the film, friends of hers refer to Manuela as their sister, and she is easily the head of the family, the mother and sister all rolled into one, looking out for everyone around her even if she just met them.

I love the sense of camaraderie and general kindness in this film, a feeling that starts right off the bat with Manuela reconnecting with trannie hooker Agrado.

Tolerance and love of all is a major theme, and it's incredibly uplifting.

Despite the fact that there are several tragedies throughout the story, this found family cares deeply for its own and truly looks out for each other.

There is honest to goodness heart here.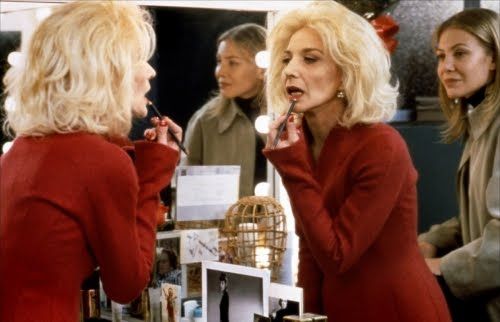 That heart goes a long way towards getting through the pretty awful stuff that happens to the characters.

There is real and horrible tragedy here.

When we open the film by having Manuela lose her only son who she desperately loves, you know you're not exactly in for a laugh-fest.

And yet, despite Manuela's grief and then the subsequent knocks thrown her way, Manuela and the other women in the film deal very graciously with it, with the ultimate attitude that they will overcome.

For all the melodrama and tragedies throughout the movie, I could not help but feel uplifted at the end.

All About My Mother made me cry, but in a cathartic way.

It was a refreshing cry, a cry that ended with a brighter feeling about tomorrow.

These women will not give up, despite the obstacles thrown in their way.

There is a sense of optimism here, of joy triumphing over despair.
In a very strange way, the sense of kinswomanship is also underscored by the sheer physical similarities between most of the characters in the film.

Manuela is our main character, so I'll start the chain with her.

She is blond, with a bit of a thin, long face.

Also with a thin, long face very similar to Manuela is Huma, but Huma instead has shocking red hair.

Agrado also has shocking red hair.

And also with a long, thin face is Rosa's mother, who becomes increasingly important in the second half of the film, only Rosa's mother is blond and older; imagine Manuela with about fifteen or twenty more years tacked on.

Even peripheral character Lola who serves more as motivation to drive the actions of others rather than being in the film herself shares some physical characteristics.

In fact, the character who stands out the most from everyone else is Rosa (Penelope Cruz); given how different she looks with the rest of the other females, I can't help but wonder if her fate is somehow sealed.

I cannot imagine that the physical similarities between all these women is a coincidence; instead, Almodovar is really underlining the familial nature of the relationship between the women by even implying they share a hint of genetic material.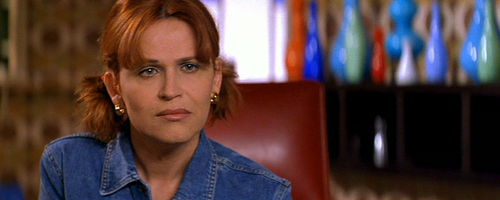 Almodovar's cinematography is a lovely blend of standard photographic techniques and modern, unexpected shot composition.

In the scene where Esteban is killed, we follow his fall with a first-person shot, watching his vision become blurred, hearing, as from a great distance, the cry of his mother.

The subsequent shot of Manuela in the emergency room is at a distance, with a very standard, cold, clinical composition.

The blend of ultra-modern and traditional seems to be a trend I'm noticing increasingly in films from the nineties and early 2000s, and it signifies a general shift forward to the next era of movies.
Almodovar also made me beautifully aware of prints and textiles.

Set mostly in Barcelona, Almodovar lingers his camera on old patterned mosaic tiles time and time again.

The whites, blues, and reds of these are gorgeous.

Vivid paint splashes the décor of the Spanish restaurants.

In the apartments and homes of our main characters, Almodovar does not shy away from wallpaper with very graphic designs; in some shots, the designs completely overwhelm the people themselves.

It made me aware that while many directors use color well and with great symbolism, rarely have I seen the director who uses prints.

I'm used to seeing color but not patterns.

I enjoyed the change of pace; instead of seeming gaudy, it breathes a sense of life and vibrancy into the film.

This befits a film where a trannie hooker delivers one of the most heartfelt speeches about being genuine while she lists off how many surgeries she's had to look the way she does.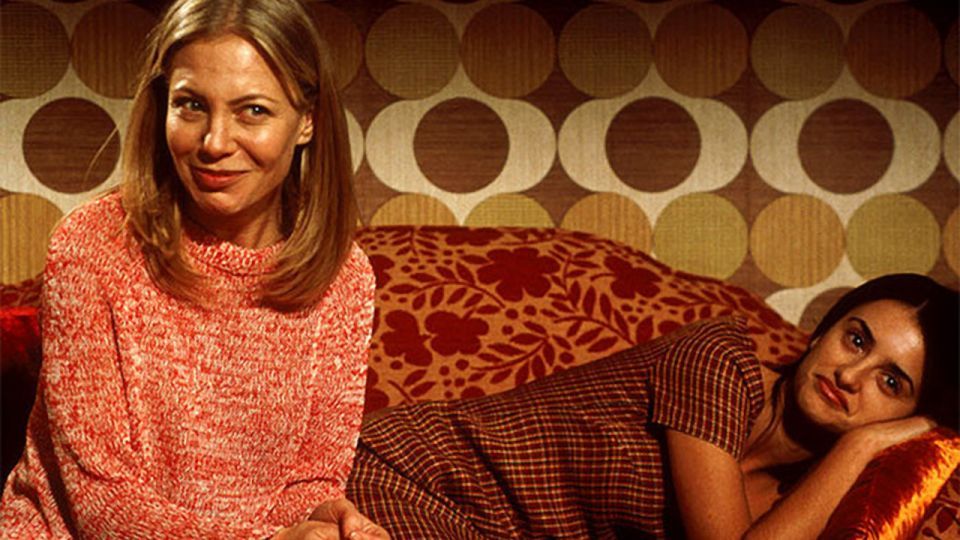 I got very caught up in this film.

Right from the get go, when the title, "All About My Mother," is revealed to be a play on the classic All About Eve, I was hooked, whirled into Almodovar's world of love.

While most of the characters engage in acting or performing at some point of the film, the emotions are real.

Almodovar manages to deliver a gut-wrenching story told with a sense of optimism and joy.

I shall eagerly be turning to his other works with a greater sense of anticipation.