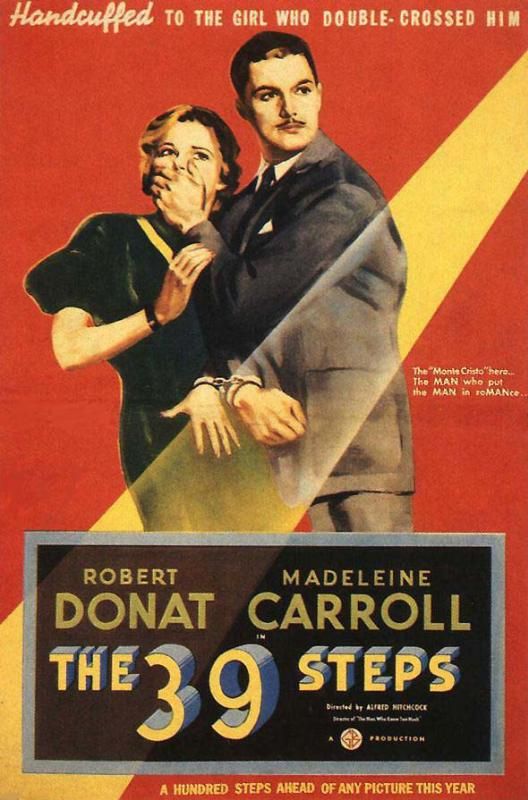 This was clearly an early poster - notice the lack of advertising for Hitchcock's name.
Director
: Alfred Hitchcock
Starring
: Robert Donnat, Madeleine Carroll
Alfred Hitchcock is known as the Master of Suspense, everyone knows that.

But what does that mean for a modern viewer delving into his works?

It means that in a film from 1935, only seven years after talkies hit Hollywood, Hitchcock produced a truly riveting, suspenseful film that nonetheless contains a sense of fun comedy as well.

That is, classic Hitchcock.
Our main character is Hannay (Donat), a Canadian vacationing in England, who goes out to the music hall one night.

A gunshot rings out through the crowded hall.

In the mad rush out, a mysterious, beautiful woman with an accent asks him to take her home.

She's a spy, and when she is murdered in his apartment in the middle of the night, he is blamed for her murder.

He takes on her mission for the good of England while trying to evade both enemy spies and omnipresent policemen.

What emerges is a mad chase from London to Scotland and back again, during the course of which he falls in with cool blonde Pamela (Carroll) who makes things infinitely more difficult.
The 39 Steps
is first and foremost a suspense film, and it's very well done in this regard.

Hitchcock is clever in how he ratchets up the tension throughout the film.

In the first half, when Hannay is running to Scotland, the sense of him being pursued is derived from the major forms of mass communication, mostly the newspaper.

Hannay is constantly trying to evade newspapers.

At first, some silly lingerie salesmen he shares a train compartment with are nattering about the murder of the lady spy because they have read it in the paper.

Do they suspect him?

Suddenly their silliness seems menacing.

Hannay escapes to a country croft in Scotland, but the crofter takes the paper, and he worries again; will they turn him in?

Friends become foes, and police are always nipping at Hannay's heels.

There are more close scrapes than you can shake a stick at.

It's a tremendously suspenseful film; not, perhaps, in the modern cinematic sense, but for a film from the 1930s, it's absolutely crackerjack.
The 39 Steps
is also significant in establishing so many traits we associate with Hitchcock.

It's the first time Hitchcock fully delved into a story about "The Wrong Man," a theme he returned to again and again in his later works.

Hannay has to be clever in order to fight against his unjust persecution.

We also have the police as enemies, not as friends, another major Hitchcockian thematic element.

This is played out so fully in The 39 Steps that you'll worry far less about the bad guys catching Hannay than the cops catching Hannay.

Hitchcock even gives us cops flat out lying to Hannay, pretending to believe his story of innocence then turning around and arresting him.

While the police are not evil in the traditional sense, they clearly cannot be trusted either.

The plot device that drives the film – seeking out "the 39 steps" because it's some impressive spy secret that's necessary to save England – is a huge MacGuffin.

It hardly matters by the end of the film what "the 39 steps" are; all that matters is that it caused our hero to go on the run.

We even have our blonde female, cold, a little cruel and a little sexy all at once.

I know Hitchcock made a fairly large number of films before this one, and I've seen some of them, but in my rather uneducated opinion, this is the first Hitchcock movie that is thoroughly and completely Hitchcockian in nature.

It's the first time he fully realized what he was all about in terms of story, devices, cinematography, and dialogue.

In fact, an argument could be made that North by Northwest, when you boil it down, is essentially a remake of The 39 Steps but with a bigger budget and better technology.

This is not a knock at North by Northwest, not at all, but the same ideas that course through its veins are here in The 39 Steps as well.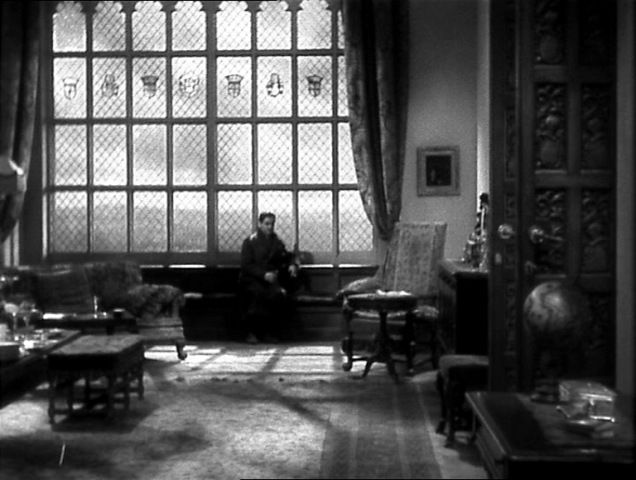 Hitchcock was always an innovator, but he concealed it by producing films with mass market appeal.

Throughout his career, however, he would always dabble with the experimental, finding ways to make his films using alternate techniques.

The 39 Steps is a classic example of this.

Sound was still relatively new, so there is no traditional music soundtrack in The 39 Steps, but Hitchcock is smart in his use of sound effects.

Just after our mysterious lady spy has been killed, the phone rings.

There is no swelling of violins in the background (Bernard Herrmann would come later), but it's not needed, not with the incessant ringing of the phone.

The ring takes on a sinister sound as we start to believe it's the bad guys come to finish off Hannay as well.

When we later see the mysterious spy's face superimposed over a shot of the men we think are after her, again we have Hitchcock playing around with film techniques.

Furthermore, there is definitely a play of light and shadow, perhaps from the influence of German Expressionism, that later turned into the films from Hitchcock's oeuvre that are most definitely films noir.
There is a sly sense of sexiness that makes The 39 Steps still feel juicy today.

The film was made in England so there was no Hays Code, but Hitchcock would have still had to play by its rules in order to get distribution in the States.

That being said, like so many films of the time, Hitchcock found a way around its strictures to get a little racy.

There are the obvious aforementioned lingerie salesmen who unblushingly produce undergarments from their briefcase, right before they start telling dirty limericks.

A priest glances a little too long at said some lingerie.

Hannay has to pretend to be having an illicit affair in order to sneak out of his flat, and later, throws the police off his track by making out with Pamela by means of an introduction.

The country crofter who gives Hannay a bed immediately suspects that he is making eyes at his young pretty wife.

And lastly, much of Hannay and Pamela's interaction comes with the two of them being literally handcuffed to each other, so the sly, tongue-in-cheek suggestions as to how they spent the night together become a bit salacious (watch how she takes her stockings off, then go get a glass of ice water), despite the fact that nothing is shown.

It's all about hinting at all the sexuality without really seeing anything.
I love the chemistry between Madeleine Carroll, the cool blonde, and Robert Donnat.

Pamela wholly believes that Hannay is a murderer, and when she winds up handcuffed to him, things get interesting.

It's at this point that the picture turns from a nonstop thrill ride to a romance under unlikely circumstances.

The formula of a bickering pair turned romantic pair is one of which I will never tire when done well, and Hitchcock does it well.

A particular favorite scene of mine is when Donnat, tired of trying to convince her of his innocence, starts to tell Carroll the tall tales of his "life as a murderer."

He rattles it off with such an exasperated coolness that she starts giggling.

Who wouldn't?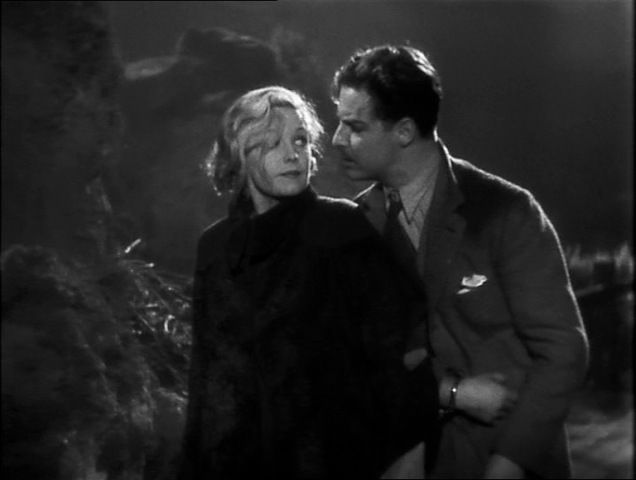 There is a delicious sense of a full-circle in this film with Hannay's game of cat and mouse taking him from a music hall in London to the moors of Scotland, then back to a crowded hall in London.

It gives a sense of completeness that is very satisfying.

Overall, The 39 Steps is a wonderful romantic romp, a suspenseful thriller, and a great adventure.

For me, I have a soft spot for it because I saw it in my first month of watching films from the 1001 Movies list, and it truly impressed me.

I still remember watching it for the first time and getting completely caught up in the suspenseful adventure, literally dropping my jaw on more than one occasion.

It's a little primitive, but no more so than any other film from the thirties, and more advanced than most of its counterparts.

Most of all, though, this is a fully realized Hitchcock film.
Arbitrary Rating: 9/10.

A sentimental favorite.