We interrupt this regularly scheduled movie review to bring you a recap of last night's events.
As a film lover, you can spend a lot of time by yourself or with only a few other people consuming film.

Every now and then, however, film is not just a product, not just a piece of art to be consumed, but an event.

An honest to god event, one that brings you together with many people.

Last night was a film event.
The Dryden, the archival theater that is part of the George Eastman House and Museum, reopened last night after being closed for two months for renovations.

I am a fan of the Dryden.

I first discovered its existence in 2006, which is the year that I started to get really serious about film.

I stumbled the Dryden's calendar and quickly realized that all these movies from 1001 Movies I was interested in watching had the chance of being seen on the big screen here.

I can't even begin to enumerate the classic films, the hard to find films, even the contemporary films that I've had the joy of seeing in a theater thanks to the Dryden.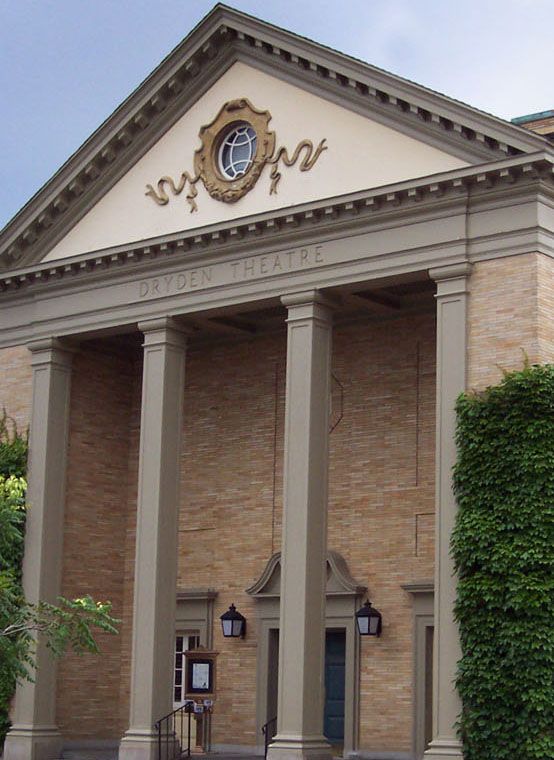 The facade of the Dryden.
That would be enough to make me love the Dryden in and of itself.

But the Dryden is more than just a means of watching film.

It's also a community.

There is always an introduction before every screening where something about the film is discussed in depth.

People go the Dryden and know others there.

I'll look around the theater prior to the screening and recognize at least half a dozen regulars I've seen there many times before.

There's the rotund little gentleman who always wears suspenders and round glasses sitting reading his novel in the right orchestra section before the show.

There's the middle-aged local actress with frizzy hair and a coffee in her hand who always shows up five minutes after the screening has started and always sits in the front row.

I have struck up conversations with those sitting around me thanks to a shared love of cinema.

I have introduced myself to the film programmer there, commending her on her choice of schedules, and we since chatted on a couple other occasions.

Going to the Dryden is much more than a regular Cineplex experience.
Add to this the fact that the Dryden does special events with guest appearances by film professionals, and the whole thing is just plain awesome.
Last night was a really big deal for the Dryden.
On January 2nd, the Dryden closed for two months for renovations.

Good thing too, because the seats really weren't that comfortable and the viewing experience was hardly state of the art.

To celebrate their reopening, they invited director and writer Alexander Payne to introduce his film Sideways and do a question and answer session afterwards.

I've been a fan of Payne since seeing Election in theaters, and in fact, the first time I went to the Dryden was when Payne came to introduce that film.

I got his autograph then and was all giddy when he answered my question in the Q&A.

I think it's fantastic that Payne has since come back to the Dryden – this was actually his third appearance there – to support our little city's theater.

Add to that the fact that I really adore Sideways, and buying tickets for the event was a no brainer.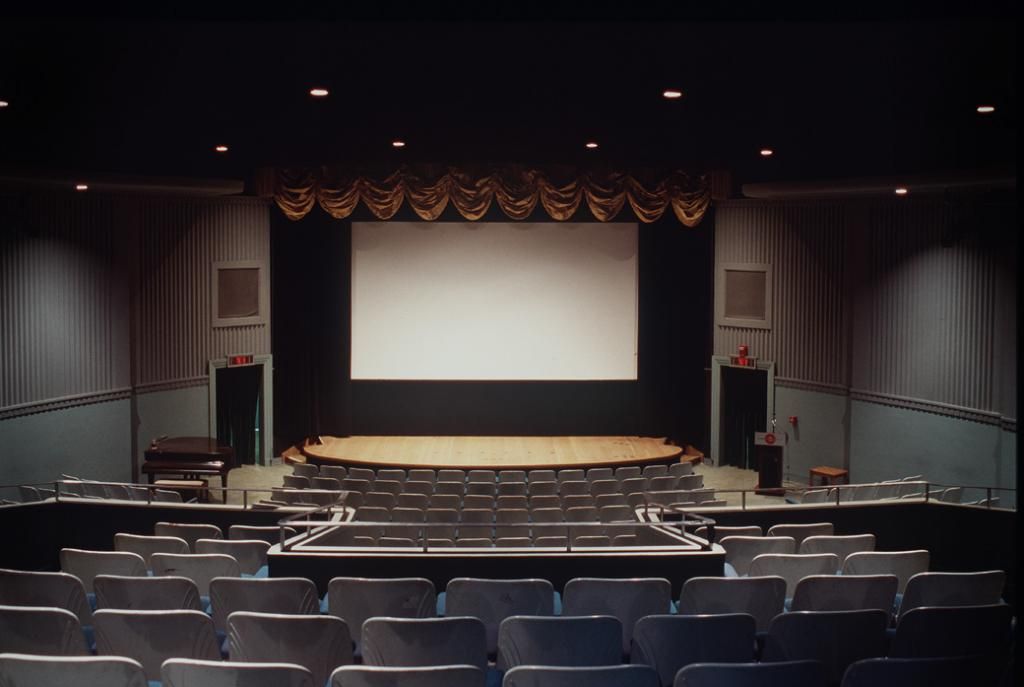 The old interior of the Dryden.
So the show started at 8pm, and me, my husband, and my sister arrived at 7:15pm only to find the parking lot was already full.

Also in the parking lot were searchlights lighting up the night sky; with the snowfall, the effect was incredibly beautiful.

Before even entering the Dryden, we knew this was an EVENT.
We walked in and the excitement was palpable.

People were swirling everywhere in the tiny lobby, and most of these people were dressed to the nines – I felt more than a bit underdressed in my dark blue jeans.

We were greeted by usher after usher who showed us to our seats – unusual given that the Dryden holds 500 people.

You don't exactly *need* an usher.

I recognized the volunteers and the programmer and some of the curators, and it was great to see them so dressed up.

I re-introduced myself to the PR rep for the George Eastman House and briefly chatted with her, all while taking in the gorgeous new deep purple interior of the auditorium, the new dark black rug and the comfortable plush red seats.

My sister and I made our way out to the restrooms, and on our way back in, we stopped at a booth they had set up proclaiming "Share Your Favorite Dryden Memories!"

Not being shy to speak about things I love, I stepped right up to the camera and talked for about a minute about how awesome this place is.
Feeling rather buzzed by the whole experience, I was then immediately whisked to the other side of the lobby by the aforementioned PR rep.

"Are you a Dryden fan?" she asked.

"Of course!"

"My friend from the local news network wants to interview a Dryden fan, would you mind?"
So I was interviewed for the local news about the Dryden's reopening.

The cameraman asked rather inane questions, and it wasn't until he asked if I had anything else to say that I was able to speak to the uniqueness of the Dryden, the community I mentioned above, and what a special place it really is.

When I finished, he was thrilled – "Are you a spokesperson for the Dryden?" he asked.
Nope, just a really big fan.

(When we came home at the end of the evening, we turned on the news network and found that yes indeed, Siobhan was on camera talking about the Dryden.

Still trying to figure out a way to upload that video.)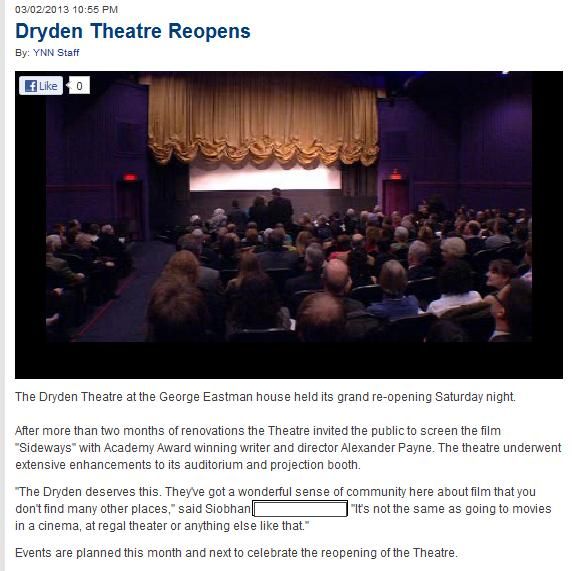 The news article in which I'm quoted about the event!
In reading through the official program for the evening, I turned to the back – Honorary Chair Persons for the evening.

Of course, Jack Garner was listed, our city's resident film critic, albeit retired.

I expected that.

Unexpected was seeing Robert Forster's name and picture.

I had no idea Forster had any connection with my city and/or the Dryden, but there he was.

And indeed, fifteen minutes later, there he was again – walking past my seat up the aisle to have a seat in the audience.

Holy shit, that was just Robert Forster!
Already the evening was far more than I had imagined it to be.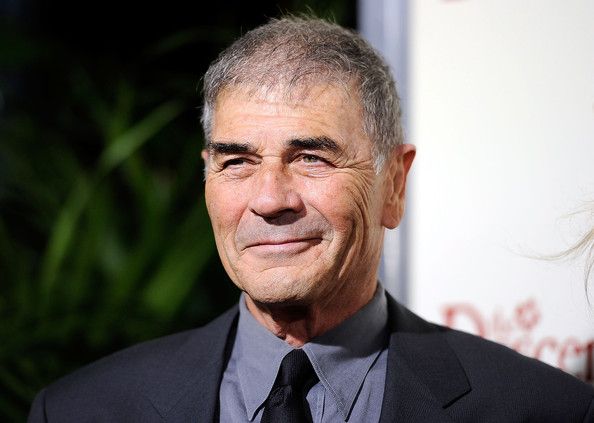 Yup, he was there. Walked right past me too. Holy crap.
When the lights dimmed, we opened with a five minute video about the renovations themselves, followed by several speeches.

The first two speeches focused on the George Eastman House and the Dryden specifically, and they were very nice.

Next up was the film programmer who talked about Alexander Payne.

And then the man himself, Mr. Payne appeared and briefly introduced Sideways.
I will save my review for Sideways for a separate post.

Needless to say, I really love that film, and it was brilliant seeing it in a sold-out theater.

The laughter was infectious.
After the film ended, the film programmer Lori joined Alexander Payne on the stage.

But he wasn't the only one there.

Rex Pickett, author of the novel Sideways, was also in attendance.

As was Jim Taylor, Payne's screenwriting partner.

Jesus H. Christ, this evening just kept on getting bigger.

I could hardly believe it.
Pickett was hysterical.

Clearly an ex-hippie-surfer dude, he was crass and uncensored, but in a loveable way.

He spoke about how Sideways the novel was incredibly autobiographical for him, how he was Miles at one point in his life, and he also spoke about how film was his first passion, how he writes with a focus for dialogue rather than description.

And he was not shy for praising Payne in his adaptation, talking about working with him to maintain the idiosyncrasies of the story, avoiding contrivances.

(He also called the Japanese remake of Sideways "unwatchable.")

My favorite quote from the evening had to come from Pickett, when he said that if Michael Bay had adapted Sideways, "it would have become two dudes doing jello shots in Cabo."
Alexander Payne was precisely as I remembered him – intelligent, passionate, and very kind and gracious.

He loves film.

I think I love film, but this guy is worlds apart from me.

He spoke passionately about how lucky we in this city are to have a place like the Dryden (I know, Alexander, I know), about how honored he felt to be asked back here for this event.

He insisted on taking all of the questions that people wanted to ask even when the programmer said we were running out of time.

He spoke of Welles, Antonioni, Allen, Scorsese, Hal Ashby, and Leo McCarey.

He very particularly identifies with that last director, responding to McCarey's sense of comedy and also his humanism.

He specifically referenced Make Way for Tomorrow.

I liked his mention of that film as the one time I watched it was at – you guessed it – the Dryden, and I literally sat in my seat and wept for five minutes when the film ended before I got up and left.
Payne wants to be – and is – a very humanist director.

He clearly communicated that he is interested in people, in Americans, in real Americans, not cartoon caricatures.

He is fascinated by pathos and melancholy but also humor and foibles.

He wants to tell stories about these people in a sympathetic way.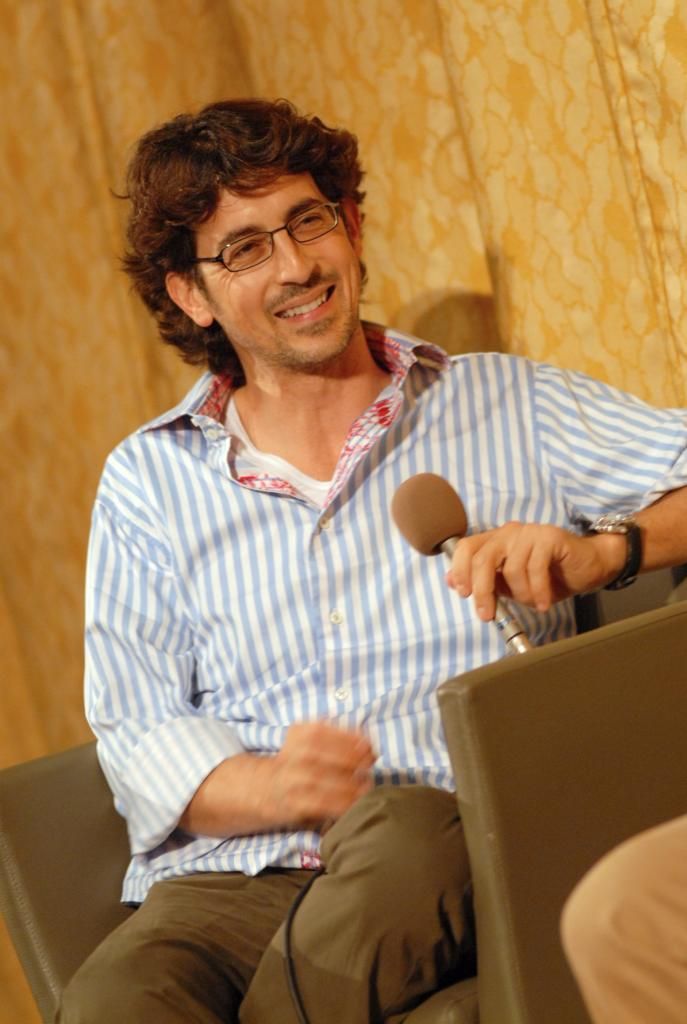 Press photo of Payne speaking at the Dryden about Election in 2006.
After the Q&A, my sister and I rather unabashedly rushed the stage – easy, given we were sitting in the fifth row.

I wanted to talk to him.

I wanted an autograph (well, another autograph – I got Election signed back in 2006).

Most of all, I wanted a picture.

Meaghan went first, getting her copy of The Descendants signed, and I took a couple shots of her and Mr. Payne, who was incredibly gracious in dealing with us rather rabid fans.

After Meaghan, I nabbed Alexander Payne's attention.

I can't remember what I initially said, but I do remember this exchange. (I'm paraphrasing, mind you.)
"I really love, in your films, how you use locations, real locations."
The man smiled – he liked my comment!

"What is it you like about them?"
"I like the cracked pavements, the leaves in the yard, the empty beer bottle on the table – it's just REAL, and it resonates with me so much more!

It's really unlike so many other Hollywood films."
"Thank you so much for saying that, I really appreciate it.

I don't understand why Hollywood feels the need to prettify everything.

There's so much natural beauty in this world.

I don't want to change it, I want to capture it."
I'm sorry, Siobhan wasn't listening to anything you said after "thank you for saying that, I really appreciate it."
I'm still reveling in the feeling that I was able to tell one of my favorite contemporary directors how much I loved his films – I actually told him "If I made movies, I'd make movies the way you do," which is completely true – and was able to make a fairly intelligent observation about his work that he responded to in a very positive way.
Fuck it, I talked to Alexander Payne about movies.

How fucking cool is that.
He posed for a picture with me too.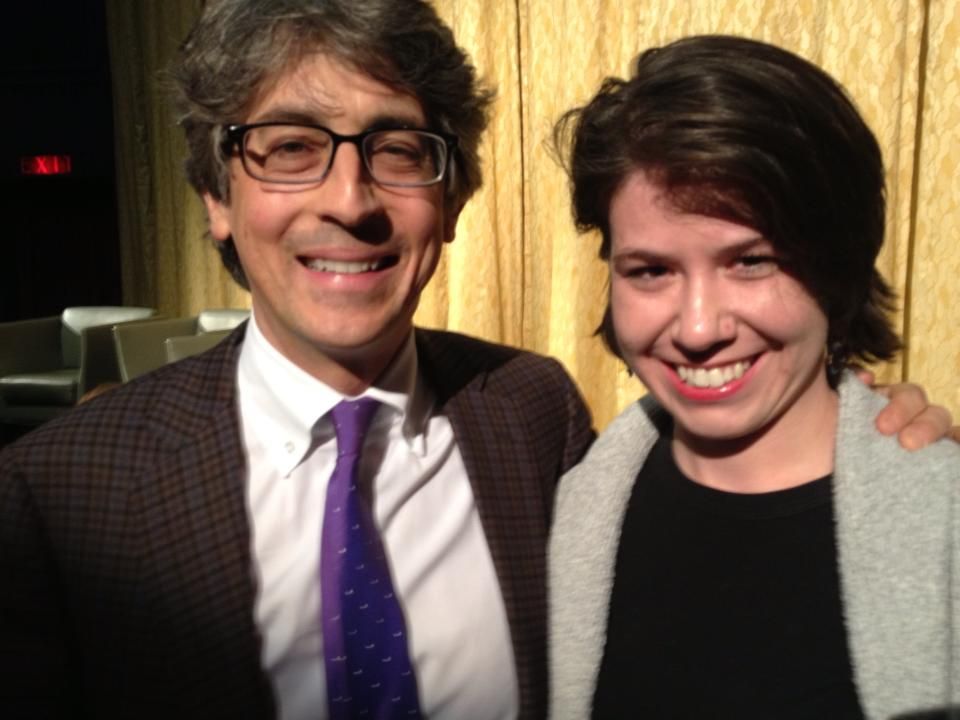 Yup, that's me and a dude who's won two Oscars. I am very happy.
Like I said, very kind, very intelligent, very gracious.

I am a fan, Mr. Payne.

I have been a fan for almost fifteen years now, and I will continue to be a fan.
Last night was a film EVENT.

And it was AWESOME.

Definitely one of the most amazing theater experiences I've ever had.