The Smiling Madame Beudet
Starring
: Germaine Dermoz, Alexandre Arquillière
There are certainly several early silent films that still feel potent and entertaining today, but the majority of them don't.

They drag, they're clearly outdated, they reek of academic interest only rather than entertainment value.

The Smiling Madame Beudet is not what I would call "entertaining," but I do think it is interesting from a historical perspective and, surprisingly, I connected with the film on a bit of an emotional level.
Mme. Beudet (Dermoz) is unhappy.

Seriously unhappy.

(yeah, she doesn't really smile much… or ever…)

Her husband (Arquillière) is a boar who flails about and mocks her silent moodiness, and she hates him for it.

He often play-acts at committing suicide with the empty handgun he keeps in his desk drawer as a way to get some reaction out of her.

One night, desperate in her all-consuming emptiness, she loads a single bullet into the gun, seeing her only way out as this way.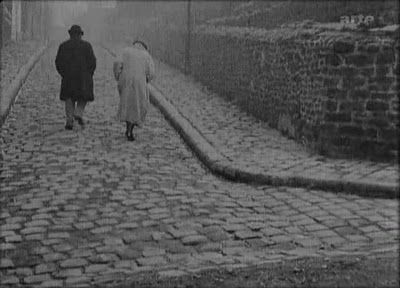 The biggest thing mentioned in regards to The Smiling Madame Beudet is that it is possibly the first example of feminist filmmaking.

I am not in a position to say if it is definitively the first or not, but I respond to the fact that this film was made by a woman about a woman.

Filmmaking is still primarily a man's game; given that the 1920s was kind of a big deal for women's rights, it's interesting to see a woman in this time period delve into artistic expression.
Having said that, I don't read this movie completely in the way that it is most often described: that Madame Beudet is frustrated by her misogynistic husband and loveless marriage and desperately tries to find a way out the only way that she, as a woman, can.

Instead, when I saw this again, I see it as a film about mental illness.

Madame Beudet is depressed.

Seriously depressed.

In fact, I see this film as an incredibly artistic expression of what it is to be depressed.

Why is Madame Beudet depressed?

Who knows?

Depression has many causes, and can cause the sufferer to act out in a myriad of ways.

She loses interest in activities that are of interest to her normally (refusing the theater tickets), becomes withdrawn from those around her (pretending to go back to sleep when she realizes her husband is still home), and is overcome with feelings of sadness and guilt (pretty much every scene in the film).

Is her depression caused by her marriage?

Possibly.

In any case, her husband isn't much help because he cannot "see" her illness and he undoubtedly doesn't understand why she feels so sad, which probably only makes her feel guilty for not being able to fully understand why she feels the way she does.

I say all of this because frankly, I've battled depression in the past, and by saying so, I am opening up in an intensely personal way to those who read this entry.

Depression is frustrating to say the least.

I have a very loving husband, one whom I love very much, but when I get hit with a bout of depression, I just want to completely withdraw from absolutely everything, including him.

And that's where, in a way, I identify with Madame Beudet.

Because her husband is, surprisingly, revealed to not be the oaf he is depicted as at the beginning of the film.

In fact, because of this very fact, the film is far more emotionally subtle than many other silent films.

There are shades of grey here about who is "right" and who is "wrong," who is "evil" and who is "good."

I don't think either main character is our hero or villain.

Rather, I view this as a snapshot of the effect that an "invisible" mental illness, like depression, can have on a marriage.

Is this me reading my personal experience into a film?

Undoubtedly, but isn't that the point of art?
The photography is interesting in The Smiling Madame Beudet.

There are several in-camera effects, even special effects, and the lighting was clearly thought about carefully.

This was not simply a "point and shoot" film; thought went into the artistic expression of each scene in terms of what or whom was highlighted.
But does this make The Smiling Madame Beudet an entertaining film?

Not really.

My attention started to wander a little at the 20 minute mark – and the version I saw was just under 40 minutes.

I don't think this film has much interest outside an audience interested in film history.

Again, though, I reiterate that I found this film not so much a story of female repression, but one of depression and its difficult effects on everyone involved.