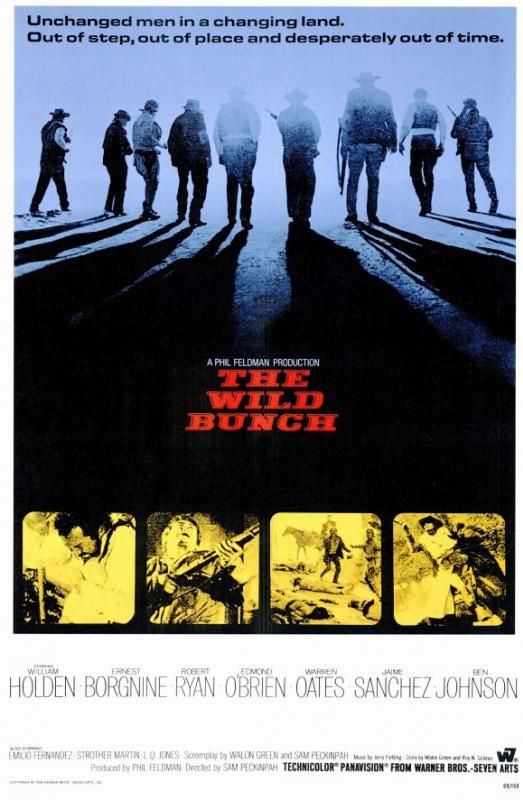 Starring
: William Holden, Ernest Borgnine, Warren Oates, Robert Ryan
In general, I don't like Westerns, but Peckinpah?

Peckinpah is a whole other ball of wax.

My first introduction to Peckinpah was Monty Python's "Sam Peckinpah's 'Salad Days,'" which still remains one of my favorite MP sketches, and it's become even funnier since I've partaken of Peckinpah's filmography.

With a reputation, rightly earned, for violence and cynicism, Peckinpah's vision of the West differs vastly from that of, say, classic western director Ford.

The Wild Bunch is Peckinpah through and through, with plenty of stylistically innovative violence and themes running deep with betrayal and pessimism.
Telling a fairly standard story of outlaws looking for one more score, we follow Pike Bishop (Holden), an aging outlaw who wants to retire as the twentieth century dawns in the American West.

With his colleague Dutch (Borgnine) at his side and old frenemy Thornton on his trail (Ryan), Pike gets entangled with Mexican bandit-turned-generalissimo Mapache (Emilio Fernandez) when they make a deal to steal some guns for him.

As the deal starts to go bad and tensions run high, we understand the bleakness of Peckinpah's vision.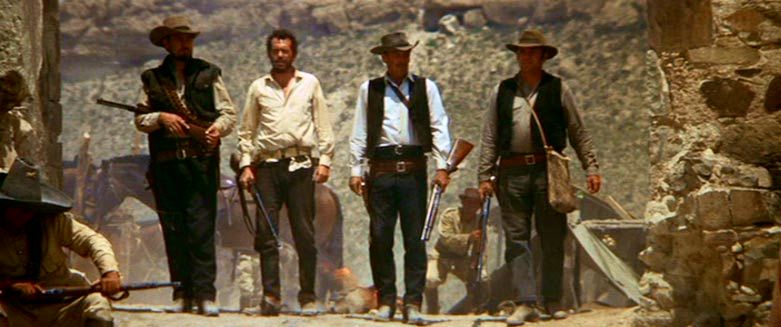 "It ain't what it used to be, but it'll do."

This is the closing line of The Wild Bunch, and it succinctly sums up a major thematic element of much of Peckinpah's work.

Weeping for a Wild West that had become far too idealized in previous films and television shows to have been real, Peckinpah seemed intent in his work to move that image forward.

In The Wild Bunch, he certainly does that, showing us a western landscape littered not with heroes and villains representing right and wrong, but characters who live somewhere along a spectrum of virtuosity.

Pike is our hero, for lack of a better term, but he opens the film by pretending to be a soldier in order to take part in a daylight raid of a bank in Texas, one that winds up killing many people.

And the phrase "Honor amongst thieves" only goes so far in Peckinpah's world, for many of the thieves aren't honorable in the least.

People get left behind or abandoned constantly.

The man hunting Pike is doing is only for bounty and he is surrounded by some of the most unlikeable and ruthless characters in the entire film; yet this man is on the "right" side of the law.

Generalissimo Mapache is the closest we get to a true villain in The Wild Bunch, but Pike, though wary, makes deals with him through most of the story, and Mapache himself seems less evil than a bit stupid and power-hungry.

In short, we don't have any traditional white hats or black hats here, just people living by whatever code they happen to adopt, be it right or wrong or somewhere in between.

This ain't yo' granddaddy's Western, that's for sure.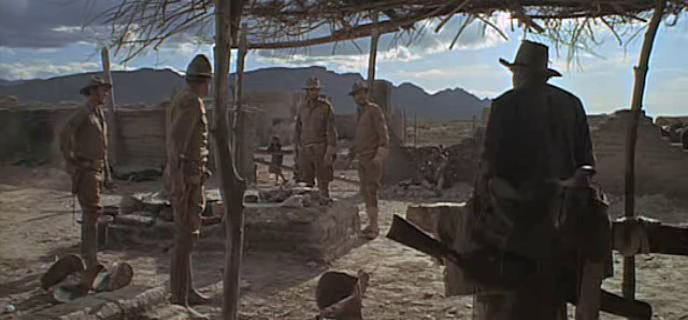 Additionally, the issue of betrayal is constantly looming throughout the story.

Thornton seems continually haunted by the fact that he finds himself hunting his old friend Pike with men he can barely stomach.

Pike and his bunch hardly care in the slightest when their compatriot Angel's village gets attacked by Mapache, threatening to leave him behind if he can't get over it.

Pike's old friend Sykes, who helps out in the gun heist, at one point himself gets abandoned by Pike and the rest because he was wounded.

No one's actions in The Wild Bunch are beyond reproach; everyone, at some point, does something fairly shitty to someone else, betrays someone they shouldn't, leaves someone behind whom they should have helped.

It's a messy world, Peckinpah's West.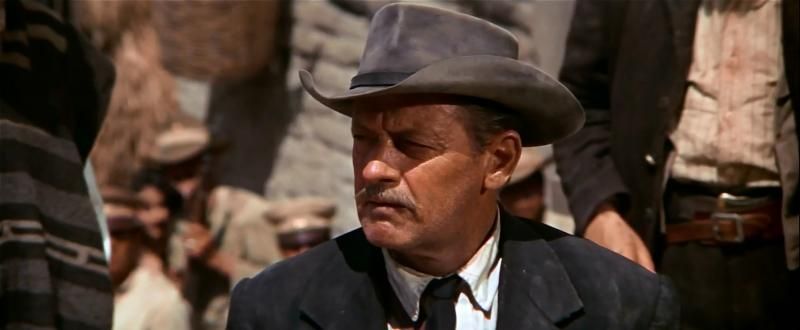 This wonderfully ambiguous morality play is wrapped up in a remarkably innovative cinematic package.

This is, in its own gritty, dirty, disgusting way, a beautiful film.

Peckinpah stylishly blends slow motion, flashbacks, and quick cuts to present a film that is unexpected in its technique.

Watch Angel's horse get lassoed – we cut between a slow motion shot of the horse falling to some quick-as-a-flash cuts to the men around him.

Just when the film feels a little too staid or predictable in its presentation, we get these fairly exciting shots.

The final bloodbath, famous for its violence, is a prime example of this, with slow motion bodies falling all over the place, graceful in their disfigurement.
The general attitude of the film is resigned acceptance.

Pike's final decision seems one not born of his sense of decency, but an unfulfilled death wish, grim in his determination to see this thing through to the end.

Everyone around him seems to know it as well, which is why when men start laughing as they are about to face certain doom, it all seems right, somehow.

The Wild Bunch is grim and bleak, maybe, but never stifling or depressing.

There are just enough light moments sprinkled throughout to make the dark moments bearable.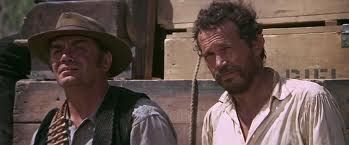 The cast of The Wild Bunch is strong all around.

William Holden, aging out of Classic Hollywood, plays against classic Western types here and does it well, as does Ernest Borgnine.

But for my money, it was Warren Oates as sidekick Lyle and Robert Ryan as Thornton who really steal the show.

Oates is an actor who, after not being able to get his Bennie from Bring Me the Head of Alfredo Garcia out of my mind for at least a week, I can't tear my eyes away from.

If he's in a scene, my eyes are on him.

If he's onscreen, I don't care what else is going on, I'm watching him.

His charisma and intensity and oddball humor live alongside a sense of sadness and inevitably which Peckinpah must have adored.

Similarly, Ryan's defeated Thornton is probably my favorite character from the film as we watch him almost sadly track down Pike.

It's never certain where Thornton really stands, and that's mostly due to Ryan's performance, keeping the character just a shade unknowable.

If I could change one thing about The Wild Bunch (although really, why would I want to mess with a classic?), it would probably be to do more with the Thornton/Pike angle.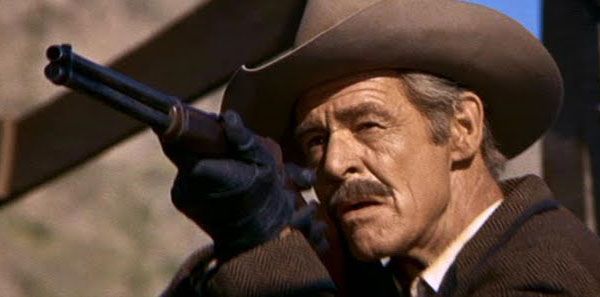 It's movies like The Wild Bunch that made me realize that there are always exceptions to the rule.

While it hasn't changed my mind about Westerns as a whole, I willingly make an exception for it.