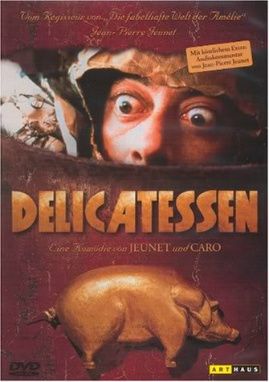 Delicatessen
Director: Marc Caro and Jean-Pierre Jeunet
Starring: Dominique Pinon, Marie-Laure Dougnac, Jean-Claude Dreyfus
1991
Very dark. Very bleak. Very gorgeous. Pretty funny. Pretty cute. All terms I would use to describe
Delicatessen
, an odd little duck of a film that almost taunts IMDB to categorize it. With plot keywords that include "chimpanzee," "cannibalism," and "Rube Goldberg device," you know you're in for something original.
In an unexplained post-apocalyptic world, the butcher Clapet (Dreyfus) runs his delicatessen from the ground floor of the apartment building he owns. Food is so scarce it is used as money. After "dispensing" of his previous odd-jobs man in his apartment building, he puts out an ad for a "replacement." What he gets is the former circus clown Louison (Pinon), a kind soul who entrances Clapet's daughter Julie (Dougnac). Julie tries to save her clown, but Clapet is determined to serve up Louison.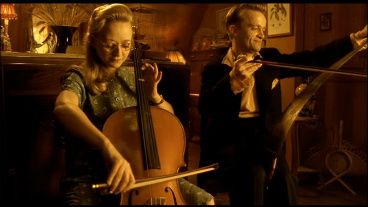 From the writer/director team that produced the international hit
Amelie
is
Delicatessen
, their first full length feature, and it is very clearly a film in the same vein. OK, so no one tried to kill anyone and then chop them up as deli meat in
Amelie
, but apart from that, the similarities are extraordinary. Caro is an artist, a designer, an illustrator, and this is abundantly clear in the beautiful cinematography. The shots are awash in rich colors, saturated to the point of looking like a page out of a children's book. Not only the color, but the composition is fabulous. Unafraid to tilt the camera, it is rare that a shot isn't angled in some way. The camera pushes in grotesquely close on someone's face, pulls back, and then soars terrifyingly fast down a sewer pipe. For a team's first official full length outing, it is an extraordinary film in terms of camerawork.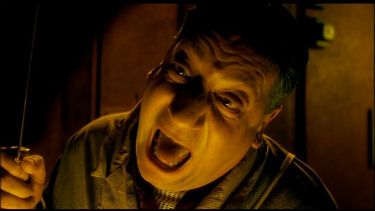 The film's strength (apart from the cinematography) is the characterization of the people who inhabit its world. The film is terrifically claustrophobic, entirely confining its action to the apartment building, the stoop outside it, and the sewers that immediately surround it. The personalities, however, in this small little world are very large. Clapet is big and lumbering, evil, but not wholly so; Julie is shy and quiet and immediately likeable; Louison, as a former clown, is both jester and white knight. Then there's everyone else in the building: the old man who is breeding an apartment full of frogs and snails; the two man team who insist on making little animal-noise toys; and, my personal favorite, Aurore, the crazy wife of a rich man who keeps trying to kill herself in increasingly complicated ways. Needless to say, when, in one scene, she has five separate ways of killing herself go awry in one go, I laughed out loud.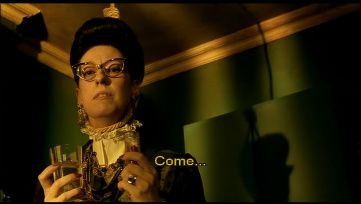 Ultimately, however, I have the exact same problem with
Delicatessen
that I do with
Amelie.
Both are highly charming, highly interesting films that are fabulous to look at, but in the end, a little bit soulless. (And yes, I did just attest that I find
Amelie
a little soulless. Let the yelling commence.) The style in
Delicatessen
is absolutely brilliant and gorgeous and fantastic, and I adore a stylized film. However, when you peel away the pretty and interestingly grotesque outer layers, you are left with very little in the middle. The love story between Julie and Louison is sweet but feels profoundly underdeveloped. Considering that their relationship provides the central tension of the plot, it is essential that we be "on their side," so to speak. And while I certainly didn't want Louison to be killed, I also never felt completely invested in the film. That's a problem that I've noticed with Jeunet and Caro. They go to town in terms of quirkiness but can't quite bring the goods in the center of their films.
Is
Delicatessen
worth seeing? Hell yes. There are precious few films that look like this; it reminded me of
Twelve Monkeys
(a high compliment) until I remembered that
Twelve Monkeys
came AFTER
Delicatessen
. I wonder if Terry Gilliam drew some inspiration for HIS post-apocalyptic world from this film. And, as I've said, I really do love a good, stylized film, and this is certainly highly stylized. But ultimately, it lacks heart. Pretty to look at, curious and funny to behold, but just a touch too unsatisfying for my taste.
Arbitrary Rating: 7/10