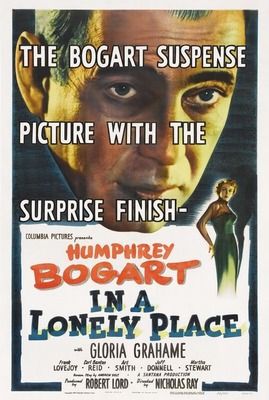 In a Lonely Place
1950
Director:
Nicholas Ray
Starring:
Humphrey Bogart, Gloria Grahame
My enduring memory of
In a Lonely Place
is that of an apartment building. In the relatively straightforward story, so much of the action takes place within two apartments and the Spanish courtyard that separates them. How the apartments change or are changed throughout the course of the film is reflective of how the central relationship in the film changes in this suburban film noir.
Dixon Steele (wow, what a name, played by Humphrey Bogart) is a hard drinking Hollywood screenwriter on the verge of being washed up. His agent lands him a gig adapting a crappy sounding romance novel, and instead of reading it himself, he hires the coat check girl at his favorite hangout to come home and tell him the story of the novel; after all, she's read it, and he hasn't. Troubles arise when the very same coat check girl is found brutally murdered only hours after she left Steele's apartment. When Steele's neighbor Laurel Gray (Grahame) provides him an alibi, the two strike up a romance. But Steele has a dark streak, and his involvement in the murder case remains undetermined.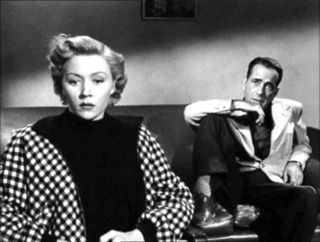 Dix and Laurel's first official meeting at the police station
This is a brutal, frightening film; not because of the violence that is shown, which is minimal, but because of the pervasive background violence in the discussion of the murder, and the several, quick, unexpected bursts of violence that punctuate the film. Take the opening of the film: Dixon Steele is drinking at his favorite restaurant. The silly, flirty coat check girl keeps talking about this schmaltzy novel he's supposed to adapt. He takes her back to his apartment where she continues to be silly and flirty and continues to gabble on about the schmaltzy novel. Steele is bemused, and so are we, as the audience. What a bobblehead. Nicholas Ray then proceeds to sucker punch us by showing us how this silly, flirty girl was strangled, killed, and dumped out of a moving car. We see the pictures. The police describe the murder in detail. What on earth just happened? The murder is so out of left field, not at all what the audience is expecting. Ray continues this streak of shockingly brutal violence coming out of nowhere throughout the movie. He has the capability of lulling his audience into complacency, here, through scenes of domestic happiness, and then, when we think that all the violence is in the past, Ray delivers a horrifying one-two punch and freaks us out all over again.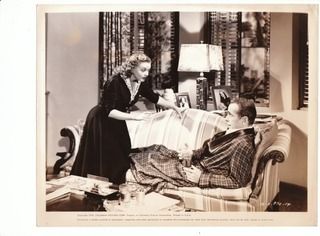 Dix and the silly coat check girl
To achieve this effect, Ray coaxes a tremendous performance out of Bogart. Roger Ebert said that Bogart was at his best when playing a wounded, flawed character, and at his worst when playing a straightforward macho man, and dammit if that isn't true. Dixon Steele has some serious psychological issues here, and Bogart just goes to town. His Steele is akin to a caged beast; docile if treated well, friendly, even, but when angered, when provoked, he turns, quick as a flash, and reveals a dangerous monster that loses his judgment and lashes out at any and all who surround him, much like the lion that kills his trainer. That he does so believably is extraordinary. I am not a huge Humphrey Bogart fan, not wholly understanding his appeal, but I love his role here. He is loving and dangerous, all at the same time.
Gloria Grahame, as the object of his affection, is wonderful. In her first scene of any heft, she is being brought into the police station to provide testimony that she saw the coat check girl leave Steele's apartment of her own volition. Grahame is wearing pants in this scene. Small wardrobe choice, yes, but this was 1950, and women didn't typically wear pants in their film roles. The fact that she was outfitted thus is a tremendous signifier that she is not a woman to be trifled with. She is strong, she is sharp, she is in control. When she falls for Steele, she is terrifically happy, but as doubts about the murder case arise, even she, his alibi, begins to doubt his innocence. Although Grahame takes Laurel from steely pants-wearing HBIC to loving girlfriend to frightened for her life, she makes sure that Laurel never loses her backbone. Even when she is most terrified by Steele, Laurel doesn't cave. Laurel doesn't back down. Laurel doesn't stand for it. Steele is revealed to have a history of domestic violence, and Laurel is frightened he could turn on her; it is refreshing to see a character from 1950 that will not stand for that, not in the least. She is a fiercely feminist character popping up in a standard 1950 noir drama, and even better, she's NOT a femme fatale.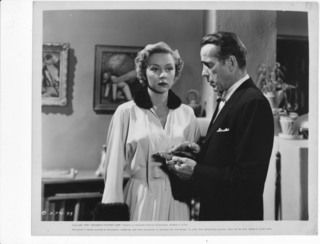 The look on her face!
As mentioned in the introduction, nearly all of the significant action takes place in the apartment complex where Gray and Steele are neighbors. We move back and forth between their two apartments and the courtyard in between. We see Steele's apartment at the beginning of the film, before he meets Laurel, and it is beyond messy; a true bachelor's pad. As Laurel becomes involved in his life, his apartment becomes clean and uncluttered, representing the domestic bliss the two are playing at. Although they are not officially living together, they might as well be. But Nicholas Ray being Nicholas Ray, he pushes the evolution one further – from sloppy single life to happy coupledom to fear for one's life; in one of the largest arguments between the two, doors are locked in the apartments for the very first time. Characters are starting to close themselves off to one another, both literally and figuratively, and the apartment walls start to close in around our characters.
In a Lonely Place
is a gut-wrenching tale of violence betraying the veneer of domesticity, much in the same vein as Ray's other films, such as
Rebel Without a Cause
and especially
Bigger Than Life
. Bogart's performance in the film is easily one of his finest, ranking right up there with
Treasure of the Sierra Madre
, and even better, in my opinion, than
Casablanca
. Fantastic.
Arbitrary Rating: 9/10