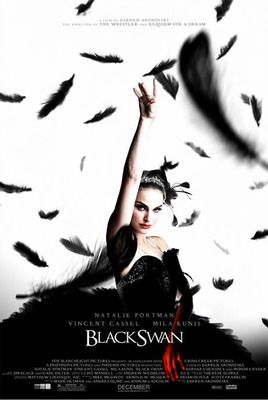 Black Swan
2010
Director:
Darren Aronofsky
Starring:
Natalie Portman, Mila Kunis, Barbara Hershey, Vincent Cassel
Black Swan
is the best ballet movie I've ever seen, but frankly, that's not hard to do. What ballet movies is it in competition with?
Center Stage, The Turning Point, The Company
, the first of which is pretty damn bad, the next two are mediocre at best, and
The Red Shoes
, which is good, but my praise stops there. Thing is, though,
Black Swan
is a good movie because it's not about ballet. It happens to be set in the world of ballet, but it's not a ballet movie. Not really. The theme of obsessively striving for perfection and the psychological damage therein inflicted, could be set in any microcosm. Aronofsky simply happened to set his tale in the world of ballet.
Nina Sayers (Portman) is a consummate professional ballerina, constantly striving for perfection. When she finally lands her big break, dancing the role of Swan Queen in
Swan Lake
, her boss Thomas (Cassel) gets on her case about getting in touch with her sexual side in order to play the passionate and seductive Black Swan. Nina, though, has trouble letting go, and her repressive mother (Hershey) is no help. Meanwhile, another dancer, Lily (Kunis), seems to be gunning for Nina's part.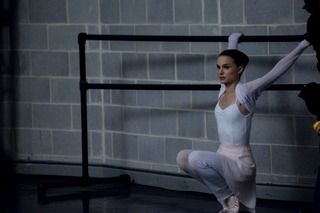 The film I have heard most frequently referenced when discussing
Black Swan
is
The Red Shoes
. Yeah, sure, go for the obvious choice. I mean, I don't deny that the theme of obsession about artistic perfection in the world of ballet makes these two films clearly related, but I did not think of
The Red Shoes
while watching this. Instead, another film kept coming up again and again -
Cat People
. OK, an odd choice, to be sure, but hear me out. While Nina's drive for perfection is important, I feel of more import is her sexual awakening and freedom from repression, and the psychological damage this awakening wreaks on her. In
Cat People
, the main character, a gorgeous but unknowable artist (Simone Simon), is a woman who is frightened of falling in love and being intimate with a man. If she does, she will turn into a cat and unleash a violent and dangerous personality onto the world. Both women have a yearning to break free from their repression (Nina tries repeatedly to masturbate, but her world keeps foiling her), but are both frightened about the consequences. While
Black Swan
is ostensibly a ballet movie, I don't really think it is. It's far more a psychological drama that happens to exist in the world of ballet than it is about the art and practice of ballet specifically. And as such, I find the psychological comparisons between the characters, both of whom fear morphing into otherworldly violent creatures should they dare let down their guard for a second, far more significant. They are both characters who are desperately fighting with themselves in order to please external sources.
The color palette of the film is unexpectedly stunning. I say unexpectedly because the palette is entirely neutral. Blacks, whites, grays, and pinks are almost the only colors seen, other than skin tones. This muted canvas works surprisingly well. It makes the film seem both more real and somehow surreal; real due to the lack of any bizarre, garish colors which, frankly, don't pop up often in my daily life, and surreal because it emphasizes how much Nina is trapped in her own obsessive head. This is a girl who lives, breathes, and dreams of ballet. The colors of ballet are black, white, gray, and pink; go to any dance supply store, ask for ballet leotards, and these will be your color choices. It all heightens the sense of living entirely within this one very small cosmos, with its own very discreet rules and expectations. The "regular world" does not dare impinge upon this insular universe, let alone Nina's limited life. She is trapped, as are we. The colors keep us firmly within this little world.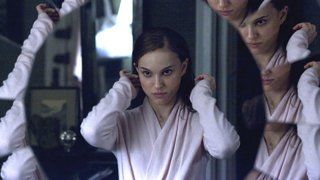 A nice touch I rather enjoyed was the parallel between the narrative of the film and the plot of
Swan Lake
. In
Swan Lake
, the White Swan falls in love with the Prince, and hopes that he will rescue her from enchantment, only to have the Prince seduced by the Black Swan, who looks exactly like her. Nina desperately wants to play the Swan Queen, and must convince Thomas to let her do that, but Lily seems to want the part for her own. Aronofsky is clearly enamored of the duplicity of the ballet tale. The actors in the credit sequence are even credited with both their character names and the names of roles from the ballet. I always find myself fascinated with modern day adaptations of classic tales; we, as a society, keep on going back to the same stories over and over again, telling them in novel ways, perhaps, but retaining their essence. Look at how many times Shakespeare has been adapted, and in how many countries and languages. This is the latest in the line of classic retellings, but it's done with subtlety and tremendous style.
The paranormal aspects are absolutely thrilling. Aronofksy shoots the film in a photorealistic style, lulling the audience into a sense of complacency, convincing us that what he is showing us is real. Well, needless to say, when Nina pulls a black feather from her shoulder, it becomes difficult to believe that what he is showing us is truth. The line between the real world and the psychological meltdown that Nina is having becomes incredibly blurred. Aronofsky increases the frequency with which he moves between the two worlds until the very climax of the film, making us dizzy. We realize, only at the very end of the film, that we cannot trust what we are being shown, not in the least. Aronofsky manages to pull off that difficult filmic feat of putting us convincingly within the head of a character.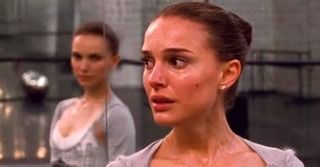 This is my first Aronofsky film, and it seems a very accessible gateway into what I've heard is a rather messed-up world - almost too accessible. I look forward to delving more into his work, with the understanding that it's undoubtedly more challenging and potentially less palatable than this. Much in the way that I always tell friends of mine to see
The Shining
as their first Kubrick film because it's the most commercial and most accessible, and not to jump straight into
A Clockwork Orange
or
Barry Lyndon
, I imagine
Black Swan
to be a comparable entry point.
Arbitrary Rating: 9/10 Very very very good. Not sure if it's perfect, much to Nina's dismay.