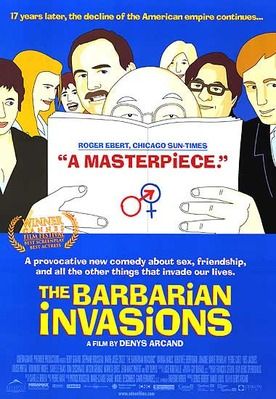 The Barbarian Invasions
2003
Director:
Denys Arcand
Starring:
Rémy Girard, Stéphane Rousseau, Marie-Josée Croze
This was a shockingly personal film for me. As such, expect a shockingly personal review, one that I will not advertise as readily as nearly all of my other work.
In
The Barbarian Invasions
, Best Foreign Language Film Oscar winner from 2003, retired professor Remy (Girard) is diagnosed with inoperable and terminal cancer in Montreal. His ex-wife calls their estranged son Sebastien (Rousseau) and his fiancée back from London where he works as a financial planner. He is hesitant, having been estranged from his father for a long time, but at the insistence of his mother, he fights the broken health care system to provide comfortable final days for his father. He gets his dad a better room, calls together his father's old friends, and even goes to the lengths of scoring heroin from a junkie (Croze) to help relieve his father's pain.
Superficially,
The Barbarian Invasions
seems to pride itself on how "risqué" it is. 'Look at Remy! He admits to having had multiple mistresses! Look at his friends! They're in their fifties and talking about socialism and sex! OMG, Remy is doing drugs!!!! Is your mind blown yet?!?!?' Yes yes yes, you're quite shocking. There was a pomposity to this, a feeling of blustery "WOW we're in an awesome movie because this is so TABOO!" Ostentatious and stagey; these are the adjectives I would use, not taboo.
However, I barely focused these aspects of the film. They were diverting and amusing, but this wasn't what the film was about. Not for me, at least.
Cue background.
My father is 64 years old, and I love him very very much. My father is overweight and has been for many years. In the past three years, he's started Weight Watchers and has lost about 60+ pounds, but he still needs to lose more weight. Three years ago (prior to the weight loss), he was rushed to the hospital with a pulmonary embolism. Fortunately, it was caught in time and he made a full recovery, but the fact remains that pulmonary embolisms kill people regularly. One year ago, he had the first of his knee replacement surgeries. There were complications, and long story short, he was rushed to the hospital for a second pulmonary embolism. Like before, he made a full recovery – luckily. Six months ago, he had the second of his knee replacement surgeries and was, for once, fine. Two days ago – TWO DAYS AGO – he was rushed to the hospital for what was eventually determined to be a bacterial blood infection. He has since been discharged and is resting at home on antibiotics.
I couldn't help but see my father as Remy and myself as Sebastien, especially in the final scenes of the film.
Certainly substantial differences exist, most notably that I have never been estranged from my father. My father is a terrific storyteller, but his stories don't typically involve socialism, and as far as I know, he doesn't make a habit of smoking heroin with a street junkie.
I was able to somewhat differentiate myself emotionally from the characters until Remy and Sebastien visit the lake cottage.
Our family has a cottage. On a lake. In Maine. With views that look identical to those shown in the film. Identical to the point where I actually gasped when I saw the view. And my father loves our cottage. If there was ever a place that he would want to be to live out his final days, it would be there.
I think it was, quite honestly, a bad idea to watch this movie so close to my dad's latest hospital scare. The past three years have been a litany of hospital visits for Daddy, and I've been forced to consider his mortality in a way that, as a loving daughter, I really don't relish. Watching Sebastien get over his exterior anger and become a dutiful son, anxious to care for his father in his final days, and facing the mortality of his parent, was a touch too close to home for me. I'll make this clear: I'm writing this review with a box of tissues nearby, and yes, I find myself having to use them right now.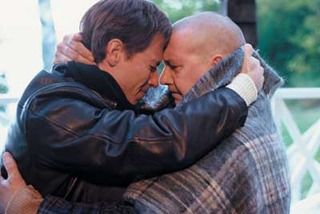 To me, the relationship between Sebastien and Remy was the core of the film.
Ultimately, based on my own personal circumstances, I wound up shutting out nearly every other aspect of
The Barbarian Invasions
save for the relationship between father and son. It was like a car wreck – I couldn't turn away, and it was all I could think of. This is a little too bad for the film, because there's more to it than just Sebastien and Remy. There's some scathingly biting commentary on the Canadian health care system, shockingly portrayed in a very nice long take at the beginning of the film, and Crozee turns in an outstanding performance as junkie Nathalie, never mind the way these pseudo-intellectuals freely discuss and diss American pitfalls and politics. All of this really fell by the wayside for me.
All I could think about was how much I love Daddy, and how I don't want him to die.
But when I find myself in that position – because the last two days have made me admit this is a question of "when," not "if" – I hope I can do it with as much love and grace and strength as Sebastien.
And if you don't think I was a wibbly mess when they played the daughter's video, the daughter who couldn't be at her father's side despite desperately wanting to, then you are horribly, horribly wrong.
Arbitrary Rating: 8/10, I guess. It's a flawed film, but when you peel away the outer superficiality, it struck a very profound and personal note for me.