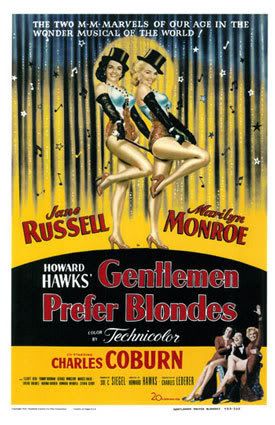 Gentlemen Prefer Blondes
1953
Director:
Howard Hawks
Starring:
Marilyn Monroe, Jane Russell
*reposted from my previous film site in an effort to get everything in one location*
You can't watch dramas all the time. You can't watch serious, arthouse fare all the time. Every now and then, a crazy comedy hits the spot. If I'm looking for a crazy comedy that comes with the luminous Marilyn, catchy songs, and dazzling Technicolor, then I reach for
Gentlemen Prefer Blondes
.
Lorelei (Monroe) and Dorothy (Russell) are best friends but polar opposites. Lorelei is hell bent on marrying her millionaire boyfriend despite the fact that he's a bit geeky, but she needs to get him away from his objecting father first, so she sails for Europe. Dorothy accompanies her, and although she gets distracted by the Olympic men's track team along the way, falls for the charming but penniless private eye who is spying on Lorelei. Complications arise, wacky situations are resolved, and, no shocker here, all ends happily.
There is an irreverence in this film that I adore. It could easily be considered a screwball comedy musical, but it's served with a side of black heartlessness, what with all the talk of material success and gold-digging. The musical numbers are all fantastic, but have precious little to do with the plot, which adds to the zany atmosphere. The film opens with Dorothy and Lorelei glittering in gorgeous red sequin gowns singing casually about striking it rich, and the next musical number has an impromptu goodbye party in the cabin suite of the ship. Although the "Diamonds are a Girl's Best Friend" number is most remembered (and why not – Monroe is instantly iconic in hot pink opera gloves), my personal favorite is "Ain't There Anyone Here for Love?" Dorothy laments in the ship's gymnasium of the fact that the entire Olympic track team has to focus on their training instead of her. However, she is lamenting this while surrounded by heavily muscled, shirtless men who are wearing flesh colored hot pants and performing handstands and calisthenics. At one point, two of the men wrestle one another. Calling this scene "homoerotic" is the understatement of the century. I can only hope that Hawks knew what he was doing when he filmed this. How could you not? It's absolutely hysterical. And Russell's impromptu fall into the pool at the end of the number (a mistake, but Hawks liked it to so much he kept it in the film) is just the final icing on the cake of the entire "what the hell was that musical number about?" feeling. The entire film has a bit of the "WTF?" to it. But that's what makes it so thoroughly entertaining.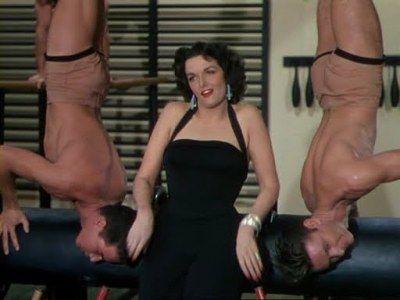 Seriously. They look naked. Seriously.
Monroe's role as Lorelei is fantastic. At first, Lorelei is everything you would expect from a silly little Marilyn Monroe movie: dumb as a brick ("Is this the way to Europe, France?") and a gold digger. As the film continues, though, Lorelei is revealed to be far more intelligent than first thought. When Lorelei's engagement is threatened (due to her own misbehavior, to be fair), she becomes cunning and ruthless in order to save it. She may look like a dumb blonde, and may, on occasion, act like a dumb blonde, but she knows exactly what she's doing. If something happens to mess up her grand plan, she is willing to do whatever it takes to rectify the situation. Monroe shows her innate comic timing by switching back and forth between wide-eyed innocence and devious miscreant. To add a bizarre third layer to the role is the ultimate reveal that while Lorelei is indeed a gold digger, she's also, somehow, sweet and sentimental. As she explains at the end of the film, she wants to marry Gus for his money, but also for Gus. She could get any millionaire, she reasons, but Gus is the sweetest, nicest millionaire, so he's the one for her. Somehow, in the world of Lorelei Lee, this comes off as actually rather romantic. So, then, in a single role, Monroe goes from being dumb blonde bimbo to scheming conniver to big hearted romantic. Although I know Marilyn Monroe epitomizes the dumb blonde stereotype even to this day, there is more to her character Lorelei Lee than meets the eye. I'm a big Marilyn Monroe fan, and I think this film is some of her finest work.
Although this is Marilyn's movie through and through, Jane Russell pulls her weight as the top-billed star (Monroe's star was still on its upward trajectory and Russell was the big box office draw when the film was made). She is sassy and lewd, chaperoning Lorelei yet keeping her eyes peeled for herself. Watching her lust lasciviously after the Olympic track team is delicious. And then we get to the end of the film, where, in order to get themselves out of the screwball comedy scrape they've found themselves in, Dorothy needs to impersonate Lorelei. Russell is positively hysterical in her best breathy Marilyn impression.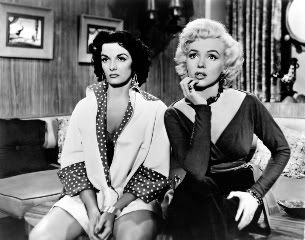 The first time I ever watched this movie, I was having a rough night. I was still in college, home for the summer but alone, and the family cat got sick – seriously sick. I had to drive her to the emergency vet and hear the news that the cat had a serious stroke by myself. I was distraught and emotionally spent, and when I got home, I watched
Gentlemen Prefer Blondes
. It was exactly what I needed at the exact right time. It's silly, it's campy, it's beyond ridiculous, and whenever I need a silly, campy, ridiculous movie, this is the first one I reach for.
Arbitrary Rating: 9/10