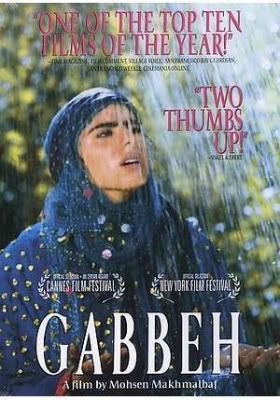 Gabbeh
1996
Director:
Mohsen Makhmalbaf
Starring:
Shaghayeh Djodat, Abbas Sayah
An old couple stop at a spring to wash their gabbeh, or woven rug. Magically, a young woman (Djodat) seems to spring from the gabbeh, pronouncing her name to be Gabbeh. She tells the old couple the story depicted on the rug, which is also the story of how she ran away from her clan with her lover. Her father is perpetually making her wait to marry her lover, a man who is never seen close up but instead communicates through the cry of the wolf, and eventually, Gabbeh must break free of her clan. The old couple both listen to and participate in her story.
There is certainly a simple lyricism in this film. Makhmalbaf gracefully shows us a wheat field blowing in the wind, then cuts to a shot of women weaving a gabbeh, then back to a rippling stream. It has been called poetic, and I find that to be an apt description. While the story is more or less straightforward, Makhmalbaf intercuts cleverly, going from a shot of yellow flowers to one of making yellow dye, to yellow yarn, to a yellow canary. When Gabbeh's mother is giving birth, we see instead a hen laying an egg. When Gabbeh finally decides to run away with her suitor, we mainly see a baby goat standing on its legs for the very first time. There is constant association of man with nature, and the sounds of nature underline nearly every scene.
The color work in
Gabbeh
is astounding, more so when you consider that it was all done in camera and not retouched or achieved through CGI. The women's clothing is so vibrant, so alive. Bright blues, pinks, and reds, all decadently bedecked with glitter, sequins, and metallic ribbons, this movie is, if nothing else, a feast for the eyes. The characters themselves celebrate color. Given that the clan makes their living off of wool and woven crafts, they see color around them as vital to their lives. As several characters proclaim, "Color is Life!"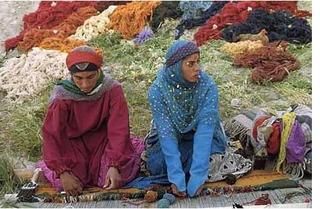 There is an immensely charming scene early on where the uncle teaches some school children about color. Through very simple camera trickery, the film very clearly sets its tone as one of a fairy tale. The uncle (Sayah) points to a field of poppies and asks the children what color that is. They joyfully reply "Red!" We see his pointing hand in a shot with the poppy field, we see his hand "grab" at the poppies in thin air, and then the camera cuts to him in front of the blackboard, now holding a bouquet of poppies. Similarly, when he points to the sky, and the children yell "Blue!," his hand returns magically painted blue. It's a very simple "special effect," but it makes the film seem magical and mystical. Through this easy trick, Makhmalbaf takes us out of the realm of realism and into this fairy tale he has created.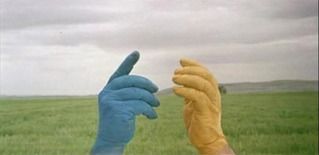 It's inspiring to see a film like
Gabbeh
rise from a country as dictatorial as Iran. It's a reminder that the politics of a country do not necessarily reflect the culture of a country.
Gabbeh
is a beautiful, peaceful, and philosophical film that celebrates the rural tradition of Iran. Is it a gripping narrative? No. It's a little slow, and definitely a little unusual, but it's always fascinating to see what a filmmaker chooses to show you of his world. Makhmalbaf's Iran in
Gabbeh
is both vibrant and mystical, two sides of Iran I never would have seen had it not been for this film.
Arbitrary Rating: 7/10. Pretty Iranian fairy tale.