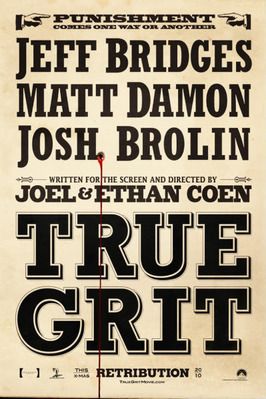 True Grit
2010
Directors:
Joel and Ethan Coen
Starring:
Hailee Steinfeld, Jeff Bridges, Matt Damon
I admit, I had high expectations for
True Grit
based on
No Country for Old Men
. I consider the latter to be one of the finest films to come out of Hollywood in the last decade; it's thrilling, it's taut, it's ambiguous, and it's just all-in-all fantastic. When I heard the Coen brothers were taking on another western, I was excited. After finally seeing
True Grit
, a remake whose original I have not seen, I have to say that, while having its own merits, it does not live up to its predecessor.
Mattie Ross (Steinfeld) arrives in an Arkansas town hellbent on avenging the death of her father. She is no-nonsense, smart, and stubborn, and she quickly enlists the drunken and slovenly U.S. Marshal Rooster Cogburn (Bridges) to aid her in this quest. She insists on joining him in pursuit of her father's murderer, however, and along the way, they also pick up Texas Ranger LaBoeuf (Damon). The three of them form a sort of Odd Trio, bickering and arguing all the way while they track down the man responsible.
I tend to be mostly hit, sometimes miss when it comes to the Coen brothers. I believe they have made some truly brilliant films, some really great, very likeable films, but I also find some of them to be too quirky, too self-conscious, and too wrapped up in their own oddity for their own good. Usually, when watching a Coen brothers film, you are highly aware that you are watching a Coen brothers film; they have a surreal style, a way with words and characters, that is recognizable. While
True Grit
is, by all accounts, a pretty damn restrained Coen brothers movie, their style peeks through, mostly in the dialogue and minor characters.
I dare you to find more than a half dozen lines of dialogue that contain contractions in this movie. Everyone speaks very carefully and very precisely, with immaculate grammar. It takes about fifteen or twenty minutes to notice this, followed by about a half an hour where the dialogue style is rather interesting, and finally followed by the remainder of the film where it starts to become annoying. By the end of the movie, I was very tired of simple declarative statements, as it was the only way anyone spoke, ever. No matter their station, perfect grammar, no contractions. Although I can buy that Mattie speaks extremely well, given that a great deal of time is devoted to establishing her as a stubborn, tough-as-nails, and intelligent pragmatist, perfect grammar coming out of a man like Rooster Cogburn is just plain odd. Apart from his vices, he is a man who clearly works mostly on instinct rather than any sort of intelligent skill. Here is where I really see the Coens being the Coens; they wanted this movie to sound like one of theirs.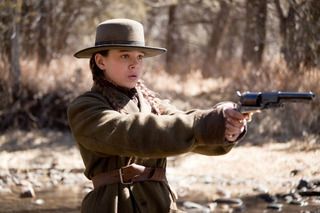 A great deal of fuss was made about the performance of Hailee Steinfeld in the role of Mattie Ross. I don't quite understand the hullaballoo. What Steinfeld manages to do is hold her own in the incredibly specific world the Coen brothers created. True, this is something that not all teenagers could do, and I absolutely give her props for that, but I also don't think she outshines the other performances in the film. Furthermore, I was so distracted by the incredibly precise manner of speaking the Coens demanded of their actors that it eventually detracted from the performances for me. Steinfeld is capable and up to the task, absolutely, but so too is Jeff Bridges and Matt Damon and everyone else in the film, and everyone else in most films of this quality. The only thing different about her is that she was a teenager.
The cinematography is easily the best part of this film. Roger Deakins shows shot after shot that is clearly reminiscent of classic Western American photographs, complete with amber tints and bright light. The film is set in winter, but it's still the South, so while we see few snow sequences, there are also not many live green plants. The landscapes seem sun bleached, like a piece of driftwood that has been exposed to the elements for too long. Not just the country landscapes, but the shots of the small Western town and interior shots are gorgeous and incredibly well-composed. Stark beauty like this makes me wonder why Deakins has never won an Oscar.

The overall tone of the film is oddly relaxed, a far departure indeed from the tension-filled
No Country for Old Men
. There's a bit of a meandering feel to the film as the characters move from location to location. The grand standoff between good guys and bad guys hardly feels like the focal point of the film, and if you're expecting it to be, you might be disappointed. It's much more a character study of three characters and the oddballs they encounter in Mattie's quest for vengeance.
Speaking of character study, it wouldn't be a Coen brothers film without many colorful characters found along the way. Of all the random people encountered in the film, Barry Pepper as Lucky Ned Pepper I found most intriguing. Lucky Ned is the head of a criminal gang, but he and his band are far less blackly bloodthirsty than typical Western bad guys. He shows mercy and compassion; granted, he shows these after threatening to blow someone's head off, but the point remains. In fact, most of the "bad guys" are painted with an oddly sympathetic brush. Meanwhile, Rooster shoots more people than he should in between boozing too much, and Mattie is a bit of a pain in the ass with her constant arguing and threatening to bring legal action against anyone who remotely crosses her. Needless to say, our "good guys" are hardly warm and fuzzy, with questionable morals to boot.
I liked this movie. It's good. But I stop there with my praise. I was entertained, definitely, and the photography was drop dead stunning, but overall,
True Grit
felt oddly shallow. All in all, I was left with the impression that it would undoubtedly be removed from the next edition of
1001 Movies You Must See Before You Die.
Arbitrary Rating: 7.5/10