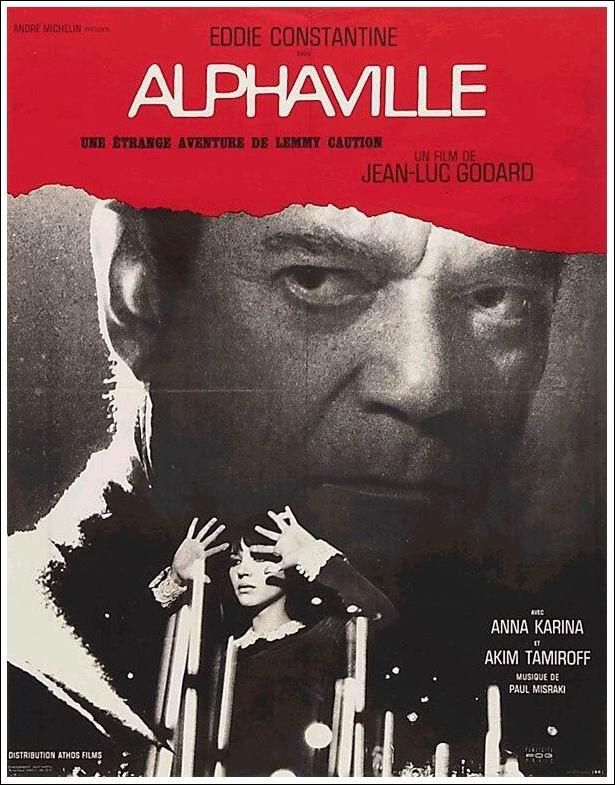 Director
: Jean-Luc Godard
Starring
: Eddie Constantine, Anna Karina
I shouldn't like Alphaville.

By my own admission, I have problems enjoying the films of the French New Wave, and Alphaville is very French New Wave.

And of the French New Wave directors, my least favorite is Godard, and Alphaville is very Godard.

But there's something about the mash-up of science fiction and film noir with Godard's New Wave style that, inexplicably, works for me.
Lemmy Caution (Constantine) is an undercover agent from a region called the Outlands.

Masquerading as a journalist, he is sent to enemy region Alphaville with the mission to locate scientist Professor Von Braun and take him back to the Outlands or kill him.

Along the way, he encounters Von Braun's daughter Natacha (Karina), and through her, he starts to realize the strange workings of Alphaville.

Alphaville is controlled by a central computer, Alpha 60, that has outlawed free thought, poetry, and illogical emotions, such as crying after the death of a spouse.

Caution must find a way to take down Alpha 60 in order to complete his mission and free Natacha.
There is more than a passing resemblance to 1984 here.

The residents of Alphaville are almost identical to the residents of Oceania, in that they do not think for themselves, they have automated replies, they no longer feel emotions, they listen implicitly to what a central being tells them (Alpha 60 in this case), and they coldly eliminate dissidents.

This resemblance has to be on purpose; there's even a bit in Alphaville where Natacha (clearly similar to Julia) talks about not knowing the meaning of a word that Caution uses because it's not in "The Bible," which is really just a dictionary for the allowed words of Alphaville.

Three years ago, my school district put on the stage version of 1984, and I participated in it.

(I played a guard, and I got to beat the crap out of various students on stage.

It was fun.)

I like 1984 quite a bit, I have a personal connection to it, so the dystopian mind-control aspect of Alphaville works for me.

Already, I'm predisposed to like Alphaville because of this association.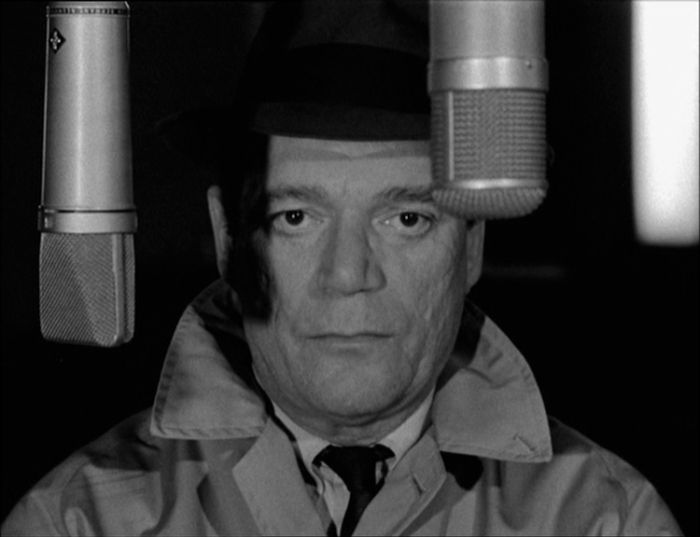 And then we have the science fiction aspect.

Considering that Star Trek: The Next Generation was a fundamental part of my childhood, I also tend to gravitate towards sci-fi films in general, and Alphaville is one of my favorite types of sci-fi.

Alphaville is science fiction because of its central conceit and not because of any sets, costumes, of special effects.

There are no futuristic funny sets, weird far out costumes, and zero special effects.

In fact, the entire film was shot in real locations in 1960s Paris; Godard chose his sets well, however, because when told that this is some futuristic dystopian society, I buy it.

I believe it.

Sure, some sets look like 1960s Paris (mostly the hotel lobbies that we see), but most of them work.

Particularly disturbing to me are the interrogation rooms, with the microphones moving back and forth, the bright flashing lights, and the fan voice of the computer.

No, Alphaville is not science-fiction because of false sets and funny makeup.

Instead, Alphaville is science fiction because people talk about weird lands we don't know and intergalactic flight, even though we see none of it.

Alphaville is a land built on the supreme logic of its central computer Alpha 60, and constant references to science and computers helps to reinforce the science fiction of it all, but that's really all we get.

The creepy computer voice of Alpha 60, voiced by one of those voice-box replacements for someone who has lost their larynx to throat cancer, is unsettling and omnipresent.

A simple voice-over effect goes a very long way to help convince me that yes, this is some bizarre future world.
Then there's the New Wave style of the film.

Many of the classic styles of Godard are on display here, most notably the random cuts to show signs and words.

I've seen Godard do this in many of his other films, and then, it's just been some sort of obnoxious reminder that he's experimenting with film style.

Here, though, the words he cuts to are neon signs, and often the signs are the equations E=mc2 or E=hf (the latter I use extensively in my unit on the physics of chemistry).

There's something about seeing these neon signs intermittently through the narrative that helps the film.

To me, it reinforces that this is a futuristic city.

I read these random cuts not as Godard's directorial choice, but instead as Alpha 60 implanting the images in the heads of the population of Alphaville.

Whenever we get one of these cuts, it reminds me that these citizens are brainwashed, and maybe this is what Alpha 60 is using to do that.

Similarly, at the end of the film, when Alpha 60 starts to break down, Godard plays with the negative exposure of the black and white film.

Again, I read this as an effect on Alphaville because Alpha 60 is malfunctioning.

In short, all the weird New Wave techniques that Godard uses here work for me because they fall within the context of the science fiction setting of the film.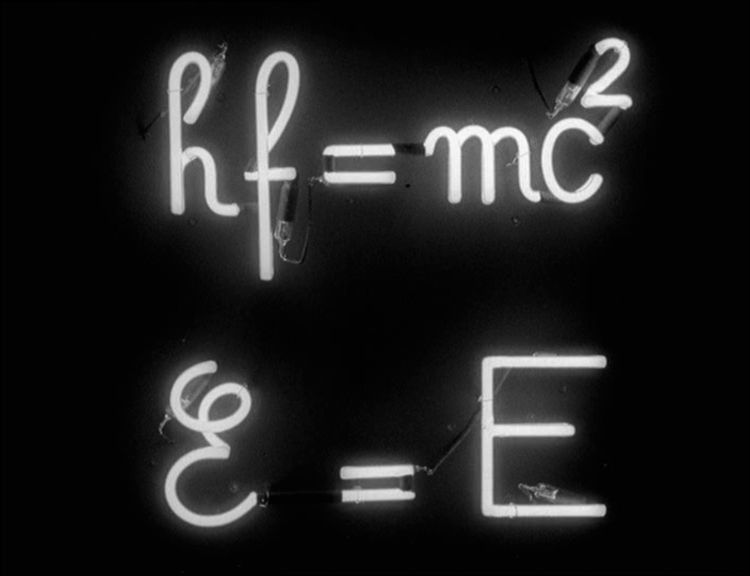 The score of the film is also effective.

It's essentially one piece aimed at ramping up tension.

It's absolutely classic film noir mood music.

The score, more than anything else, is what makes Alphaville film noir for me, with that hefty dose of sci-fi thrown in.

Caution's wardrobe (classic trenchcoat, hat, and gun) and attitude are entirely taken from the American film noir of the forties and they certainly contribute to the film noir, but the music, for me, is what really cements the noir in Alphaville.
Despite all of this, I do have some problems with Alphaville.

It doesn't entirely work.

The biggest fault, my biggest problem with Alphaville, is how long Godard takes to explain what's going on with the people in Alphaville.

We don't get the explanation that Alpha 60 is controlling the minds of the populace, that emotion has been outlawed, until at least halfway through the film, and we don't get a complete and thorough understanding until two-thirds through.

I think this would be an even stronger film if we, as an audience, understand what's up with Alphaville in the beginning.

It would take away a great deal of the random confusion at the beginning of the film.

As an undercover agent, you would think that Lemmy Caution would do his homework and understand the culture he's walking into when he goes to Alphaville.

Apparently, Caution likes to walk into a foreign land knowing nothing about it.
Alphaville
, more than anything, serves as a reminder to me to never write off a director or a genre simply because I dislike most of their films.

There will always be one or two films that buck the trend.

This is probably my favorite Godard film, and Godard typically annoys me.

Alphaville shouldn't work for me.

I shouldn't like Alphaville.

But I do.

It's weird, it's random, it's more than a little bizarre, but I like it.

The tone works for me.