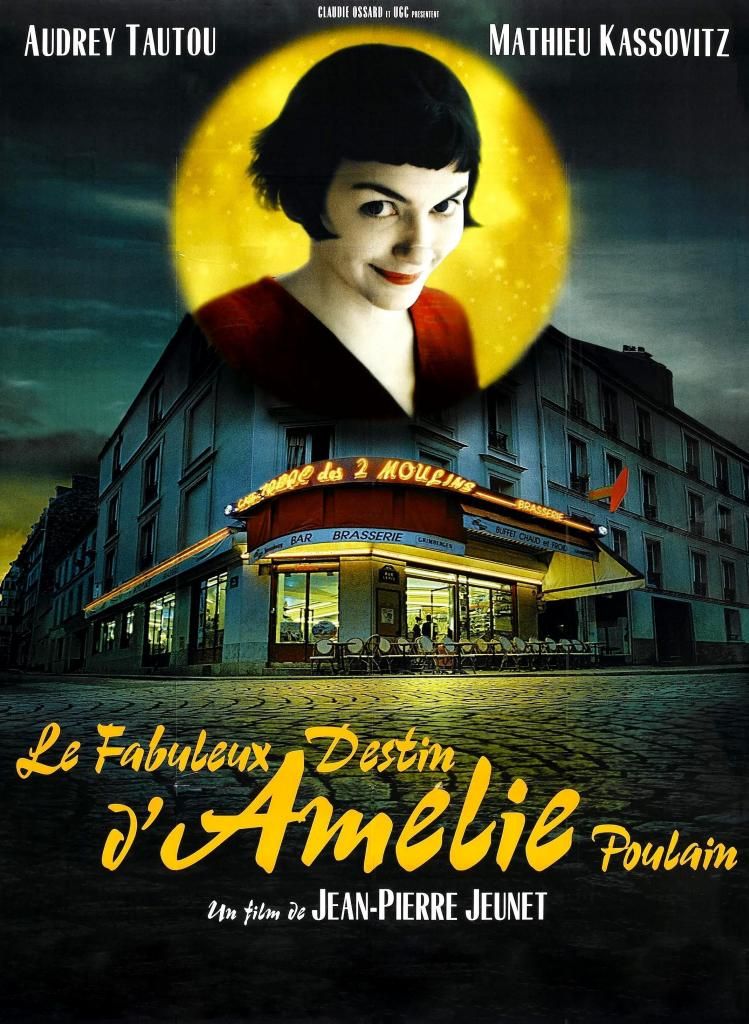 Director
: Jean-Paul Jeunet
Starring
: Audrey Tatou, Mathieu Kassovitz
Every now and then, a foreign language film comes around that manages to break down language barriers and win the love of the rather xenophobic American public at large.

Amélie is one such film, a movie entertaining enough to get the average American viewer to forget that they have to "read" the movie.

Thank goodness movies like Amélie exist; we need more infusions of a larger cultural awareness, even if that cultural awareness is a Paris fairy tale.
Amélie (Tatou, in her star-making turn) is a shy loner.

She grew up as an only child and now lives alone in Montmartre working as a waitress at a cheerful bar.

When she finds a rusty tin box hidden in her apartment, full of trinkets and toys from the 1950s, she becomes obsessed with finding the original owner to return to him his treasure trove.

The success of this prompts her to continue work as a do-gooder, but for Amélie, it isn't just about helping others, she has to make a convoluted maze of it as well.

When she meets fellow oddball loner Nino (Kassovitz) and falls in love, she must face her inner fear and slowly open herself up to allowing others in her life.
The two strongest points of this film, and those that I believe are responsible for the film's international success, are Jeunet's inventive stylization, and Tatou's sweet portrayal of Amélie.

I know I've said this before, but I do love a heavily stylized film.

Realism absolutely has its place in film, and I love plenty of realistic films, but I am predisposed to liking a film if it unabashedly throws reality out the window and lets me lives in a bit of a fantasy land.

Amélie is certainly that film; from its very opening all the way through to the credits, this is a movie based nowhere near reality.

Like most films with a unique storytelling technique, the film starts with an inundation of this, my favorite part of the opening being the "likes" and "dislikes" of the characters as we learn Amélie's childhood history.

Colors fly in and out of the shot, actions are sped up then slowed down, there is occasional animation that catches you by surprise, and there is no shortage of the quick zoom.

The sets contribute heavily to create the very particular world.

The movie is set in 1997, but the sets look straight out of the forties or fifties.

There is older furniture, peeling wallpaper, and lots of curtains.

Jeunet frames many of his shots through doorways or windows which lends the film a bit of a labyrinthine feeling.

This underscores Amélie's obsession with "stratagems," as she calls them, or mazes, as I call them. Fundamentally, this is a movie that needs to be seen; it takes all the interesting style ideas that Jeunet experimented with in Delicatessen (1991) and heightens them, providing you a very unique viewing experience.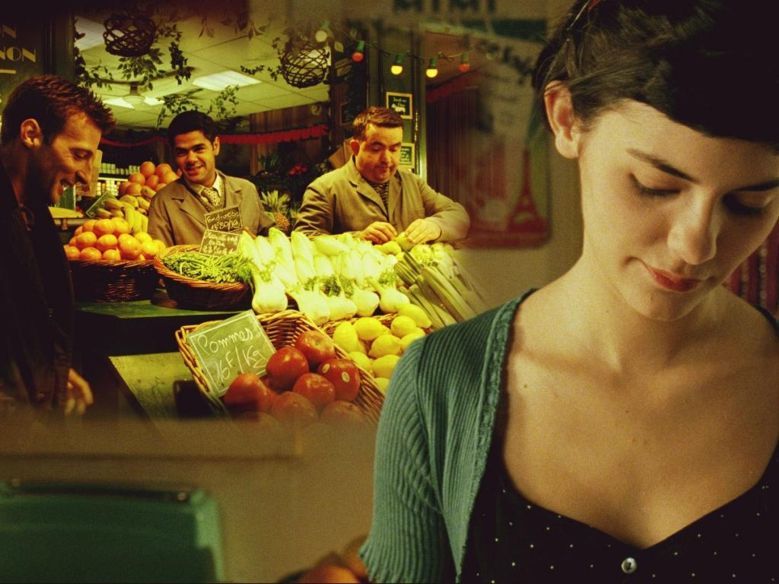 What an interesting, fun little shot!
Tatou, for her part, is every bit the doe-eyed sweet, scared loner idealist that the part of Amélie demands.

She is like some frail, delicate flower that is capable of laughing at you behind your back.

Every sweet adjective you can think of applies to Tatou here, and she makes nearly everyone who watches her, fall in love with her.

Tatou has precious few lines; most of her performance is through her wide eyes and expressive face; it's almost a pantomime.

When she does speak, she does a nice job varying her tone.

She is alternately high and impish, whispering and secretive, or low and guttural.
Here's the thing: I like Amélie.

But I don't love Amélie.

And, as insane as that sounds, I fear the wrath of my fellow movie fans for not being a rabid fan of this film.
I want to say this loud and clear right now: I do really like this movie.

It's fun and it's entertaining, for the reasons that I said above.

So please, don't let my next paragraph make you hate me.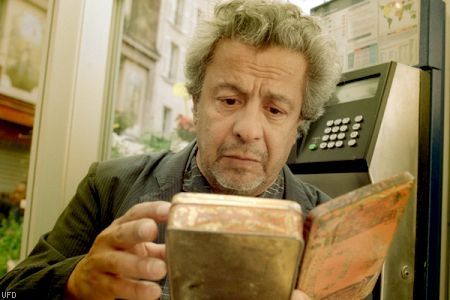 This scene. I wanted more of this, and I didn't get it.
Ultimately, the reason that I am not over-the-moon about this movie is that I feel it's too sweet without a strong enough emotional core.

All of Jeunet's awesome stylization, all of Tatou's adoringly naïve performance, would be better served if the film had more of a heart.

It leaves me feeling a bit hollow at the end, quite frankly, and the film is just a tad too long.

It's like having too much cotton candy to eat at the fair.

Sure, cotton candy's awesome and pretty and sweet, but as soon as it touches your tongue, it dissolves and fades away, leaving you empty on the inside.

See, Amélie starts out with good ideas: anonymously helping others, making their lives happier.

To me, the emotional summit of the film occurs the first time Amélie does this.

I love the sequence of Amélie returning the tin box full of little toys.

It's so beautifully poignant, it brings a tear to my eye.

From there, though, none of Amélie's other acts of kindness quite reach the same level.

Walking a blind man across the road while describing everything in lurid detail is too manic to be emotionally fulfilling.

Helping two lost souls fall in love implodes in on itself and is played for raunchy laughs rather than emotional punch.

Delivering a long lost love letter is nice, but the recipient was played too odd.

And for all of Amélie's kindness, she is also a little bit wicked.

We laugh at how she exacts her odd revenge on an unkind market owner, but is this doing anything to make me more emotionally connected to her or the film?

No, it isn't.

I want more of that initial resonance, and it never comes.

Even Amélie's own love affair, though very sweet, is too tedious in its peekaboo courtship for me to really root for the pair.

Honestly, by the end of the movie, I almost want to slap Amélie just a wee little bit and tell her to stop being so damned contrived with everything she does.

She takes timid to an incredibly frustrating level.
Amélie
is a very fun, entertaining film, and I love that it was able to find an enthusiastic audience in America.

That's so important.

But I don't love it for itself.

I like it, it's fun to watch on occasion, but by the end of the movie, it really starts to give me cavities.

It has the promise of a legitimate emotional connection, but it falls short.