Starring
: the planet Earth, modern American civilization, Philip Glass' arpeggios
Koyaanisqatsi
is such a difficult film to explain to those who haven't seen.

Full of a hypnotic, unsettling beauty, it is full blown experimental and avant garde filmmaking at some of its finest.

There's no plot, but there's a great deal of introspective messages.

Honestly, if I were to recommend an experimental film for someone who hadn't seen one before, Koyaanisqatsi wouldn't be a bad place to start.
As I said before, while there is no plot, I shall attempt to describe what Koyaanisqatsi IS.

Requiring nearly six years to shoot, director Reggio captured images of so many different aspects of life on planet Earth and then compiled them into this film.

We open with slow motion shots of nature, sweeping vistas of Monument Valley, mountaintops, riverbeds, etc.

We then start to get an eco-message, as the images begin to move into those of destruction and violence.

We see a shot of an atomic bomb, of test explosions in the middle of the desert, of farming equipment destroying fields.

We then move into an exploration of modern (well, late seventies/early eighties) American culture, seeing sped-up shots of Grand Central Station, a Twinkies factory, video game arcades, cars driving.

Later, Reggio intercuts between aerial views of cities showing the grid arrangements of the streets, and close up views of computer chips.

This gigantic collage of images plays along to Philip Glass' incessant but brilliant score.
For me, this movie just wouldn't work without Philip Glass' score.

The main theme is recognizable – the low voices chanting "Koyaanisqatsi" – and while you may not have heard of this film, you've probably heard that bit of rather creepy sounding music.

While I like to make fun of Glass a bit (because good LORD that man loves arpeggios, the entire dang SCORE is pretty much repeated arpeggios, as is pretty much every other film score he's ever done), I also believe it's an exciting and dynamic score.

This was the first feature length score Glass did and he needed some convincing.

Reggio desperately wanted him to do it, but Glass had no interest in moving into film scoring; it wasn't until after Reggio showed Glass a mockup of the film with previously written pieces by Glass accompanying it that Glass agreed.

Interestingly, Glass originally scored the film as six discreet segments to go along with the mostly finished film – and watching the movie, it's easy to see different "chapters" – but Reggio then recut the entire movie once he had Glass' score.

Anytime film is recut to match music intrigues me, and I can see how the images follow the sound in Koyaanisqatsi.
There are three paces in this movie: slow, medium, and fast, and they all work.

The film opens slowly, with slow, lingering shots of nature, then of explosions and destruction.

These sequences are the most meditative, and it's easy to see the message of eco-preservation after you've seen lush fields being ripped up and plowed over in what can only be described as graceful slow motion.

The fast sequences are frenetic, to say the least.

Heady is perhaps the best word for it, as people, cars, machines all buzz in and out and around, not stopping, not breathing, never letting up.

The pace quickens and builds, getting seemingly faster and faster and faster until you can't possibly take it anymore – and then, only then, do we stop.

The slow motion is gorgeous and sad, the fast sequences are giddy, but it is actually when the film is shot at regular speed does it seem to have the greatest impact.

It's as if the film jolts you out of its world for a split second to show you a person's face just staring blankly at the camera.

These moments of normalcy, for lack of a better word, are some of the most powerful sequences to me.

The people stare so simply, so openly into the camera, into my eyes, and it's unexpected and unnerving, but in a good way.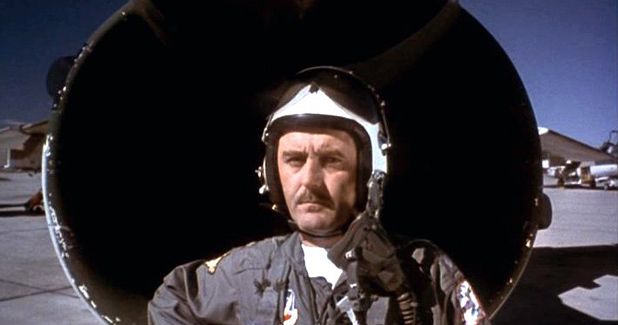 The word "Koyaanisqatsi" is translated at the end of the film, and is a Hopi word meaning "Life out of balance."

This is the only direct clue Reggio gives us about any sort of meaning in the film.

I like that Reggio is mostly mute about an intended message, but at the same time, the message is quite clear to me.

When you have an interminably long shot that follows the mid-air explosion of a rocket launch, and watch it fall and fall and fall, I cannot help but feel that Reggio is saying something is wrong.

The Green Movement seems to be finally gaining a bit of traction, but such arguments that we are now used to hearing about "balance in life" would have fallen on mostly deaf ears at the time this film was shot and released.

That's the message I take away: an insistence to preserve and appreciate the natural beauty that surrounds us, and to perhaps take time every now and then to break free of the drone-like existence of modern culture.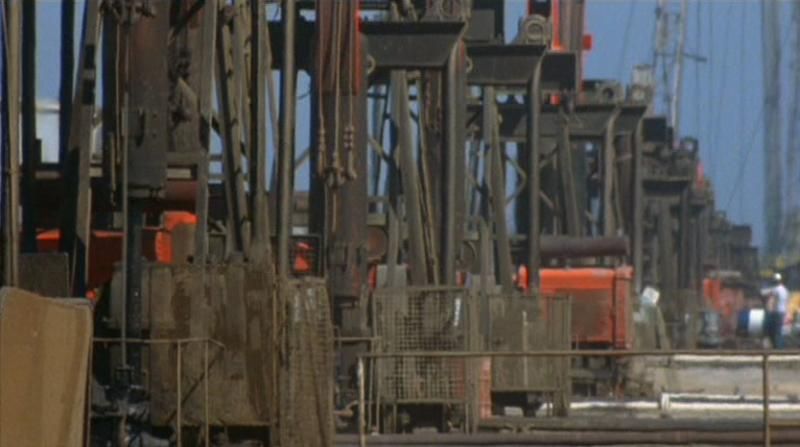 Koyaanisqatsi
is hardly a movie you'd throw on for a Friday night after a hard week at work.

It's experimental, to be sure, but in terms of experimental films, this one feels a bit easier to digest.

It's brief (mostly over after 80 minutes), and I don't even think you need see the entire thing in one go to get the message of the film.

Hypnotic, frenetic, graceful, dizzying, it's a feast for the eyes and ears.
Arbitrary Rating: 8/10.

I originally thought lower than this, but I found myself having difficulty tearing my eyes away as I wrote this piece.

That says something right there.