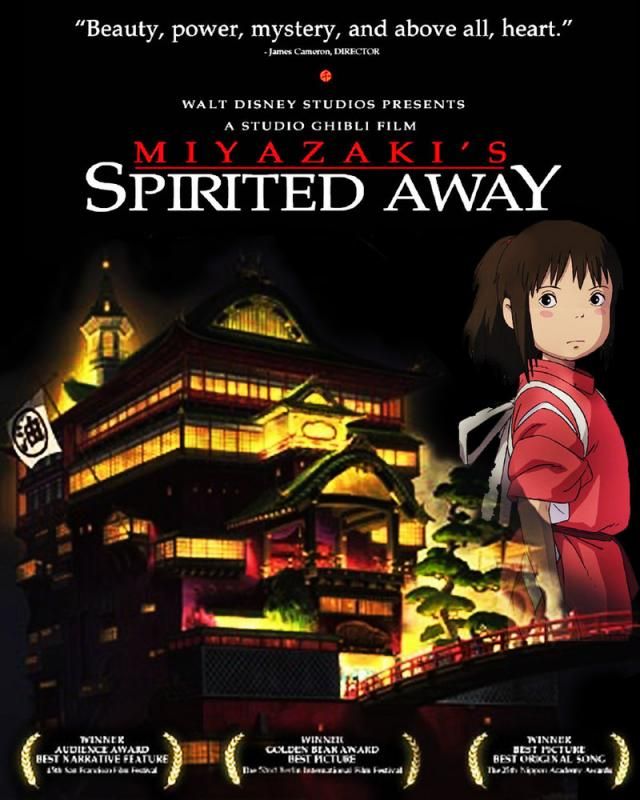 Spirited Away (Sen to Chihiro no kamikakushi)
Starring (in English language version)
: Daveigh Chase, Suzanne Pleshette, Jason Marsden
I don't really care for "children's movies."

I think I overdosed on them too much when I was growing up; I remember coming home from college and my parents taking the family out to see the latest Pixar movie in theaters when I would much rather have seen, well, anything else.

Too many viewings of Monsters Inc (no offense, Pixar) have kept me from seeking out other animated or children's fare, so most of the recent children's films in 1001 Movies I have yet to see.

Spirited Away is a very nice, lovely children's movie, but it hasn't exactly changed my mind.
Ten year old Chihiro (Chase) is being carted off to live in the suburbs against her will by her parents.

On their way to the new house, her family stops at what appears to be an abandoned theme park.

Her parents are excited, but Chihiro is wary.

After eating some mysterious food, her parents turn into pigs and Chihiro realizes something is dreadfully wrong.

She has entered into the spirit world, and the place is actually a bath house for wealthy spirits run by the menacing Yubaba (Pleshette).

With the help of Haku (Marsden), a young man who is also a trapped dragon spirit, Chihiro must navigate this new world and learn to play by its rules in order to free her parents and get back to where she belongs.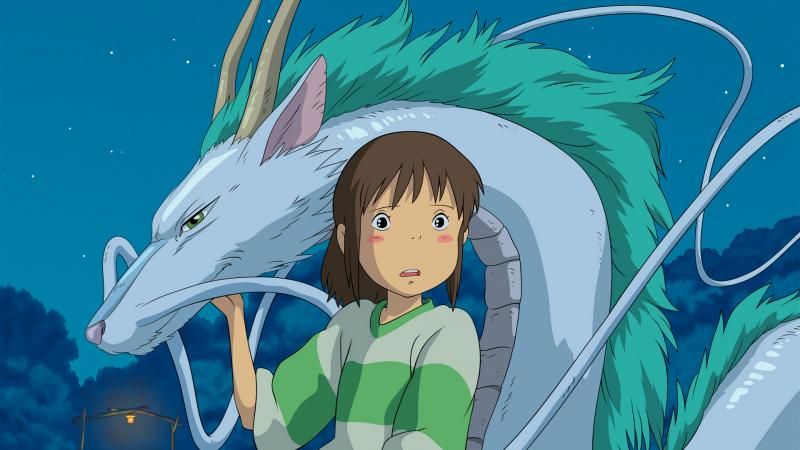 The story of Spirited Away is reminiscent of a fairy tale, and I highly doubt I'm the first to make such an association.

The concept of an ordinary human being journeying through an alternate realm full of magic brings Alice in Wonderland to mind first and foremost, but other standard tales just as well.

I was reminded of Andersen's "The Snow Queen" in terms of the idea of a human character forced to go through the trials and tribulations of a magic world she doesn't understand in order to save her family.

Yubaba's name obviously conjures up images of Baba Yaga from Eastern European folklore, and although the name might be a mere coincidence, the character herself only strengthens such an association.

Yubaba's face is always precisely what I pictured Baba Yaga to look like (although my Baba Yaga never wore a blue Victorian gown).

Yubaba transforms into a bird, and Baba Yaga lived in a hut on top of a chicken's leg, and Baba Yaga herself is an ambiguous character.

Although Yubaba is certainly the closest Spirited Away has to a villain, she is not wholly evil, and her twin sister Zeniba is downright kind and maternal, another possible reading of Baba Yaga.

Finding these European fairy tale tropes together in a Japanese film is surprising, certainly, but for me, it helped to cement the world of magic and mysticism.

What's more, I appreciate that there is always a sense of danger in the magic of Spirited Away, just like there is in so many of the original European folk stories.

This is not Disney's prettified world, there is still damp and ugly and danger.

This, to me, is what fairy tales are all about.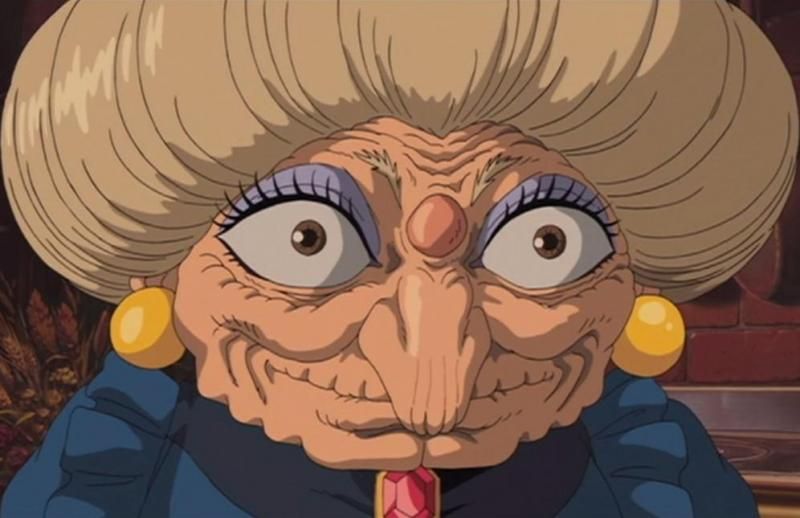 But where Spirited Away diverges most significantly from its fairy tale aura is in its presentation of good and evil.

The only other Miyazaki film I've seen prior to this is Princess Mononoke, and both these films treat good and evil similarly.

Miyazaki is a surprisingly even-minded storyteller when it comes to this, as I have yet to see a character in these two films that is completely bad.

Rather, there exists a spectrum, and the characters are fluid in their placement along it.

For example, Yubaba, as mentioned above, is the closest thing Spirited Away has to a villain, and yet at one point, she ecstatically hugs Chihiro.

Motivated less by power and more superficial greed, she bends and compromises when she has to, a trait incredibly uncommon to typical villains.

By the end of the story, she feels not so much evil as merely shallow.

Then consider Haku, Chihiro's friend and guide.

Although I implicitly trusted him when he first shepherds Chihiro through the world, we are almost immediately met with disparate opinions about Haku.

We are told he is a thief, a henchman, and untrustworthy.

I began to doubt whether I could trust him after all.

No-Face, Lin, Kamaji, and the giant baby are all other characters that are difficult to read.

Whose side are they on?

Are they helpful or harmful?

And the thing is, they're all a bit of both.

Maybe there isn't such a thing as 'all right' or 'all wrong,' and to see this ambiguity presented in a children's animated fairy tale is impressive.

In fact, the only character who can be considered truly "good" in the typical sense is Chihiro, and we must remember she's rather sulky at the beginning.

I appreciate this take on morality, and as I said, it coincides completely with what I remember of Princess Mononoke.

The characters in Miyazaki's films feel richer because of this refusal to simply "pick sides."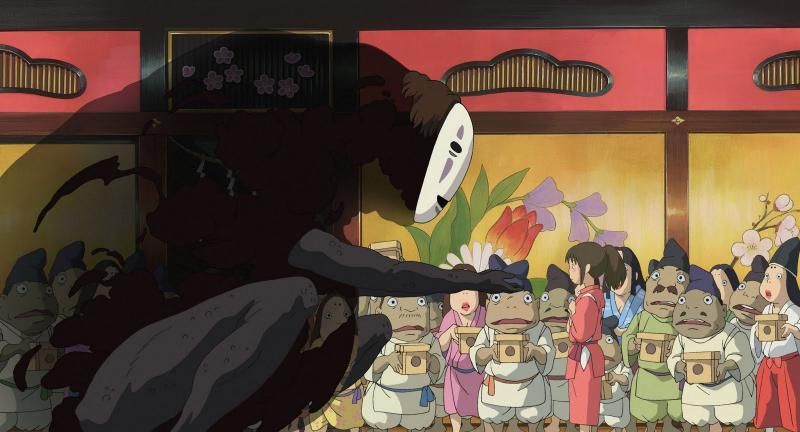 Here is where I should probably mention the animation.

Of course it's amazing, it's Studio Ghibli.

My favorite component of the animation is the background design.

It's breathtaking as the world of the spirits is slowly built; as Chihiro and her family explore the abandoned theme park, we see more and more buildings, and then the great bath house appears.

This world, the rooms, the sets, so to speak, are gloriously detailed and full of rich, vibrant color.

Yes, the characters are all incredibly imaginative – No-Face was probably my favorite design – but I really love the backgrounds.

Beautiful.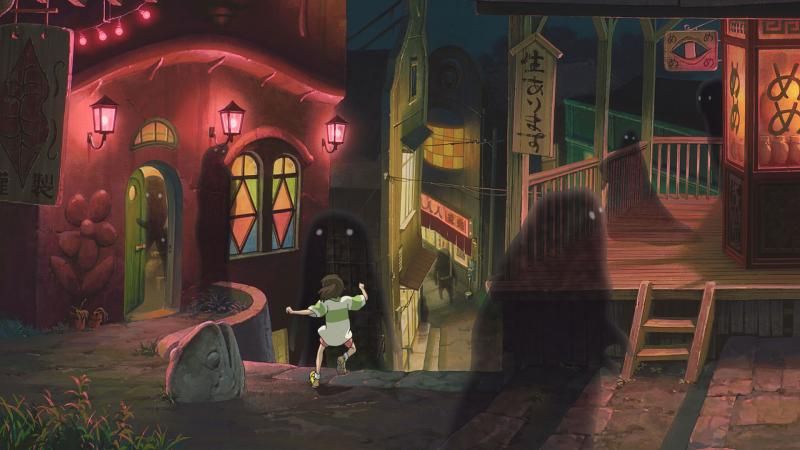 Spirited Away
is a lovely, magical tale that clearly coincides with a coming of age story for its central character.

Chihiro must find her strength and adaptability in order to survive this strange new world with its ever-shifting characters.

It's really quite nice, but I'm not a huge fan of children's movies in that I would rarely, if ever, choose to watch a film that self-identifies in this way.

Although I don't think I'd ever watch this again, I enjoyed my time with Spirited Away.