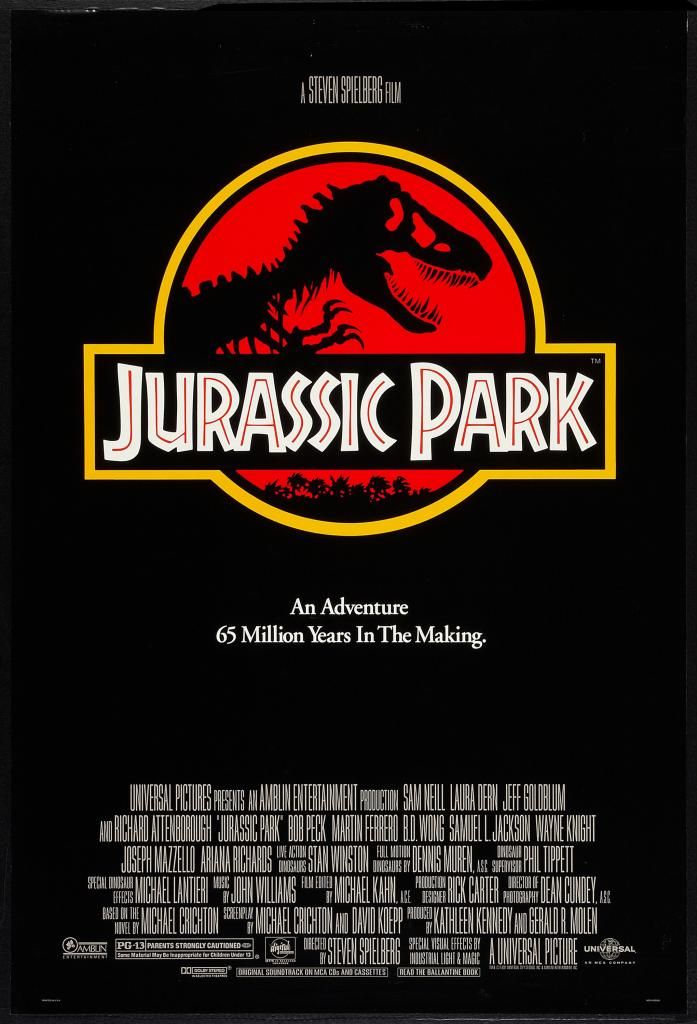 Director
: Steven Spielberg
Starring
: Sam Neill, Laura Dern, Jeff Goldblum, Richard Attenborough
Oh, this movie.

Oh, Steven Spielberg.

Oh, my youth.

They are all linked together.
A rich billionaire with too much time on his hands (Attenborough) crazily clones actual dinosaurs from preserved dino DNA in order to build a dino theme park.

He enlists the help of two paleontologists (Neill and Dern) and a mathematician (Goldblum) to ensure the park will run well.

Of course… it doesn't.

When the power goes down, you don't want to be stuck by the T-Rex paddock.
Alright, let's focus on the film before I veer wildly off track with my personal relationship with this movie.

This movie just works.

It is also, perhaps, one of the ultimate Spielberg films.

Everything that makes Spielberg Spielberg is in this film, and in spades.

He is nothing if not a showman, and this is a showy film.

But Spielberg is also smart, and the grand spectacle of putting freakin' dinosaurs on the screen is tempered with a very good plot that lets you see the dinos, but not too much of them.

The completely idiotic sequels to Jurassic Park forgot this, and overdosed the audience on dino fun times.

The original does it right, though.

A lot of talking about dinos, but not too much seeing them.

Better to see people react to dinosaurs when you can.

At the screening of this I recently attended, it was said in the introduction that full shots of dinosaurs only account for 6% of the total screen time of the film, whereas partial shots of dinosaurs account for 21%.

To me, this is a perfect balance of spectacle and narrative.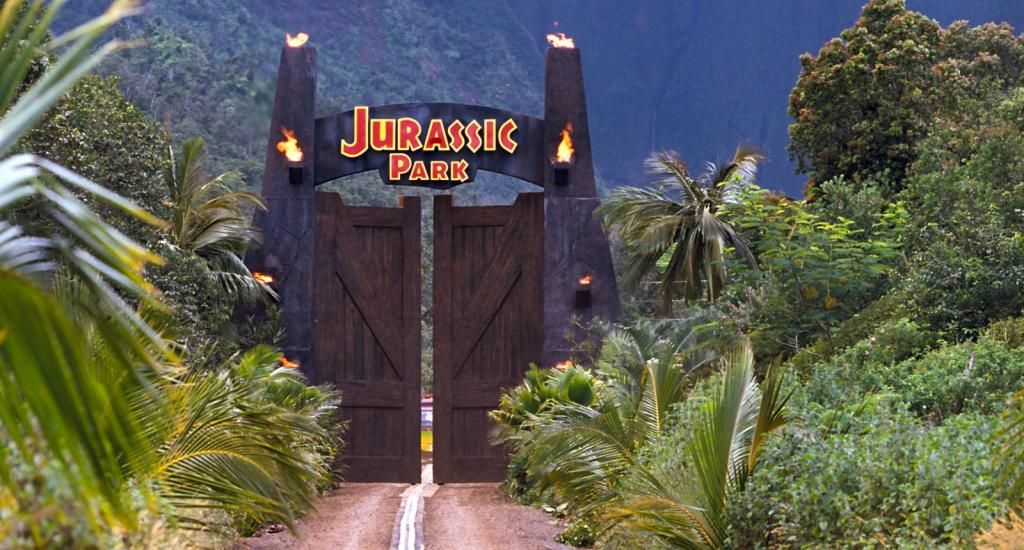 I love how frightening the action sequences are.

They are very carefully crafted, slowly heightening the tension then letting loose.

The opening scene where we do not see a dinosaur at all but hear the screams as men are killed by it still scares me.

The extended action sequences have a great balance of ups and downs; Spielberg does not hit you with twenty straight minutes of dinosaur chases.

There are beats of silence, moments of relief, lines of dialogue, all in the middle of longer set pieces.

That's how I like my action.

I don't like to be beat over the head with it.

*cough* Michael Bay *cough*
The characters are a helluva lot of fun, even if they aren't the most realistic.

Using Crichton's rip roaring source material, the script makes everyone involved much more likeable, thus lightening the tone of the film.

The book is a bit bleak; the film is not.

Jeff Goldblum steals every scene he's in with his innate "Goldblum-ness."

I particularly appreciated his "Burt Reynolds circa Playgirl" bare-chested pose he strikes while waiting for his leg to heal.

I had such a crush on Sam Neill after the film came out back in the day.

The exploration of Neill's character becoming a surrogate father to the two children he shepherds through the broken-down park is funny and touching and absolutely classic Spielberg.

Nothing like mixing your deadly danger with gentle family comedy, but that's precisely what Spielberg does.

Attenborough is great as a giddy, child-like puppeteer, trying to control this thing that is far beyond his control.

Dern is fun, but passable, and the two child actors are only the teensiest bit annoying (high praise for child actors, after all).

The small roles are filled by a great cast, including a pre-Pulp Fiction Samuel L. Jackson, a full-on Seinfeld Wayne Knight, and the classic Australian game hunter in Bob Peck.

Everyone involved plays their parts to the hilt, contributing to the fun times.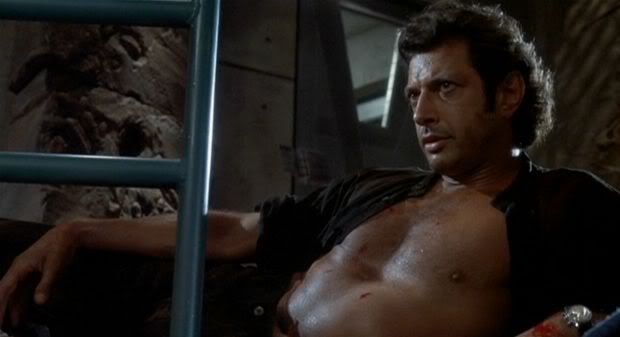 hee hee hee... this amuses me.
This is my favorite John Williams' score.

I know, I know, he's done about a billion classic scores, and while I'm not sure this is his best composition from a musical standpoint, this is still my personal favorite.

It is grand and sweeping and passionate.

Through the combination of both Spielberg's innate showmanship and Williams' great music, it evokes a profound emotional response in me.

Twice in the film, during the helicopter ride into the island through the forested mountains, and then when Sam Neill and Laura Dern see dinosaurs for the very first time, I was moved to tears.

Stupid, perhaps, for an action-dino-flick, but Spielberg managed to fill me with such awe and wonder, and Williams' punctuates the scene perfectly, that I was actually crying.

Crying from AWESOMENESS!
I've written a lot and talked a lot about how Schindler's List had a powerful effect on me.

I have also written and talked a great deal about how transformative The Seventh Seal was for me; ditto for A Clockwork Orange.

These are movies that have been instrumental in my passion for cinema.

But being completely honest, Jurassic Park predates them all.

It's not nearly as high-falutin' or as intellectually pretentious as the other three, but Jurassic Park and I go way back.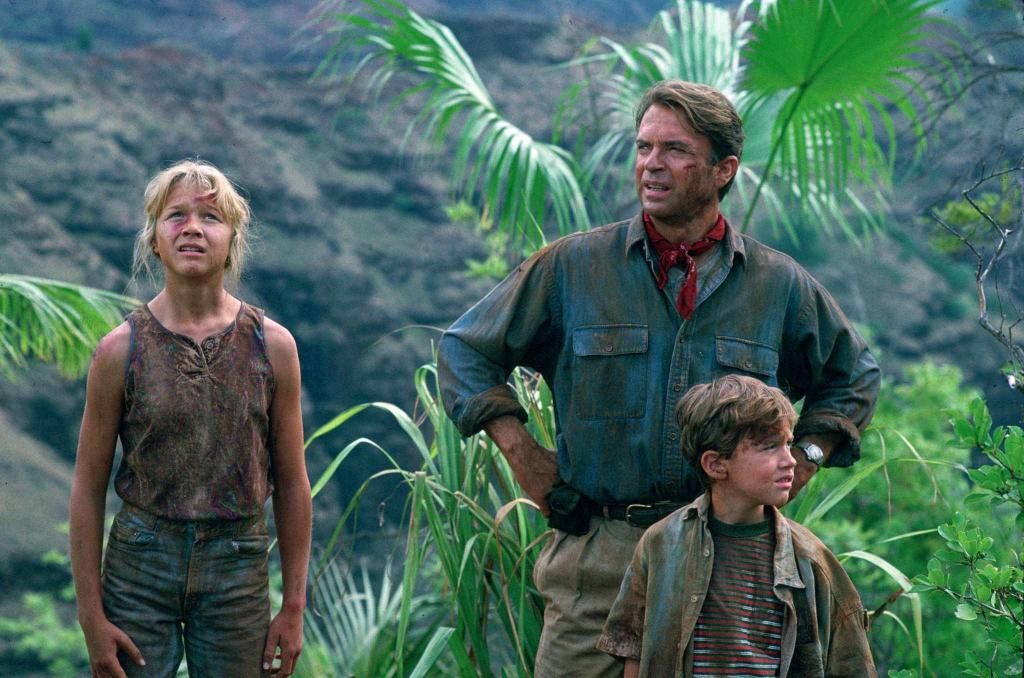 It all started back in junior high.

I was reading Michael Crichton's novel Jurassic Park for fun.

I dropped the book on the floor, and the boy next to me picked it up.

He had read it as well, and we struck up a conversation.

"Did you hear they're making a movie of this?" he said.

"No way!"

(Cut to the end of part of the story, the boy was Jesse B. and we became very good friends, and even though we ran in different social circles in our school, we have been friends ever since, and even went to our Junior Prom together.

Shout out to Jesse!)
From that point on, Jurassic Park was the first film that I ever anticipated.

It was the first movie whose marketing campaign I remember.

I ripped out the ads from the newspaper and taped them onto the walls of my bedroom.

I don't think I saw it the day it came out, but I'm pretty sure I did catch it the first weekend it opened with my family.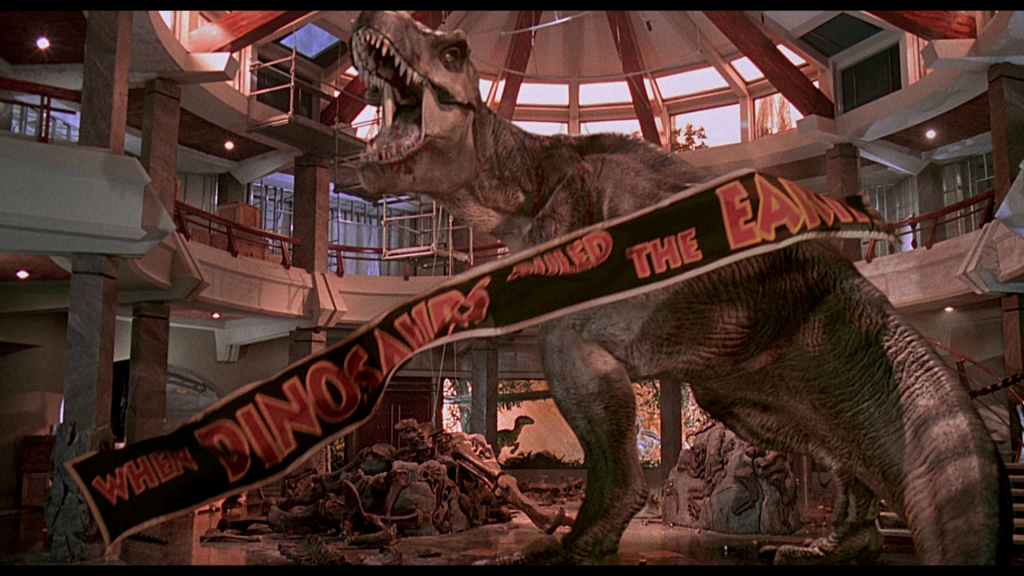 Despite the fact that this was now almost twenty years ago, I still remember sitting in the theater and watching the opening scene of Jurassic Park with the unseen velociraptor attack.

I was scared shitless, but at the same time excited about what I was about to see.
I wound up seeing Jurassic Park in theaters five times that summer.

It was my first "summer movie," in multiple senses of the term.

It was the first movie I wanted to see over and over again in theaters.

It was scary and exhilarating and funny; just a huge rollercoaster of a film.

Jesse and I even had a contest: who could see it in theaters the most.

With this latest viewing in a classic film theater, I think I finally got him beat for good.
Arbitrary Rating: 10/10.

This is my ultimate popcorn movie.

Hardly profound, but perfectly entertaining.

Perfectly Spielberg.