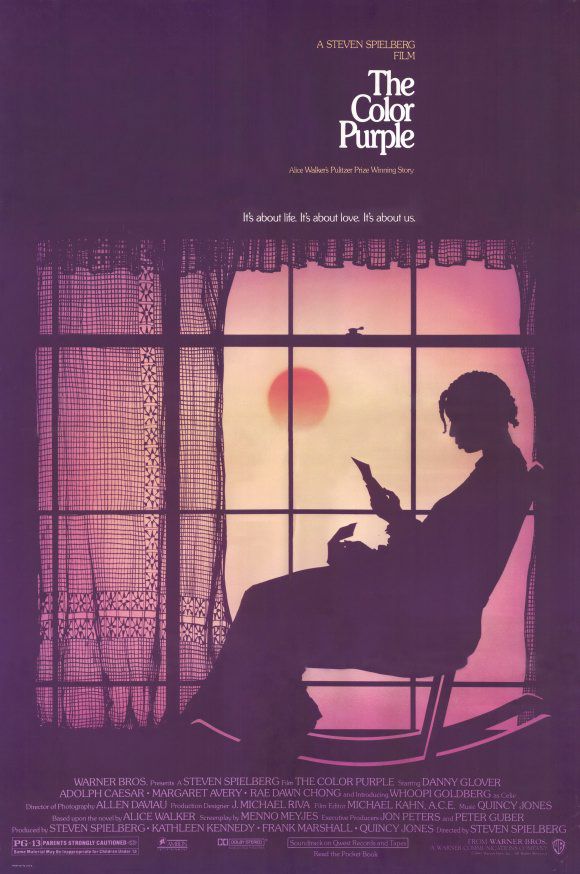 Director
: Steven Spielberg
Starring
: Whoopi Goldberg, Danny Glover, Margaret Avery, Oprah Winfrey
When asked about my favorite Spielberg film, this one wouldn't come close, but the dang thing was nominated for eleven (!) Oscars.

He was about ten years into his career as a major Hollywood director, and apparently, that means that it's time to make a "serious movie" about "serious things" (with lots of "quotation marks").

So Spielberg reached for Alice Walker's novel in order to "prove himself."
The rather meandering story manages to focus mostly on Celie (Goldberg in her first significant role), a beaten down young woman living in the Deep South at the turn of the last century, essentially auctioned off by her abusive and incestuous father to an abusive husband Albert (Glover).

Celie's one source of comfort is her sister Nettie, so of course, she is parted from Nettie.

Celie lives life as a doormat, watching as her husband fawns over his lover Shug (Avery), and meeting strong-willed Sofia (Winfrey), who marries Albert's son.
Probably one of the biggest compliments I can give this film is the fact that despite the fact that it clocks in at just over two and a half hours, it managed to keep me engaged throughout.

I didn't completely love this movie, but it absolutely succeeded in drawing me in to its world.

Despite the growing pains I think he exhibited here, Spielberg is a great storyteller, and he knows how to reel in his audience.

He knows how to bend you and twist you and, well, manipulate you into having a roller coaster of an experience; this film is no different.

If nothing else, it was a diverting way to pass a handful of hours.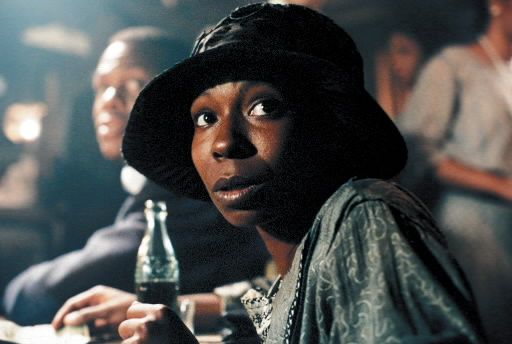 There is no doubt who directed this film; Spielbergian touches are all over the place.

The problem is, classic little Spielberg touches of warm family humor don't jive terribly well with this particular story.

The end result is a valiant but schizophrenic effort.

Just when you're about to suffocate under a heap of crippling emotional turmoil, there's a funny little scene of Danny Glover trying to cook breakfast by using kerosene to heat the oven.

It felt as if Spielberg couldn't commit to the intensity and raw nature of Celie's story, so he had to find ways to lighten the mood.

Problem is, though, in a weird way, I didn't really want Celie's story lightened.

If I wanted a feel good drama, I wouldn't pop in a film that is upfront about familial abuse and incest in the first ten minutes.

But Spielberg being Spielberg, he can't help himself, and every chance he gets, he creates some rosy little pocket of pure nostalgic warmth, right down to the heavy-handed sentimental flower patch bookends.
I admit right now to not having read Alice Walker's novel on which this was based, but I felt as though Celie's ultimate uprising felt more than a little out-of-nowhere.

This was a woman so completely crushed under others' feet that emotional freedom seemed impossible.

Don't get me wrong, I wanted Celie to break free from her bonds, but so many of them seem to be of her own making that it would take more than a stack of letters to change things.

I had problems buying the conclusion of the film.
Probably one of the best things about this movie were the stalwart performances from all involved.

Whoopi Goldberg is very good, and she well-deserved her Oscar nomination for this role.

There are so many side stories swirling through the film, but ultimately this movie is about Celie, and Goldberg handles that responsibility with aplomb.

She is far different than the Goldberg she became in subsequent decades in the 'biz.

Quiet, subtle, and underplaying, even in her scenes of strength; trust me, this is *not* the Whoopi Goldberg you are used to.

Danny Glover is a believable monster as her husband, but he is undercut by Spielberg choosing to alternately playing him as a fool.

Glover does both well, but the two seem incongruous with one another.

He's an ogre!

He's the village idiot!

He'll kill you!

He'll do a pratfall!

Well, which is it?

I suppose the two can coexist, but it felt more like Spielberg couldn't make up his mind.

Oprah Winfrey admirably plays a strong then cowed then strong black woman, but her character's story was one of those that seemed to distract, more than anything, from the central flow of the movie.

Margaret Avery as Shug was delightful, making everyone fall in love with her wherever she went.

I will say, though, that it's difficult keeping track of her character; she enters, disappears, reappears, all with different men swirling around her.

By the time part of her story line ended, I was a bit confused about her relationship with, well, everyone.
Ultimately, this movie smacks of Spielberg trying to legitimize himself.

"I make great fun joyrides," he thought, "but if I ever want to win an Oscar, I need to make something 'serious.'"

So he made The Color Purple.

It's serious, but somehow not serious enough.

I understand both why this was nominated for Best Picture, but also why it didn't win.

1001 Movies You Must See Before You Die says, in its entry for this film, that Spielberg bit off more than he could chew.

I couldn't agree more; this film has more than a touch of the schizophrenic to it.

Still a great Spielberg ride, though, I must admit.