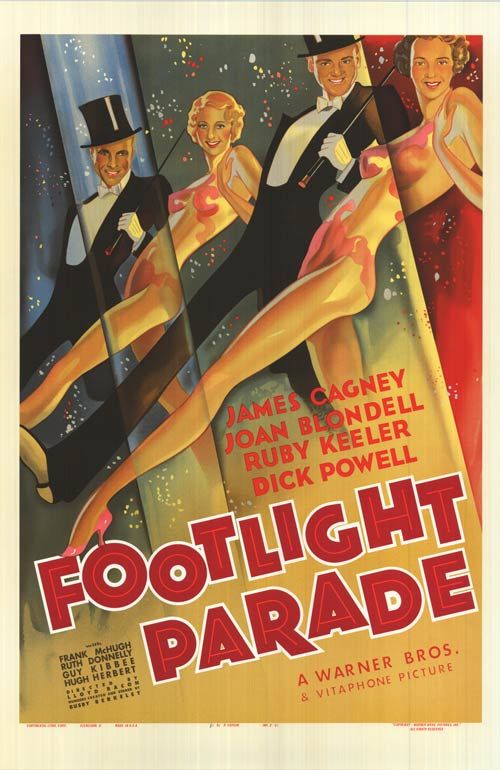 Starring
: James Cagney, Joan Blondell, Ruby Keeler, Dick Powell
I am a fan of musicals, but not unreservedly so.

Busby Berkeley, with his behind the scenes musicals and ridiculously showy set pieces, does very little to float my boat; I've always preferred the classic Technicolor MGM musicals of the forties and fifties to Berkeley's films.

Having said that, though, I gladly make an exception for Footlight Parade.

In this musical, I understand more the magic that Berkeley was all about.

It doesn't click in his other musicals for me, but it does here, in large part because of our leading man.
Chester Kent (Cagney) is a producer of musical prologues.

You know, prologues!

Those live staged brief musical numbers you'd see at a movie theater before the feature?

You don't know?

Ah, it doesn't matter anyway.

Well, Kent is a former musical comedy stage producer reduced to putting on these prologues due to the success of the talkies, and he's always trying to come up with new ideas and themes for these prologues.

His faithful, overworked, and loving secretary Nan (Blondell) guides him through dealing with his ex-wife, chasing away a new gold digger, anxious producers, and casting choices.

In the meantime, there's corporate espionage, love blossoming on set between Ruby Keeler and Dick Powell, an overworked rehearsal director, and some ridiculous cat costumes.
In the other Berkeley musicals I've sat through, the backstage portion of the story drags like there's no tomorrow.

Not so in Footlight Parade.

With Cagney at the forefront, the story has an energy that's difficult to contain.

Cagney talks a mile a minute as the frenzied producer, and, as ever, I am a fan.

As an actor most remembered for his roles in rough and tough gangster films, watching him play a thoroughly likeable musical comedy producer is as much fun as it sounds.

Given that I root for Cagney even when he plays the vilest of beings, it's great to see him in a film where he plays a nice guy, thus a film where his character actually wins in the end.

Moreover, the main love story of the movie, that of poor secretary Nan pining for oblivious Kent, is sweet and winning.

Nan, though desperately in love, is no quiet butterfly; she fights for her man, blind as he may be.

I root for the two of them to get together.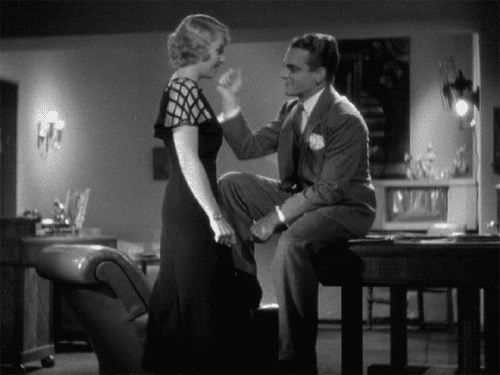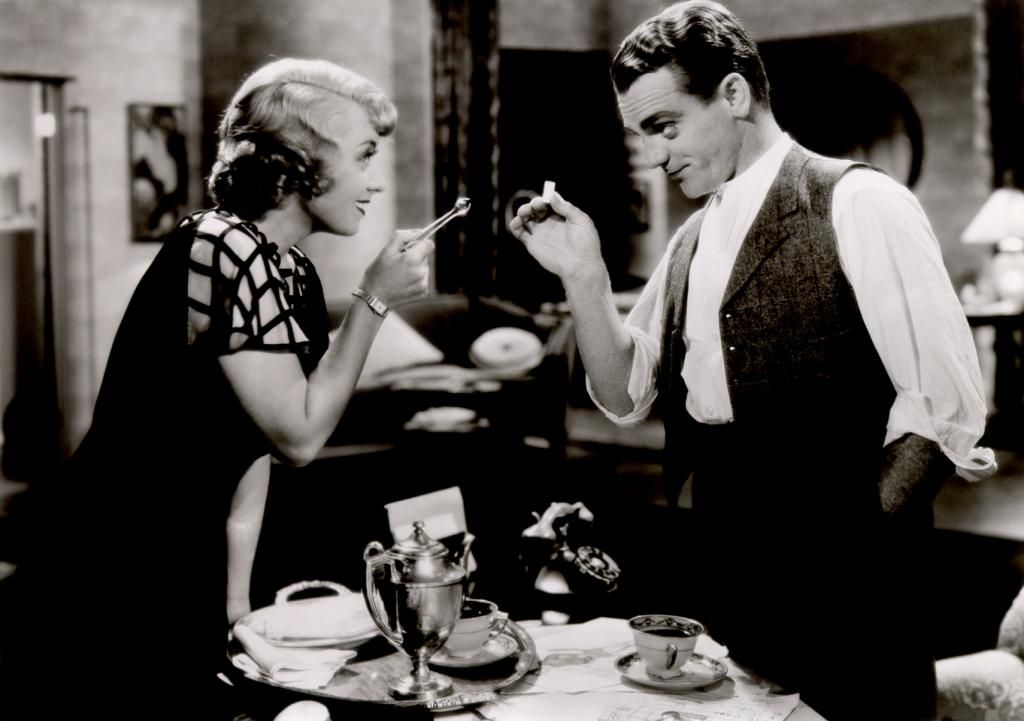 Additionally, there's a tremendous amount of quick and zany humor in Footlight Parade.

Chester Kent is a dreamer, but also a no-nonsense character, all at the same time.

He has some great lines of dialogue, including, "See that window over there?

Take a running jump and I think you can make it."

His sarcastic energy rubs off on the character actors around him and keeps the film moving at a light speed rate.

The frazzled rehearsal director was good for at least a few laughs every time he showed up, and Dick Powell even managed to be funny rather than bland.
Even one of my greatest stumbling blocks to enjoying Busby Berkeley is kept more at bay in this movie than his other classics.

Ruby Keeler, how did you ever become a star?

(Oh right, she was humping Berkeley himself.)

Irritating to the nth degree, she doesn't manage to completely drag down Footlight Parade to her tepidly dull level.

She spends the first third of the film as a bespectacled office accountant, a role she's infinitely more suited for than glamorous stage star.

When she does make her ultimate transformation, Berkeley is smart enough to focus more on Cagney than Keeler, and if you grit your teeth long enough, you'll get through her musical numbers in one piece.

I still hate her, but she's bearable.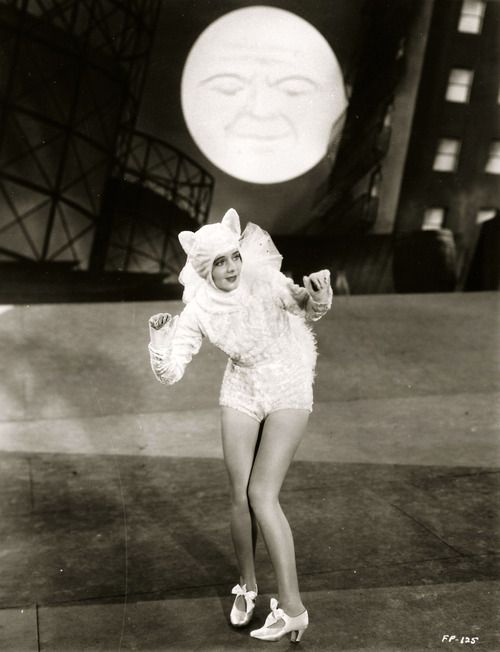 What is this, I don't even...
Of course, this is Busby Berkeley.

The last forty minutes of the film are nothing but show stopping musical numbers as Kent premieres his three new prologues, "Honeymoon Hotel," "By a Waterfall," and "Shanghai Lil."

Bear in mind that as soon as the numbers start, you have to forget that they're supposed to take place live on stage; it would be downright impossible to perform these things as live theater.

To quote The Simpsons, though, "Point out your plot holes elsewhere!"

Even though this particular style of musical number isn't my favorite (did I mention I'm an MGM fan?), even I will doff my cap to Mr. Berkeley here.

While "By a Waterfall" is the typical nonstop glut of identical chorus girls (with the twist that they are now swimming), "Honeymoon Hotel" is something different.

Powell and Keeler play a newlywed couple checking into the eponymous establishment.

Instead of too many chorus girls making geometric patterns with their arms, legs, and crotches, we get a fairly cheeky and innuendo-laden number that was probably my favorite one.

But, then, we are given the treat of Cagney singing and dancing in the final number, "Shanghai Lil," where a sailor searches an Asian port for his darling, then marches away with many, many other sailors in a big, synchronized finale.

When Cagney sings and dances, warm fuzzy things happen to my insides.

Sure, he's no Gene Kelly, but he's nearly as swoon-worthy, and tremendously fun to watch.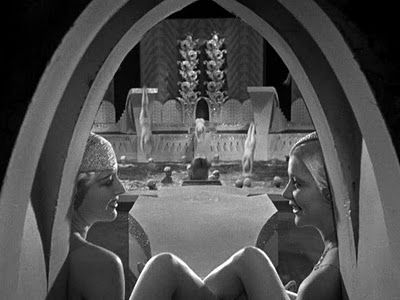 Obligatory geometric pretty lady shot.
The last of these numbers, "Shanghai Lil," is arguably the most scandalous of the lot.

While "Honeymoon Hotel" makes lots of jokes about sex, and the illusion of nearly nude swimming nymphs is played up in "By a Waterfall," things become more lurid in "Shanghai Lil."

There's no pretending that Lil and her cohorts aren't prostitutes.

Also, I swear, I saw a little bit of nipple in the shots where Cagney searches the whorehouse for Lil.

I couldn't find any confirmation of it, but I really think it's there.

Which, of course, makes for a huge, "Wait, did I just see what I thought I saw?" moment, popping up in a musical of all things.

More proof, then, that this movie was certainly made pre-Hays Code.

The libidinous attitude of pretty much every character is laid bare at one point or another in Footlight Parade.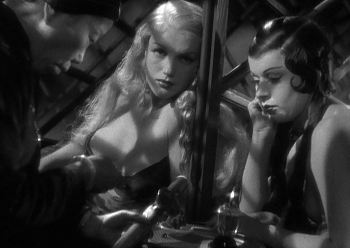 SERIOUSLY! LOOK AT THAT!
It's easy to see how a film like this was a success, especially given its context in the Great Depression.

The last forty minutes of showmanship are pure escapism with no silly plot to get distracted by.

And with James Cagney helming the fast paced film, it's hard to go wrong here.

Even if it's not my particular brand of musicals, this one wins me over in the end.