Starring
: Vincent Price, Jane Asher, Hazel Court, Patrick Magee
Old school horror films like The Masque of Red Death are certainly very different from the horror films of today.

Is it scary?

Not exactly, not 'scary' in what I'd consider a typical manner.

But having said that, I think that today's horror films could learn a lesson or three from horror classics like this.
Based, like so many other Corman movies, on an Edgar Allen Poe story, The Masque of Red Death focuses on evil Prince Prospero (Price) who retreats to his castle when the vicious plague the Red Death comes to the village in his land.

He abducts peasant Francesca (Asher) to keep as his new pet, a fact that displeases the Lady Juliana (Court).

Prospero eventually reveals to Francesca that he is a Satanist and he attempts to teach her his religion, while Prospero's friend Alfredo (Magee) generally looks evil and acts dastardly in the background.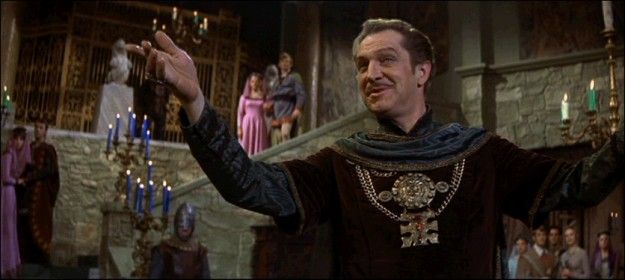 There are several moments of honest to god creepiness in The Masque of Red Death.

Take Prospero's speech about terror in the court scene early in the film.

"What is terror?" he asks.

The fact that the court falls so suddenly quiet to listen to Vincent Price's lyric and hypnotizing voice, which echoes ever so slightly, as Price speaks such eloquent yet disconcerting words, and yeah, it's creepy.

The dwarf dancer Hop-toad exacts an incredibly vicious, if not undeserving, death on a character that is absolutely horrifying to watch, especially if you know what he's planning all along.

To watch him so coldly and seductively ensnare the character in question into his trap is chilling.

And lastly, the whole of Prospero's court I found rather disturbing.

The people Prospero has surrounded himself obey his every word without a single question; they actually delight in doing his bizarre and cruel bidding.

He's a sadist who has found twenty odd masochists who will do whatever he asks.

In said early court scene, Prospero starts ordering his court members to act like animals for him.

They do, and everyone laughs at them.

It's not the laughing, the mocking that's disturbing in this scene, oh no.

No, it's the relish with which the lords and ladies carry out Prospero's ridiculous wishes.

Act like a donkey?

Absolutely, nothing would make me happier!

This is so disconcerting that it gives the whole scene a thoroughly creepy atmosphere, despite all of the laughing characters.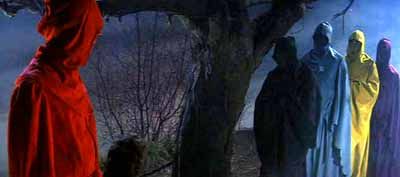 All of these moments, however, are heightened by the awesome production value of The Masque of Red Death.

By filming in England, Corman was able to make his money go further and also use many of the castle sets from Becket.

The Masque of Red Death is a gorgeous movie, there is no denying it.

With brilliant colorwork and cinematography by none less than Nicolas Roeg, you will not get bored looking at this film.

Brilliant greens and blues and reds pop off the screen, and the costumes are just as sumptuous.

A highlight are the "colored rooms," one each of nothing but yellow, purple, white, then black.

I even noticed the candles in the film.

They aren't simply white candles, oh no, that's too normal.

No, the candles color match their respective rooms, and even in the banquet hall, they are bright blue or green.

Horror films today shy away from color like it's the plague, delighting in shadows and darks and blacks and greys.

The Masque of Red Death proves you can make a creepy film that is drenched in primary colors and filled with lush costumes.

The film hardly looks realistic, but what does that matter if it creates such an atmosphere?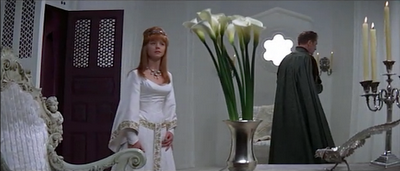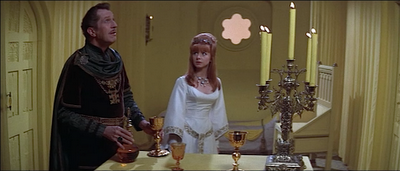 All this isn't to say the film is without flaws.

It's certainly dated in some aspects, but less so than other B movie counterparts of its time.

I can easily forgive that.

No, my biggest confusion with The Masque of Red Death was in Prospero's character.

I didn't understand his random acts of kindness.

He's supposed to be our Evil Genius of Evil, and yet he gets overcome with unexplained sympathy for humanity at the oddest of times.

For example, take Francesca.

He keeps on making vague threats to her, but never follows through on any of them.

He even treats her, dare I say it, well.

Sure, he kills everyone around her and treats those she loves with cruelty and violence, but to Francesca, he's a positive lamb.

He doesn't even try to come on to her in any way.

He protects her from the other madmen in his keep, even protects her from the Red Death.

And then there's a scene where he orders the execution of six villagers, but spares the life of a young girl.

Why spare the life of the little girl?

It's so out of character, or at least it doesn't fall in line with expectations for what an Evil Genius should be.

Given how utterly cruel he is to everyone in the film, his acts of kindness are just… weird.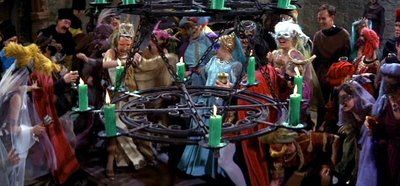 But really, I suppose I shouldn't be too nitpicky at a fun schlock fest that actually manages to be legitimately creepy, especially given that they just don't make 'em like this anymore.

I love the language and the colors and the cinematography.

I wouldn't say I totally love the movie overall, as it's not exactly my style, but I appreciate the hell out of it.

Bring back gothic horror films, I say!