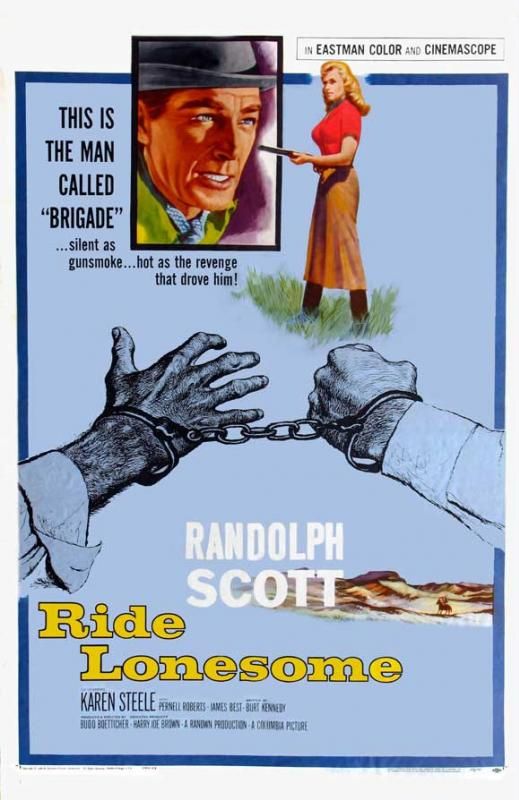 Director
: Budd Boetticher
Starring
: Randolph Scott, Pernell Roberts, Karen Steele
Ugh.

Westerns.

Up to this point, the westerns that I've written about have had something a little special going for them, something to make me like them despite my protestations that I'm not a big fan of the genre.

Goodness me, it was starting to sound as if I actually *enjoyed* westerns.

And then I decided to watch Ride Lonesome for a second time in order to write about it.

And then I remembered just how much "typical" westerns don't work for me.
Ben Brigade (Scott) is a bounty hunter who opens the film by capturing smarmy criminal Billy John (James Best).

But Billy John has a brother (Lee van Cleef) who doesn't want to see him hang, and Brigade knows the clock is ticking on getting Billy to Santa Cruz.

Along the way he picks up a Marilyn Monroe lookalike who sulks, pouts, and wields a shotgun (Steele) and a pair of fun frenemies in Boone (Roberts) and Whit (James Coburn) who want to take Billy from Brigade in order to collect the bounty – and the amnesty that comes with it – themselves.
From a critical standpoint, Ride Lonesome is, at first glance, very classic Western with a capital W.

Our hero struts about with his chest thrust out (wearing a tasseled shirt, nonetheless) while speaking little.

Indians randomly come and attack our band every now and then for utterly no reason (other than the whole "stole your land, infected your people" thing).

The token female looks unnaturally clean for living in the middle of nowhere and goes through the classic "I hate you… no wait I love you!"attitude change towards our hero.

The night scenes are even shot day for night, something I've always found jarring (really, does the moon cast a shadow THAT dark?).

There are shoot-outs aplenty, runaway carriages, and classic fifties dialogue like "That tears it!"

Oh yes sir, this is most definitely Classic Western.
And yet, I will give Ride Lonesome its due and say that it has a few novelties in term of character development and setting that made me understand how it could help bridge the gap between the westerns that predated it and the Leone-esque westerns that followed.

For one, I love that Ride Lonesome wasn't filmed in Monument Valley.

Instead, we have a much more varied landscape than I would expect in a fifties western.

Interesting rock formation, distant mountain ranges, bleached white desert sand, and sparse, arid forests are the backdrops for Ride Lonesome.

I can see how Sergio Leone would have seen this and preferred this style of location over the earlier westerns that can't seem to think past Monument Valley.
The team of Boone and Whit is fun in terms of never really knowing what they're up to.

Are they helping Brigade?

Are they going to kill him?

Their cheerful, morbid banter certainly gives the film a little bit of sorely lacking spice.

And Billy John is likeable in his ridiculous smarminess – he's a bad guy you want to see get his due, but you also don't mind him being a constant needle in Brigade's side.
But that's about all I can say about Ride Lonesome that's good, and it was hard for me to come up with that much.

At 73 minutes, this is definitely a short feature film but holy crap it felt four times longer to me.

I had pause it at least three time to take breaks to do other things, that's how incapable I was at making it through the film in one go.

And that's sad.

Absolute, utter tedium.

The fun with Boone and Whit is good, but it's not nearly enough to get me through the soporific rest of the movie.

I got bored about ten minutes in and started checking my email.

Then making lunch.

Then playing with my cats.

Then grabbing my copy of 1001 Movies to read just why I was watching this movie, because I'm a bit flabbergasted at the moment.
How Randolph Scott became a western star is beyond me, because the drive-thru attendant at McDonald's speaks with more passion and feeling than him.

It's laughable how monotone he is.

Every single line, EVERY SINGLE LINE, is delivered with the exact same vocal inflection.

And he has only one facial expression.

He looks stern for the entire film and spits out his lines with slow deadpan diction.

I thought Hayden Christensen was wooden in Star Wars Episode II: Attack of the Clones, but jesus christ, Scott makes Christensen look like Laurence Olivier, what with his emotional range of absolute nil.

It doesn't help matters that he was getting a bit long in the tooth by the time he filmed this one (he was 61 in 1959) and the "love interest" between him and the little piece of very much younger cheesecake felt absolutely ridiculous and completely forced.
And the story is hardly cohesive.

Ride Lonesome suffers from a distinct lack of central tension.

It's as if the film can't make up its mind – is it going to focus on the apparent war between our gang of heroes and the Indians?

For twenty minutes or so, that seems to be it.

Yeah yeah, Indian wars, yeah, that's what this movie is all about.

But then, NOPE NO MORE INJUNS!

WE'RE DONE WITH THEM!

Okay, what about the conflict between Brigade and Boone?

After all, Boone wants to take Billy in himself.

Oh yeah, we should come back to that and keep having Boone make these rather random death threats against Brigade.

Yep, THAT'S our central tension.

Oh wait, no… no it's not.

Darn it, we forgot about Billy's brother, the guy who's supposedly tracking Brigade down in order to free his brother.

Forget all that other stuff, THAT'S the main point of the plot.

That's what we've been building towards throughout the film even though we only just remembered to mention it about twenty minutes out from the end.
I don't even know.

And frankly, I don't care.
There are westerns I like, really there are.

But Ride Lonesome is very, VERY much not one of them.
Arbitrary Rating: 4/10.

The central music motif is nice, if not rather derivative of the Grand Canyon Suite.