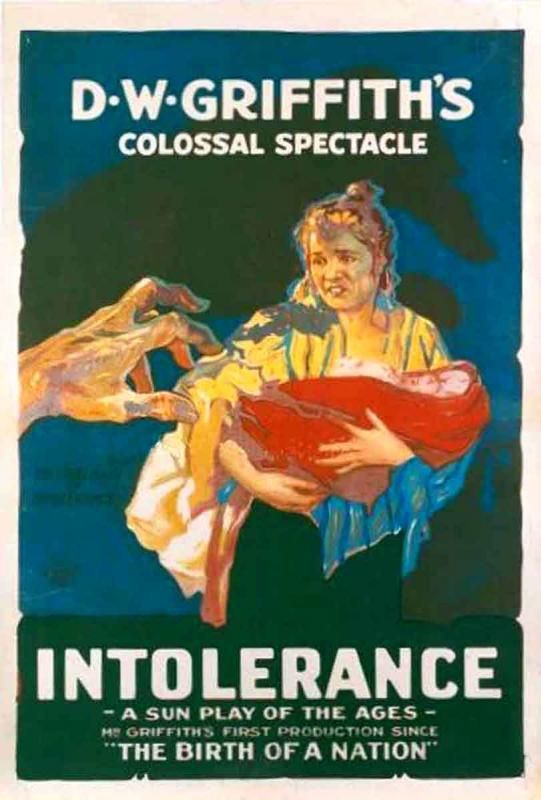 Starring
: Lillian Gish, Mae Marsh, Robert Harron, Constance Talmadge, Alfred Paget
Oh, D.W. Griffith, you so crazy.

You get all mad when people bust on you cuz they don't understand yo politickin' in Birth of a Nation, so instead you get all up in their business with Intolerance, yo!

You all, 'yo people always be beatin' on the downtrodden, it's in the history books, man!'

And you make a crazy whack movie that's fifteen hours too long to prove it!

What up with that!
OK, I'll stop that now.

Somehow D.W. Griffith is much more amusing to me if I picture him as a ghetto thug.
Made in direct response to those who dared point out the racial controversies aplenty in Birth of a Nation, Intolerance tells four separate tales, each dealing with the theme of intolerance, and usually set against the backdrop of a love story.

We have classic episodes from Jesus' life, a story in Ancient Babylon about a Mountain Girl (Talmadge) who falls in love with Prince Belshazzar (Paget), a tale of doomed love during the Catholic/Huguenot tensions in sixteenth century France, and a modern tale following Dear One (Marsh) as her life goes from poor to poorer to poorest, all in the name of the "Social Uplifters" who honestly believe they're improving society.

Throughout it all, we continually cut to Lillian Gish who sits rocking a cradle as the "Eternal Mother."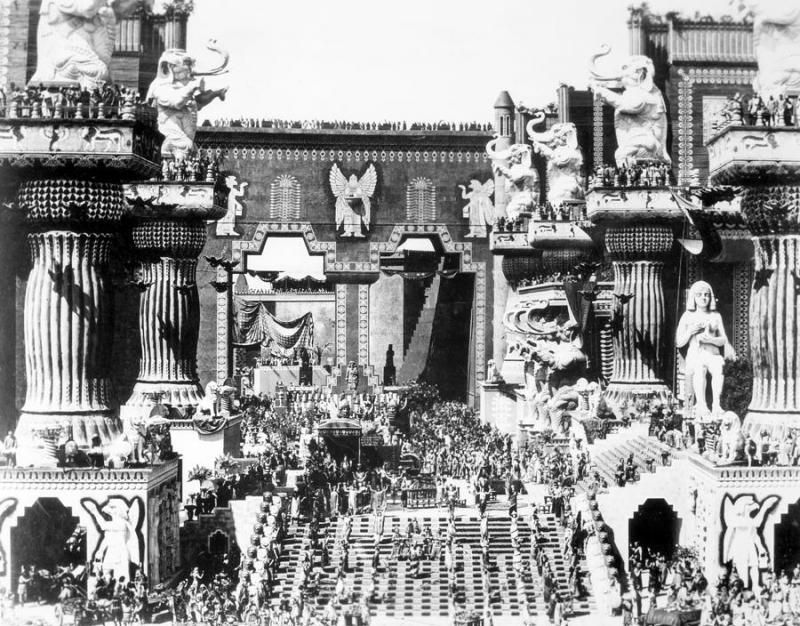 This = epic, especially for 19-freaking-16.
There are a few reasons why you should commit three plus hours of your life to watching this silent film.

First of all, as my husband even managed to intuit, D.W. Griffith was groundbreaking in his development of what we call "the language of film."

In Intolerance, just as in Birth of a Nation, we have a sense of altered shot composition to build dramatic tension.

He cuts, and frequently.

He doesn't simply set up a static camera and let the entire scene unfold.

We go from close-up to mid-shot to crowd shot to reaction shot throughout the entire movie.

There is a definite storyteller's sensibility to Griffith's work.

He knows how to edit and compose, and it's easy to understand why the Soviet filmmakers of the twenties and thirties, like Eisenstein, were inspired by him.

Furthermore, Intolerance essentially single-handedly invented the concept of telling multiple tales at the same time.

The four stories mentioned above are constantly intercut throughout the film.

This had never been done before; several intertitles at the beginning of the film explain that this is the structure because shoot, the audience would realize that's what Griffith was doing!

The idea of intercutting between parallel stories is a technique so familiar to us nowadays, so give credit where credit is due.

Griffith invented it.
Additionally, the scope of Intolerance is epic.

Most impressive is the Babylonian sequence.

Griffith had everything built specifically for this film, and when you see the size of the walls and sets, all the costumes and props, it's hard not to be impressed.

The battle for Babylon is easily the most exciting portion of the film, and Griffith doesn't hold back.

There are fires, boiling oil, battle turrets being toppled, spears shooting into people's bodies, and what looks like thousands of extras.

There was no CGI to create an army in 1916, so Griffith, if he wanted it to look impressive, had to actually build everything.

Say what you will about Intolerance, it's big scale, big budget, in a big way.

Michael Bay would be proud.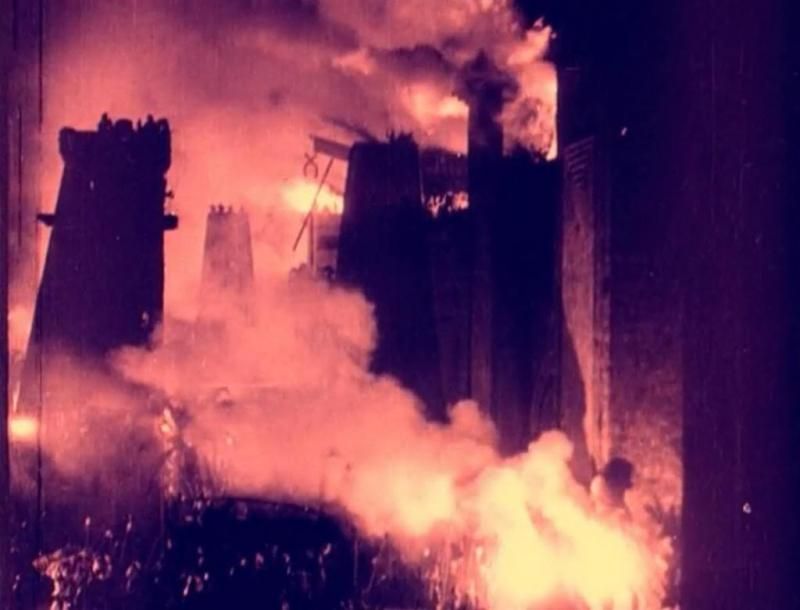 OK, this bit was cool.
However, that's about all the reason I can come up with for sitting through over three hours of people wringing their hands.

Intolerance may be grand and its storytelling technique and undoubtedly innovative, but it's not entertaining.

Despite Griffith's intertitles that help explain what story we're now moving to, there is still some confusion as to who is who and what's happening – having a cast so large will do that.

Furthermore, the acting is atrocious.

Lillian Gish is good and likeable in everything I've seen her in, but she's not really *in* Intolerance.

Every twenty minutes or so, we cut back to her rocking a cradle, but really, that's not exactly an acting challenge.

Instead, I'm subjected to a focus on Mae Marsh in the modern story.

I've decided I hate Mae Marsh, and if I never see another movie with her in it before I die, I'll be happy.

Everything you can possibly imagine about silent film actors overacting, she does, and in spades.

She thrashes around the room in order to convey emotion; it's as though she's having an epileptic fit of some kind.

Oh, was that supposed to be joy?

Looked like a drug-induced episode to me, and Talmadge as the Mountain Girl isn't much better.

There is zero subtlety, but I wasn't exactly expecting any in a movie from 1916.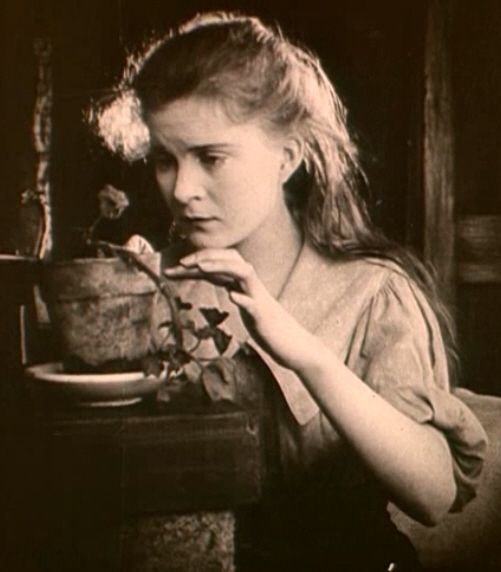 I kind of sort of hate you, Mae Marsh.
Furthermore, I see absolutely no reason why Intolerance clocks in at just over three hours.

The amount of dead time in this film is ridiculous.

The Babylon battle is exciting, but at twenty minutes, it could have been edited down by half and been just as exciting.

Nearly every other sequence in the film fits this description – too long.

I'm watching the same thing over and over and OVER again.

I get it!

Move on!

Yes yes, Mae Marsh is making weepy faces at her baby, I don't need a five minute shot to establish the fact that she's sad.

Yes yes, there's a big ceremony in Babylon, I don't need fifteen minutes of footage to prove this.

Yes yes, the evil Pharisees are evil, I don't need a protracted Evil Look of Evil that lasts for one minute to get the point across.

Everything moves at a snail's pace in this movie.

It's long, and it's boring, and it's slow.

Yes, Griffith is smart in his editing to tell his story in a unique visual way, but I just wish he'd realized his audience doesn't need to be told the same thing over and over again seventeen times in order to understand a point.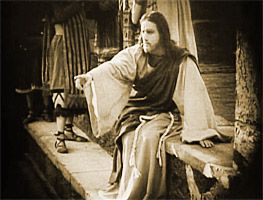 And then, of course, there's Jesus. I don't know even know...
Ultimately, as my husband says, the title of the movie is fairly fitting.

Intolerance is rather intolerable.

Yet again we have a Griffith epic that, while not being as morally repugnant as Birth of a Nation, is no less preachy and whiny and long and dull.

I don't discount Griffith entirely; there are films of his I actually like.

But this one ain't one of them.