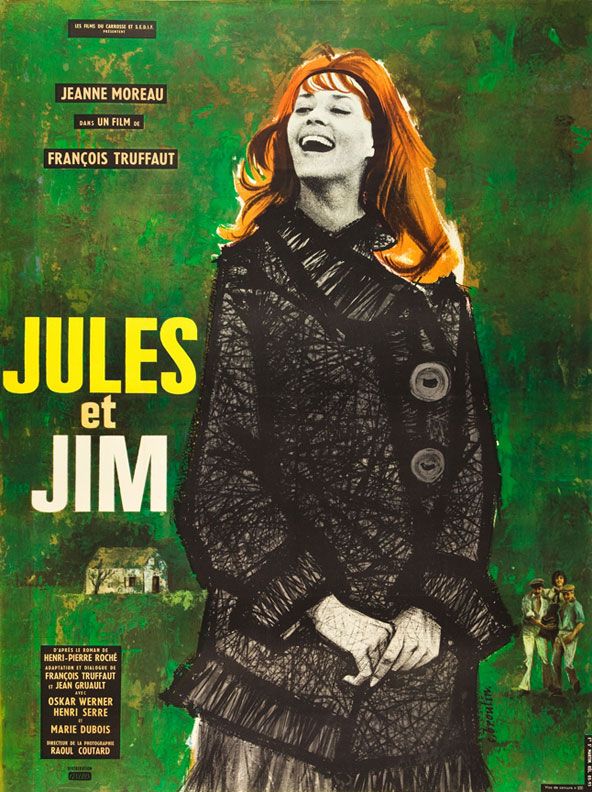 Director
: Francois Truffaut
Starring
: Jeanne Moreau, Oskar Werner, Henri Serre
I will now pull out what is to become my Standard French New Wave Introduction: Just because I can appreciate, objectively, how the films of the French New Wave advanced filmmaking in the sixties doesn't mean I have to like the films themselves.

Because I don't.

In my revisit of Jules et Jim, I remember vaguely having some affection for the film, but that affection began dissipating around the halfway mark of the film.

In a movie so much about three central characters, it is extraordinarily hard to like the movie if you cannot like said characters, a fact that's even more grating when it's incredibly apparent that I am *supposed* to like these three people.
In 1912 Paris, Jules (Werner), an Austrian, befriends Jim (Serre), a Frenchman.

The two form a fast bond and live a bohemian lifestyle together.

Enter Catherine (Moreau), the one woman who captivates Jules in a way the other Parisian women cannot.

But she captivates Jim as well.

As the years pass, Jim and Jules fight in World War I, Jules marries Catherine and has a daughter with her, but Catherine bores of their marriage and takes on many lovers, including Jim.

Her capriciousness and insatiability, however, cannot be contained.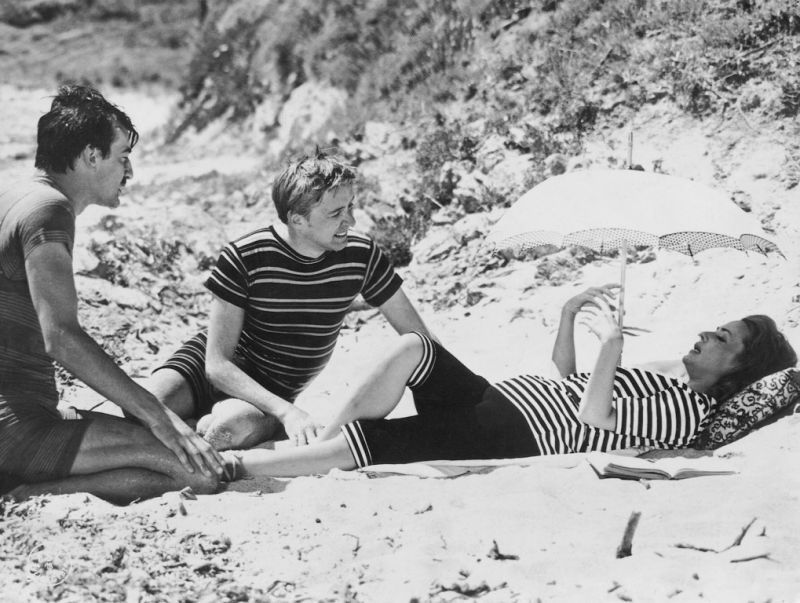 Although it's now been over a decade, I was reminded of reading and discussing D.H. Lawrence's Women In Love in my freshman year of college while I was recently revisiting Jules et Jim.

The two share many thematic elements: complicated love affairs and strong male friendships are obvious, but also a sense of vast discontent with the world at large for pretty much all the characters.

They speak of true love and passions but with emptiness and spite, and view almost everyone else beside themselves as lesser beings whose feelings are not potent enough to matter.

And I had a very similar reaction to Women In Love as Jules et Jim.

These people are rather full of themselves and have an extraordinarily distorted bohemian sense of superiority that appears to be actively preventing them from being happy.
And that's really my major reaction to the triangle of Jules, Jim, and Catherine.

These are people so utterly narcissistic they cannot ever be happy.

Jules is weak and so besotted with Catherine that he completely prostrates himself at her feet, letting her walk all over him and uselessly basing his own happiness off the scraps of attention she deigns give him.

Jim seems to be stronger than that, but he constantly vacillates back and forth between cutting himself free of his toxic attraction to Catherine and making a real life with someone else.

His inability to escape Catherine is frustrating to the last.

And then there's Catherine herself, the instigator in all this mess.

Jules and Jim have a pretty decent bromance going until Catherine comes along and mucks everything up with her crazy ways.

Seriously, she's crazy.

Initially, when we first meet everyone and they are young, her craziness – like jumping in the Seine on a lark – is passed off as a "wild and crazy" youth.

OK, sure, I completely understand the need, when one is young, to act out and do ridiculous things.

The problem is, Catherine never gets any better.

She never grows out of this and slowly eats away at Jules and Jim both with her dangerous impetuousness.

Even when she becomes a mother, she never acts like one.

I can understand that not all women are blessed with maternal instincts, but Catherine takes it too far.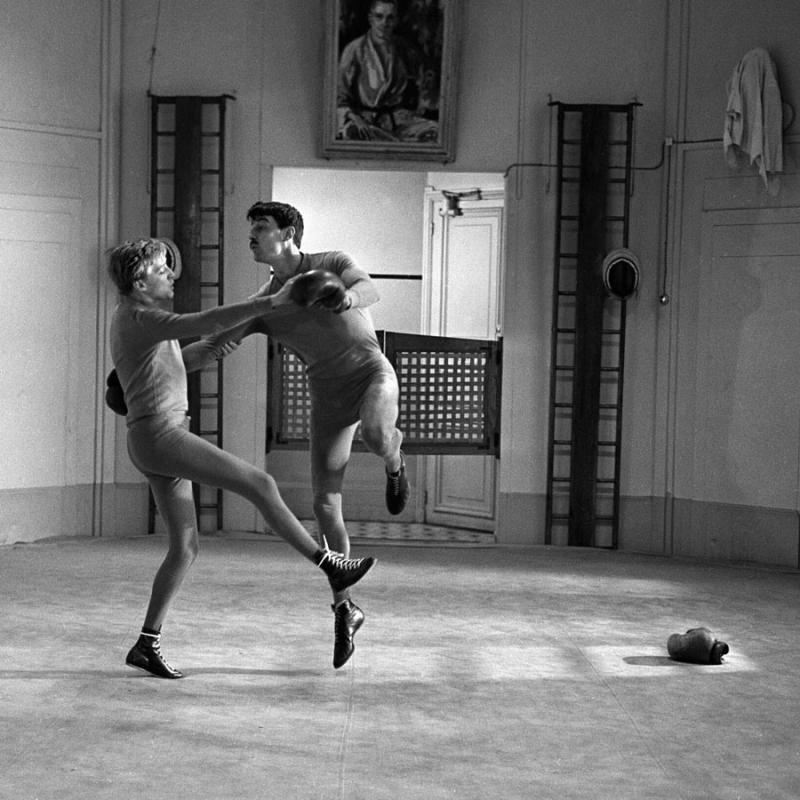 Look at them... they were so happy before Catherine came along...
The thing that bugs me the most about Catherine is that Truffaut essentially considered her "his ideal woman."

How?

Why?

Because she's a trifling narcissist who bends everyone around to her petty whims?

Is that REALLY your idea of an ideal woman, Truffaut?

I understand that Jeanne Moreau is beguiling and certainly has charisma, but Catherine is morally repugnant.

I like that Catherine is strong-willed, but she's not strong-willed in a good way.

I guess I must simply arrive at the conclusion that my idea of an ideal woman differs greatly from Truffaut's.
In terms of the filmmaking itself, well at least it's Truffaut, and Truffaut is easy to swallow.

Despite the rather ridiculous characters, we get some playing around as is the New Wave style.

A narrator is constantly telling us things both vital and unnecessary to the central story.

Truffaut underlines a point by randomly adding in subtitles in one scene, and he uses some stock footage of both Victorian prostitutes and Nazi book burnings at different points in the film.

It's interesting, here, that we have essentially a French New Wave period piece, and the costumes of the 1910s, 20s, and 30s seem somewhat incongruous with the thoroughly modern techniques championed by Truffaut's New Wave, but it certainly sets the film apart from its contemporaries.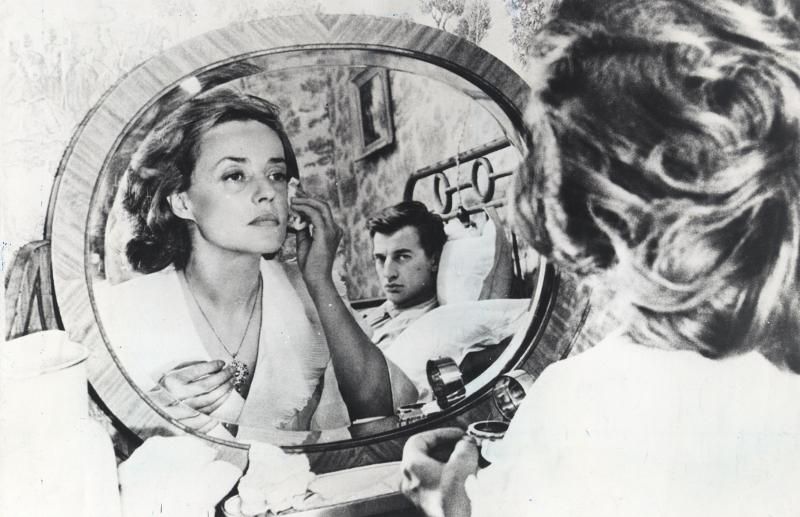 "Hold on honey, let me clean my face before I ruin your life."
Unlike Truffaut or so many other critics, I never fell in love with any of the main characters.

I never found their struggles to keep themselves consistently unhappy and beaten down appealing (because really, that's how they were behaving to me).

I do not see their story as romantic or charming at all, but one full of viciousness and toxicity.

And Jules et Jim is very much based on its characters.

Poor Jules and Jim, neither strong enough to know when to let go of the crazy bitch.
Arbitrary Rating: 4/10.

If Catherine is a manic pixie dream girl, then I don't understand men.

Heck, I liked Godard's wacko crazy Weekend more than this!!!