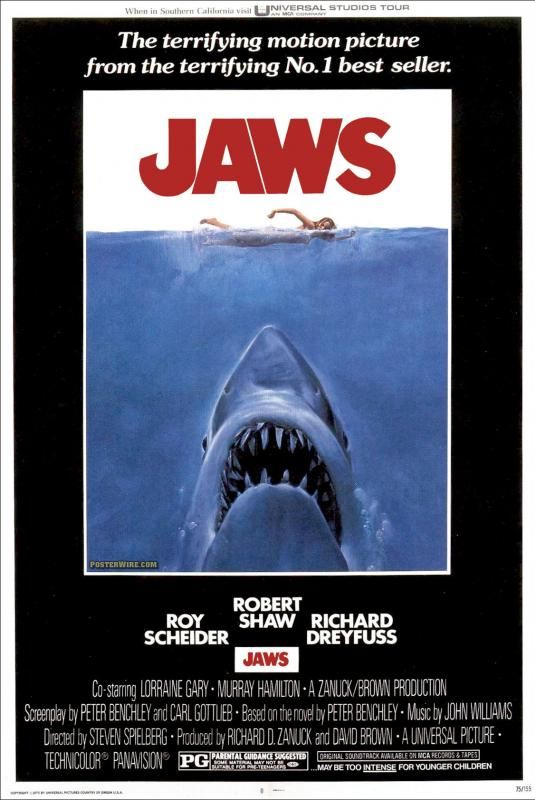 Director
: Steven Spielberg
Starring
: Roy Scheider, Richard Dreyfuss, Robert Shaw
I think there is a distinct gap between the public's impression of Jaws and what the film actually is.

The general impression of Jaws is that it's a horror film about a monster rampaging shark.

While I would never wholly disagree with this statement, if that is all you want from Jaws, you will probably be rather bored for most of the movie.

In reality, this is a film that defies classification, offering up bits and pieces of multiple genres, all delightfully blended together into a helluva rollercoaster.
Police Chief Brody (Scheider) is still kind of a newbie on Amity Island, a resort town in the Northeast that relies on summer dollars for its economy.

When mangled human remains are found on the beach, Brody tries to convince an unbelieving mayor that he has a shark problem on his hands.

When panic starts to spread, Brody calls in help from the oceanographic institute in the form of Hooper (Dreyfuss) along with the salty sea captain Quint (Shaw) in an effort to kill the shark.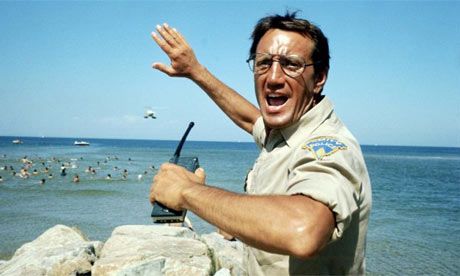 I'm a bit of a wimp when it comes to horror films and violent films and war films.

I don't have the best tolerance for violence, blood, and gore.

However, I am a huge fan of suspense films and thrillers.

I was scared to see Jaws the first time – I remember that I was in middle school.

There are certain scenes that scared me then (and that still scare me now), but I remember a distinct feeling of "Is that all?" where the blood was concerned after that first viewing.

For all its hype as a man-eating shark horror film, there is little (but not zero!) graphic violence and blood in it, especially by today's standards.
Despite the moderate amount of blood, the film has some very scary moments.

The opening prologue – following a skinny-dipper as she is eaten by the shark – is truly terrifying to me.

Her fear is so primal and all-encompassing, and watching her bob up and down in the water, being pulled back and forth against her will, and then finally pulled down for good… ACK!

Susan Backlinie played the girl who drowned, and her brief performance is my favorite scream queen sequence from any film.

It really wigs me out.

There is so much lore around the making of the movie, how Spielberg had to rely on fear of the unknown instead of a frightening monster, I won't bother going into detail about it, except to add on that this opening sequence is a prime example of that.

You don't see the shark here.

The camera, right at water level, only shows you the girl's head, and you don't know what's happening just under the surface.

It's so visceral, so guttural, and really, REALLY scary.

I've seen that sequence dozens of times, and it still gets under my skin.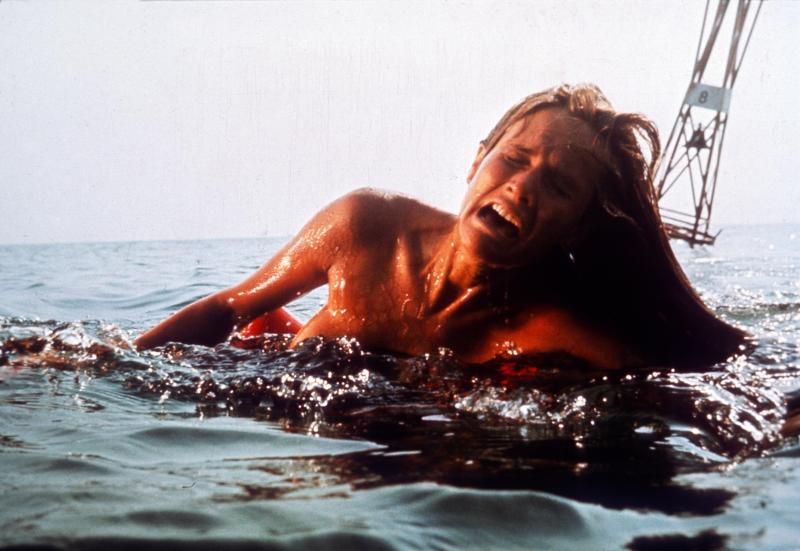 So after scaring the pants off you in the opening, Spielberg then introduces you to his seventies small town dramedy that is the majority of Jaws.

The interaction of Brody with not only the mayor but the rest of his town, and certainly his family, provides a substantial heart and heft to the film.

Spielberg devotes a great deal of time giving you insight into Brody's life and relationships, but never doing it in a prosaic or predictable manner.

Brody argues with the townspeople in a decidedly chaotic manner; Spielberg has people talk over one another constantly in this movie, to the point where I thought I was watching a Robert Altman film.

It works, though; it emphasizes that no one really understands what's going on.

With Brody's family, Spielberg doesn't give us staged dialogue between Brody and his wife where they tell each other how much they love each other.

Instead, we see Brody's wife rub his shoulders, hand him a glass of wine, and purr, "Wanna get drunk and fool around?"

Instead of presenting a scene where Brody hugs his sons and tells them tearfully just how much he cherishes them, Spielberg gives us the incredibly tender mimicking sequence, which speaks volumes about the family dynamic.

Scheider is fantastic as Brody, the police chief of an island community who hates the water.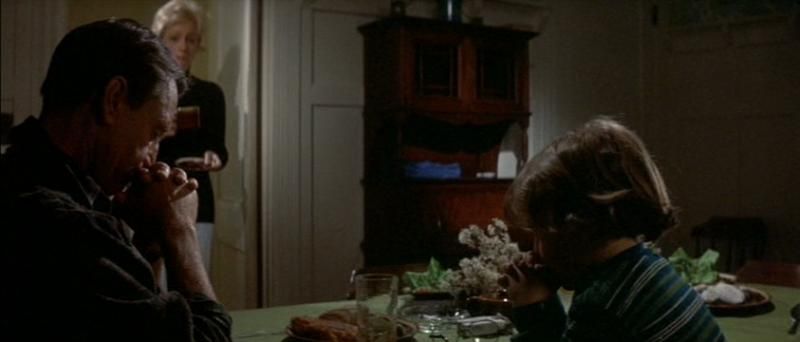 From time to time, I forget what a funny film Jaws is.

So many great lines, so many funny moments.

It's not primarily a comedy, but Spielberg freely laces in light laughs, mostly in the form of Richard Dreyfuss.

Whether he's cackling under his breath, "You're all gonna die!" to a group of ignorant islanders or pulling ridiculous faces at Quint, he's a great character.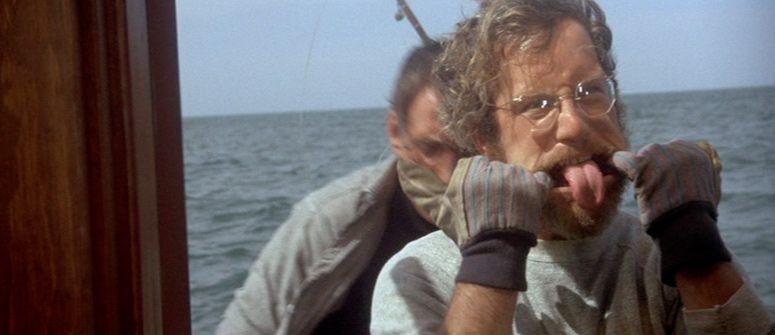 The finale of the film, where the trio embark on their ultimate hunt for the great white shark, is a great piece of filmmaking.

Spielberg doesn't rush the final encounter.

Instead of one long battle, he breaks it up into much smaller fights between the shark and the men.

In between these fights, there's a great deal of waiting and preparing and drinking and bonding.

As the men sit around, they swap scar stories, drink apricot brandy, and worry.

The feeling of brotherhood between three men who would otherwise have precious little to do with one another is one of the reasons that this is one of my husband's favorite films.

And then, just when Spielberg has lulled us into thinking we might be watching a buddy film, the shark appears out of nowhere and everyone jumps out of their seats.
John Williams' score is a large part of the success of Jaws.

The deep, throbbing shark theme (shamelessly ripped off from Dvorak, by the way) is established early on a signifier of the shark.

We hear the music, then realize the shark is near.

The rules are established.

Well, then, what happens next?

The rules change, we see the shark without ever hearing the music, and jump out of our seats yet again!

The rest of the score, the non-shark parts, are typical triumphal John Williams in his classic Americana style; rousing and charming.
Jaws
is a rollercoaster of a film, and it's so much fun.

I don't wonder that movie-goers flocked to it in droves when it came out.

Spielberg knows how to take you on really terrific ride.
Addendum: I saw Jaws last summer at the Dryden because the Dryden is awesome, but unfortunately, I had a less than stellar theater experience while there.

First of all, the Dryden showed an original print of Jaws, and while this sounds awesome in concept, the original print was in what can only be described as mediocre condition.

There were a lot of small skips and scratches and faded color.

The person doing the introduction described the print as "having character," which is a nice way to say it's crap.

Additionally, there was a rather obnoxious group sitting in front of us who consisted of two middle-aged men, presumably brothers, an elderly woman, presumably their mother, and a child who looked no older than 8, more like 6, presumably daughter of one of the men.

I was "lucky" enough to be sitting right behind the poor girl, so I got to witness her excruciating boredom at the first two thirds of Jaws.

Best part of her boredom?

Her vocalization of said boredom at all opportunities and her inability to sit still in her seat.

I THEN got to witness the young girl being utterly traumatized by the final sequences in the film, her shrieks of terror and her quiet sobs as she again couldn't sit still in her seat, while the adults repeatedly told the girl to "Be quiet!"

They were completely unsympathetic to both her boredom and her terror, and were also rather loud in their indignance toward her.

All of this severely tainted an experience I had really been looking forward to: Jaws on the big screen.

Really, who takes their young child to see this movie?

I am certain there are young kids out there who would enjoy this movie, but not many.

Not the majority.

Thanks, idiotic family.

I know we all have those shitty theater experiences; I'm still really bummed that I had to have such a crap experience with this movie, because Jaws is an awesome movie.