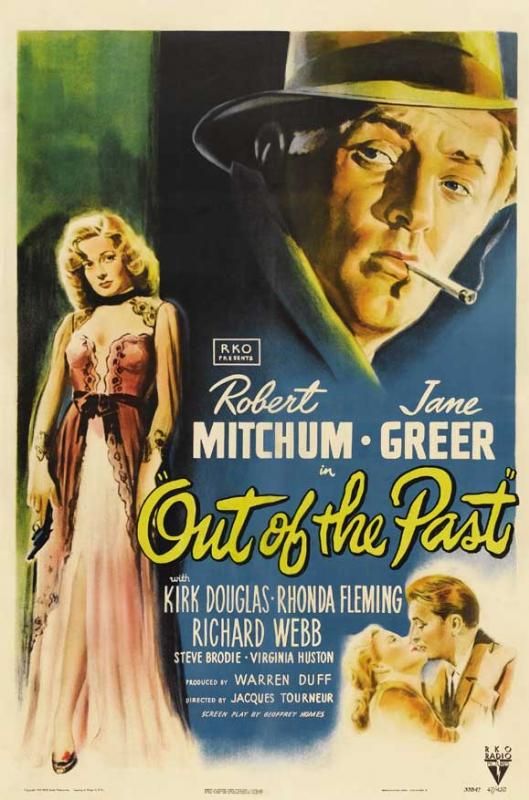 Director
: Jacques Tourneur
Starring
: Robert Mitchum, Kirk Douglas, Jane Greer, Virginia Huston
Damnit I love noir.

And holy cow if Out of the Past isn't as noir as noir can get.

I didn't appreciate this one the first time I saw it, not in the least, but that was before I got bitten by the noir bug.

Now that I'm infected with noir love, Out of the Past is like a potent drug, heady and heavenly and absolutely wonderful.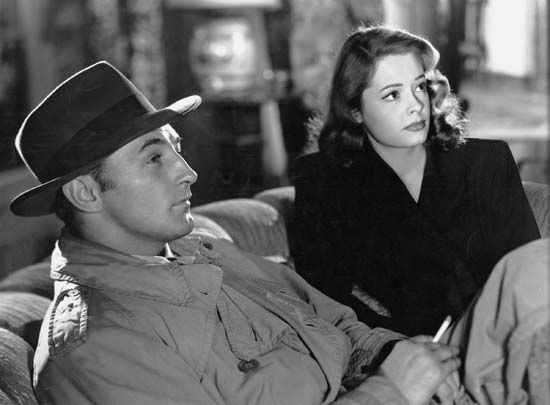 Jeff Bailey (Mitchum) runs a garage in a small town in California and is dating good girl Ann (Huston).

One day, though, a stranger comes to town who talks of knowing Jeff in a previous life.

This prompts Jeff to open up to Ann about his past where he worked as a private detective, and specifically about a case where a rich man Whit (Douglas) hired him to find a dame, Kathie Moffat (Greer).

Jeff remembers finding Kathie in Mexico and the two of them starting an affair together, and the ugliness that followed when he tried to break from Whit.

But Whit doesn't like unfinished business, and he doesn't care a jot that Jeff has made a new life for himself.

Jeff's old life comes crashing into his new one with the consequences we only ever find in film noir.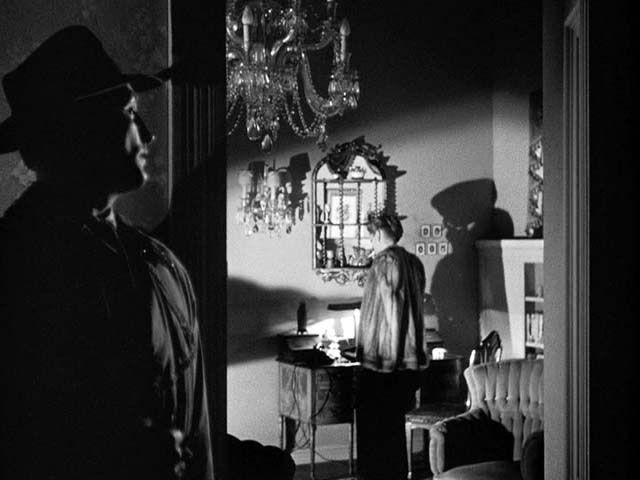 The plot is almost as convoluted as one could imagine.

Jeff's flashback to finding Kathie in Mexico starts to feel like the actual plot of the movie, until we remember that 'oh yeah, he's just remembering.'

And as soon as Whit comes back to real-time Jeff's life, things get crazy as they only can in noir.

More characters get thrown in the mix, there are objects that have to be stolen from other people, money that has to be accounted for, and who knows who has any of it.

When I tell you that I've seen this movie at least four or five times and I still can't quite keep everything straight, you'll understand.

But what is absolutely necessary to understand about noir – good noir – is that this doesn't matter.

It's not about all the red herrings, the ancillary characters who dance around the edges of the film, or the plot devices.

It's about the central characters and the mood and the dialogue.

Jeff is cryptic, brooding, and powerful; Kathie is devious, snakelike, and seductive; Whit is smart, careful, and manipulative.

This trio is phenomenal, and when they spit out hard-boiled dialogue left, right, and center, you really needn't worry about trying to follow the plot.

Just sit back and enjoy the ride.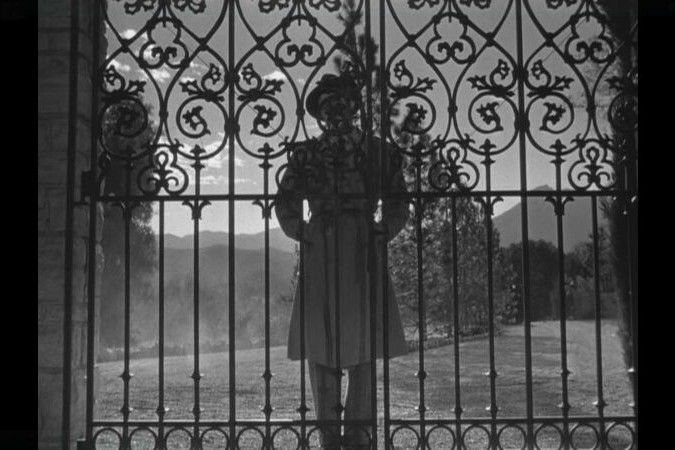 It's hard for me to pick a favorite part of Out of the Past, mostly because I'm such a fan of film noir that I love so much about it, but in Out of the Past, Kirk Douglas shines.

Really shines.

Out of the Past was only Douglas' second film role, and with a nice, hefty, supporting role here, it's more than easy to understand why he became a superstar.

Douglas is beyond phenomenal as the snaky, conniving Whit.

Over the course of his career, Douglas would do many fine roles in many fine pictures, but he would often play characters that were BIG and BLUSTERING in some way, shape, or form.

You need someone who can jut his chin out and make grandiose speeches to a crowd of hundreds, if not thousands?

Douglas is your man.

Which is the main reason why I like him so much in Out of the Past; he is decidedly not this persona when he plays Whit.

Whit is cool, subtle, and plays his cards close to his chest.

He's a devious villain in that he's razor-sharp, intelligent, and diligent, with a dangerous smile that lets you know you're in for something bad, and soon.

As Kathie says, he never forgets, and he'll smile his evil smile while he remembers every trick you tried to pull on him.

This is a Kirk Douglas unlike most future Kirk Douglas'.

I love it.

I can't get enough.

I might even go out on a limb and say this is my favorite Kirk Douglas performance.

As I said, I might even call him my favorite part of Out of the Past, and Out of the Past is crackerjack full of good stuff.

Not that I was in danger of disliking Out of the Past, but Douglas really puts it over the top for me.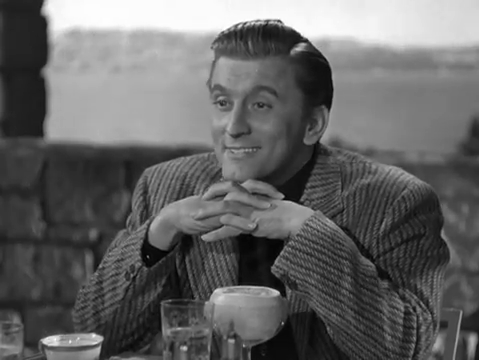 While I just love Douglas in Out of the Past, it wouldn't be the movie it is without Robert Mitchum.

Mitchum, the masthead of the entire film noir genre, is beyond iconic in his role here as Jeff (so much so that Alain Delon's character in Le Samourai is modeled after him and even called Jef).

His drooping eyelids, laconic voice, and dripping cynicism are pure noir.

When you add in the hat, the dangling cigarette, and the battered trench coat, it's just icing on the cake.

Jeff is trying to make a regular life for himself, but he cannot extricate himself from his previous shady dealings.

One look at Robert Mitchum and I believe that there is no way in the world that Jeff could ever make a "regular" life.

In fact, the most awkward parts of Out of the Past are where Jeff is making bland, dull love to Ann (easily the most nondescript character in the entire cast).

Mitchum was born to play a character like Jeff, all hardness and sarcastic smiles.

My favorite line of the film is one of Mitchum's, when he and Kathie are falling in lust down in Mexico.

She spouts some nonsense to him about not actually stealing the money Whit thought she did, and he pulls her in for a kiss and says, "Baby, I don't care."

It's just… perfect.

(For what it's worth, "Build my gallows high, baby," comes a close second.)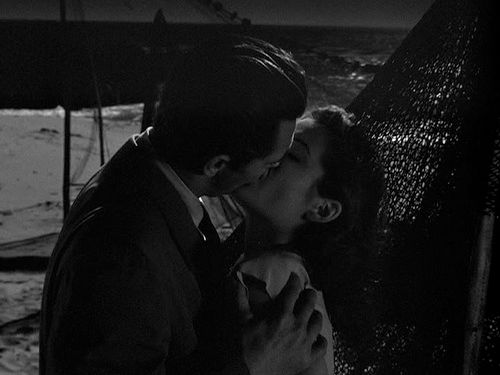 Tourneur's direction and photography are excellent.

There are so many smart choices made that repeatedly play up Jeff's dual lives.

When the film opens in Jeff's pretend "normal" life, we are awash in bright whites.

Every scene is bathed in pure sunlight, and there are almost no shadows.

As soon as Jeff's old life starts to reappear, things get dark and fast.

Enter all the standard shadows and low-key lighting you can handle.

When Jeff starts to get mixed up with Kathie when you just KNOW he shouldn't, cue the apropos fishing nets in the background.

Jeff is caught in Kathie's net, and there's no escaping it.

Tourneur knew what he was doing, and it shows.
Mitchum may have called them B pictures instead of noir, but this is a damn fine B picture.