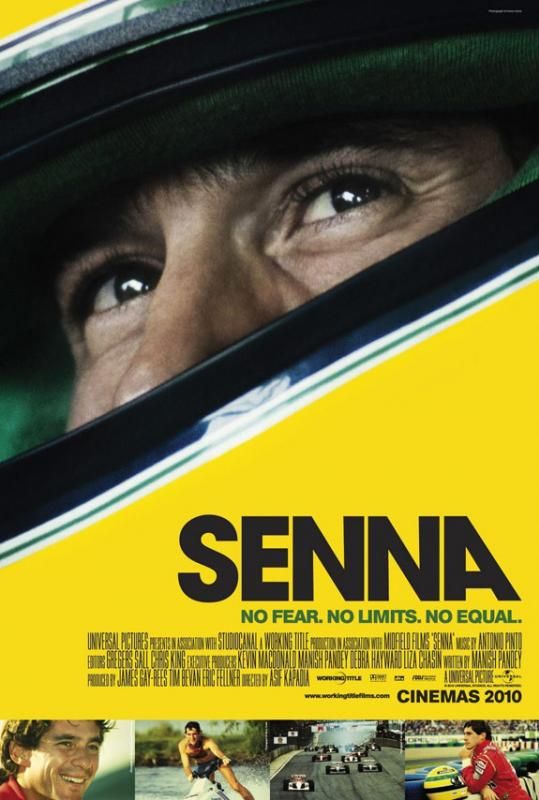 Starring
: Ayrton Senna, Alain Prost, Ron Dennis
I am an odd duck when it comes to sports.

Despite my family's best efforts to inculcate me into the cult of various Boston major league teams as a child, as a grown-up, I do not follow the Red Sox, Bruins, Celtics, or Patriots, nor have I adopted my new local hometown sports teams as my own.

Simply put, I don't particularly care about mainstream American sports.

But if it's NOT mainstream, I'll eat it up.

You'll find me during the winter Olympics DVRing the biathlon and curling while completely ignoring figure skating and skiing.

You want to know my favorite sport in the entire world?

Professional cycling (conversations about doping in sport are for another place and time, my friends, I'll say that right here right now).

Best not to call me during the first three weeks in July (STARTS JUNE 29th THIS YEAR BABY!), as I'll be camped out in front of my TV getting as much Tour de France coverage as I can possibly cram in my eyeballs.

I fall asleep every night to the dulcet tones of Phil Liggett.

Want to have a conversation about Andy Schleck's chances, if Cadel really has it in him again, or the Wiggo/Froome drama over at Sky?

I'd love to.

Pro cycling is fascinating to me partly because it isn't something typical – I didn't grow up with it – but also because the rules and politics of the sport are many, varied, and rather sophisticated.

It's not just about riding your bike as fast as you can; as a matter of fact, if that's what your strategy is in pro cycling, you'll lose every race.

In fact, after watching Senna, a documentary about Formula One driving superstar Ayrton Senna, I found more than a few similarities between pro cycling and the universe of F1.
Which basically means that I had an utter blast watching it.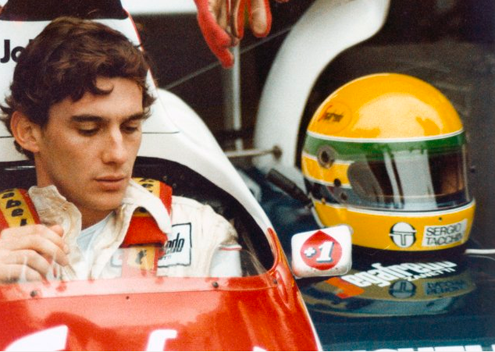 Senna
starts with the ascension of Ayrton Senna, Brazilian F1 driver, through the ranks of what can only be described as professional go-kart racing, and really gets going with his anointment as the Next Big Thing in F1 during the Monaco Grand Prix in 1984.

He drives really well, insanely fast, and has faith in a higher power.

Using a great deal of stock footage and interviews with those who knew him, the film chronicles his move over to Maclaren and his clashes with French driving star Alain Prost, issues of safety in F1 motorsport, what Senna's fame meant to impoverished Brazil, and even how computer technology influenced racing.

Always, Senna is humble and impassioned about the sport he loves.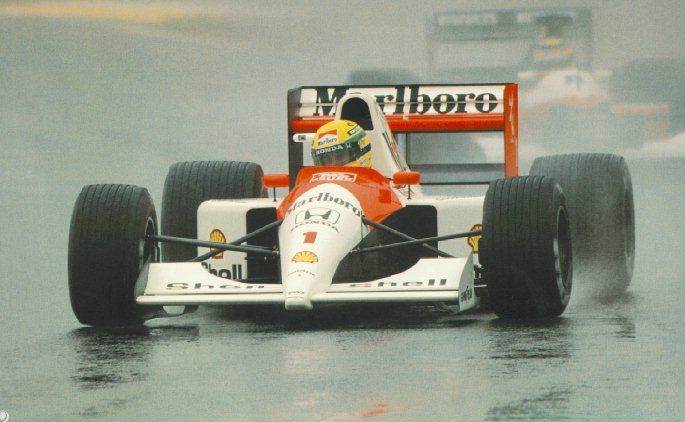 The parallels between what I saw of F1 racing and cycling were phenomenal, especially when issues of politics in sport came up.

In one episode in the film, Senna suffers a fairly severe setback due to a complicated situation and a technicality.

Holy cow if I haven't seen that before, many times over, in cycling.

Take Robbie McEwen's (fairly blatant) head-butting of Stuart O'Grady in the 2005 TdF that resulted in his relegation that day; McEwen constantly argued that O'Grady pushed him off his line and that he was forced into it, but the judges never saw it Robbie's way.

Or the bit in Senna where the (French) president of Formula One tells Senna outright that "my opinion is best.

Always."

Don't even… don't EVEN bring up the issue of governing bodies in cycling, because although I'd love to say that the F1 president is an outlier, he's not.

Such is the norm, to think that just because you're in charge, you're always right.

When Prost and Senna crash together more than once, the film questions whether it was on purpose.

Enter in parallels with "Chaingate" in 2010.

Even the very issue of Senna having to move to Europe, to work his way up through the ranks, to prove himself not with money but through his talent, is straight from cycling's playbook.

The best riders have to go through Europe.

American kids with the cycling spark move over there early and live a monk's existence for nine months out of the year racing around Spain and Germany and Italy.

Leaving behind your home and loved ones for long stretches of time is an expectation in cycling, as, apparently, it is in F1 racing.
And honestly, I saw the conflict between Alain Prost and Senna coming from a mile away.

Cycling is riddled with stories of teams trying to have more than one Big Name on them, and the inevitable infighting that follows.

Who can forget Vino attacking Ullrich in the mountains in 2005?

Well, you might, but I can't.

Watching T-Mobile implode upon itself was practically the biggest story of that year.

There are similar issues (somewhat mitigated by Wiggo's injury pulling him out of this year's TdF) currently between Froome and Wiggins at Sky, with Froome feeling that he's got the goods just as much as Wiggins, and he shouldn't have to help his teammate out.

Cycling, like F1, is in the odd situation where it is a team sport with only one winner.

This leads to, in my opinion, fascinating team psychology.

Essentially, there can never be more than one head of a team in order for the team to be successful.

Too many leaders cause split focuses and rifts.

Watching the dynamic between Prost and Senna deteriorate was like watching any number of cycling stories play out.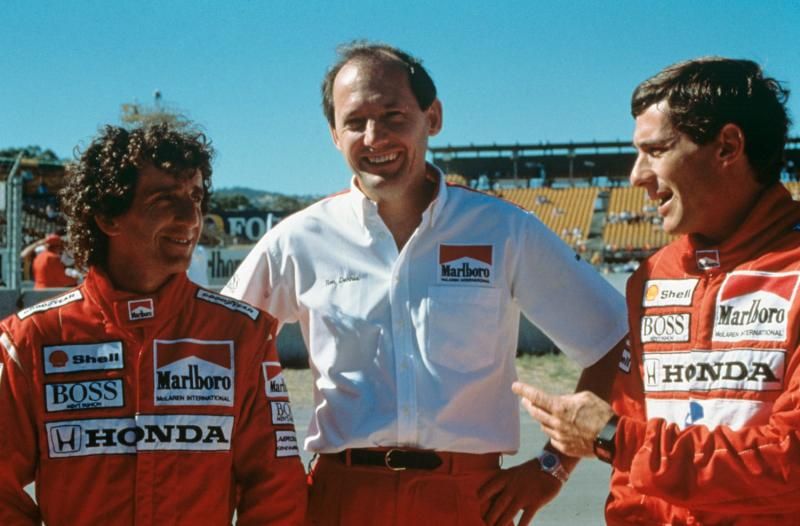 I mention all of those because, and I'll say this again, I love cycling, and I am fascinated with the rules of cycling.

Seeing such similarities to how both pro cycling and F1 motorsport operate made me pretty dang excited to watch a movie about an F1 driver.

Ayrton Senna, as a man, was not nearly as compelling to me as drawing these parallels between the sports as a whole.
And if that weren't enough, I connected another one of my favorite things in the world with the non-sport aspect of the movie.

A minor focus of the film is what Senna's success in an international sport (albeit one based mainly in Europe) meant to a struggling Brazil.

Seeing one of their own ascend to ranks of brilliance at the highest levels brought the people of Brazil together.

There are clips of people on the street saying that Senna gives them joy and hope.

As an American, we see our own constantly becoming international superstars in many different fields.

We have no notion of a single, unifying, national hero because we simply have too many heroes.

It was inspiring watching Brazil rally around Senna, and it reminded me completely of Juan Diego Florez.

OK, so who's JDF (as I'll now refer to him)?

Well, my non-opera loving friends, he's only the single greatest bel canto tenor currently performing in the world, easily the greatest bel canto tenor the world has seen in the past few generations, the heir apparent to Pavarotti's legacy, and my favorite opera singer of all time.

I've had the pleasure of seeing him live three times in my life, and I hope I can get in at least one more performance.

He's amazing.

I don't have enough superlatives for him.

I could listen to him sing all day long (and I usually do), his voice makes me happy.

JDF is from Peru.

You want to know how many international superstars Peru currently has in circulation?

One, and his name is Juan Diego Florez.

How big a deal is Florez in Peru?

He's on their stamps.

Give him another twenty years, and he'll probably be on their currency.

When Florez got married a few years ago (in Peru), the country opened up a basilica that hadn't had formal ceremonies performed there in decades.

He's that big a deal.

He's also using his fame to sponsor music programs for children in the country, realizing that he should give back to his native country.

Much in the way that Senna talks about waving the flag for Brazil, Florez waves the flag for Peru.

Given that JDF is one of my favorite stars in the entire world, seeing the similarities between him and Ayrton Senna was another point of fascination for me.
Really, does any of what I wrote above have to with Senna itself, as a film, being great?

No.

It doesn't.

It has nothing to do with Senna, and everything to do with me and my tastes and interests.

Senna, as a film, is a pretty standard albeit well done documentary in terms of using stock footage and interviews with those who knew him to paint a picture of Senna's legacy.

Is there anything groundbreaking or "must-see" worthy in that?

I don't really think so.

But I was utterly fascinated.

I couldn't turn away.

I was interested, I was engaged, and that says something right there.
Is Senna a film you NEED to see before you die?

Ultimately, no, I don't think it is.

Did I like it?

Hell yes.

Very fascinating stuff.

I'd watch it again in a heartbeat.