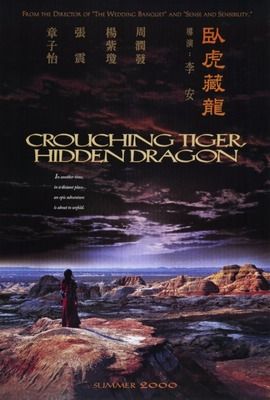 Crouching Tiger, Hidden Dragon
2000
Director:
Ang Lee
Starring:
Michelle Yeoh, Chow Yun Fat, Ziyi Zhang
By now, you may have noticed that I tend to
get annoyed
with
grandiose films
that feature
tragic romances
. Oh, did I say "annoyed?" Perhaps I should have said "I throw a tantrum and rant and rave and make it more than clear how much I kinda sorta hate that type of movie." But then, see, just when I've almost given up entirely on grandiose films, I see something that clicks, something that really gets to me. The exception that proves the rule.
Crouching Tiger, Hidden Dragon
is one such exception.
Shu Lien (Yeoh) and Mu Bai (Chow) are both warriors who are seriously considering retirement. They have also been desperately in love with one another for ages, but because of an overdeveloped sense of dignity and tradition, plus a heaping spoonful of self-sacrifice, neither has ever dared to speak their feelings to the other. When Mu Bai's unbeatable and somewhat mythic sword, Green Destiny, is stolen, the two embark on an adventure to find it. This quest brings them into the company of Jen Yu (Zhang), the governor's daughter, who has been secretly training in the martial arts with the help of her governess-slash-trained-killer, Jade Fox. Mu Bai has a bone to pick with Jade Fox, but wants to help train and develop Jen, who, it turns out, has been carrying on a rather torrid love affair of her own. On the brink of retirement, both Shu Lien and Mu Bai find themselves hopefully pulled back into the world that has consumed both of their lives.
When I rewatched this for the first time since seeing it in its original theatrical release, I was struck by an odd thought. There isn't much fighting in this martial arts film. True, though, that's a question of perspective. In the dozen years since first seeing
Crouching Tiger
, I have since seen such classic martial arts films as
A Touch of Zen, Enter the Dragon, The 36th Chamber of Shaolin
, and, most recently,
Hero
. That last one in particular is chock full of brilliantly choreographed fight scenes, with only the loosest scaffold of a plot binding them together. Not so with
Crouching Tiger, Hidden Dragon
. The fight scenes, which are, of course, fantastic, are not overloaded throughout the movie; instead, they are delicately woven throughout the narrative of the film. Ang Lee makes it incredibly clear with this film that the characters are more important than their technical prowess in an arena. This fact makes me far more emotionally connected with this film than the previous ones.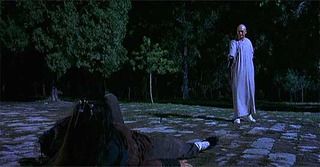 The other thing that struck me when watching it was how much I really connected with the tragic romance. Normally, tragic romances make me blanch, but I got sucked into this one. Why? What makes the romance told in
Crouching Tiger, Hidden Dragon
so different from the other ones at which I roll my eyes?
I will preface my answer by explaining something about myself. I cannot get enough of nineteenth century classic British romance literature, and any and all TV/film adaptations of them. Think Jane Austen. Think
Jane Eyre
. Think
Masterpiece Theatre
. These are things that make me swoon, and swoon hard. The first time I watched Romola Garai's
Daniel Deronda
, I was helplessly hooked. About once a year, I'll line up all my DVDs of all my favorite costume dramas and marathon the lot. It takes at least two days to do this. I love this shit. In my world, there is no such thing as "too many
Jane Eyre
adaptations."
So as I was watching
Crouching Tiger
, it suddenly struck me that the main romance of the film, that between Shu Lien and Mu Bai, filled to the gills with longing glances and stolen touches, is cut from the exact same cloth as that of classic British romances. Yes, the series of novels from which
Crouching Tiger, Hidden Dragon
was adapted, by Wang Du Lu, is twentieth century Chinese and tells stories deeply rooted in traditional Chinese culture. But the emotional core at the heart of the story is the same. Sure, the country and costumes are different, but the romance is the same. Chow Yun Fat and Michelle Yeoh are both fantastic in portraying this huge romance with the subtlest acting. Yeoh in particular, an actress who made her career in action films, convincingly plays a woman who is all quiet strength on the outside, with rivers of emotion below the surface. Every time she slightly raised an eyebrow, or slowly widened her eyes, or even just clenched her jaw, I knew exactly what her character was feeling. When her character has an emotionally explosive scene (there aren't many of them), it felt genuinely cathartic.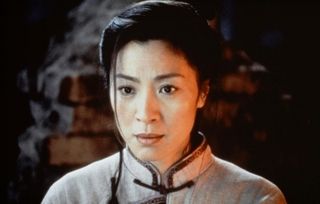 So I'm sitting there, feeling pretty proud of myself for coming up with this connection, and watching the special features of the DVD. Then I hear Michelle Yeoh say in an interview that this film is "a martial arts
Sense and Sensibility
." I practically fell off my chair. First of all, it verified the connection I had made. Second of all, let's all laugh at the irony of Ang Lee directing not only a "martial arts
Sense and Sensibility
," but an actual
Sense and Sensibility
(1995). And lastly, hearing her say that helped me to understand the relationship between Shu Lien and Jen Yu. In
Sense and Sensibility
, the two lead females are sisters with opposite temperaments, but an enormous devotion to each other. While Shu Lien and Jen Yu are not blood sisters, their relationship is very similar to that of Elinor and Marianne. They fight, they bicker, they make up, they fight some more, they help each other out. It's a far more complex relationship than simply "enemies" or "friends." It's dynamic and intriguing, and kept me on my toes.
Speaking of which, the strong female characters in
Crouching Tiger, Hidden Dragon
are wonderful. When you boil the film down, the only male of any real significance is Mu Bai (Chow Yun Fat). In the climactic scene of the film, Mu Bai is surrounded by three females: Shu Lien, Jen Yu, and Jade Fox. All three of these characters are rich, with complicated forces driving their action, and all of them wanting to live life according to their own rules. It's brilliant to see this film coming out of modern day China, and Hollywood could learn a thing or two.
The production is gorgeous. As befits a film as emotionally claustrophobic as this one, there is a focus on interiors. I was intensely aware of the space the characters were living in, and how it connected to other spaces. There are many scenes in rooms that are connected to doorways and courtyards, with shots of archways, windows, all with gloriously furnished sets. Of course, the exteriors are breathtaking as well; the desert and forest scenes are beautiful. But this being Ang Lee, he manages to find the peace in the phenomenally large exteriors. Instead of being overwhelmed by the vast scope of the landscape, Lee brings the focus down to the small, and a sense of loneliness creeps in. No one does emotional repression quite like Ang Lee.
This was my first martial arts film that prominently featured wire work. The first time I saw it, I was distracted by it. Now, though, I accept it as a storytelling technique. If you can get past that, you'll find a lovely Chinese fairy tale, full of romance and longing and the occasional fantastic martial arts sequence.
Arbitrary Rating: 8.5/10.