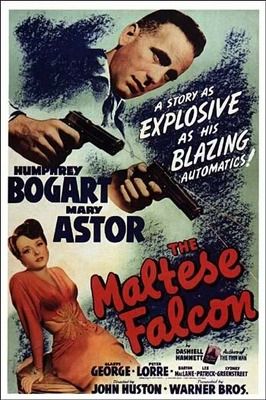 The Maltese Falcon
Director
: John Huston
Starring
: Humphrey Bogart, Mary Astor, Peter Lorre, Sydney Greenstreet
1941
It's daunting to know where to begin when speaking of a film as grand and prominent in the American film lexicon as
The Maltese Falcon
. There is so much to speak of historically when referencing this film. It's John (Anjelica's father) Huston's directorial debut, a man who went on to have an amazingly prolific career spanning decades (
Treasure of the Sierra Madre, Prizzi's Honor
). It's Humphrey Bogart's first role as the legitimate hero of the film; he had been languishing for ten years as a B-movie supporting gangster before Huston had the sensibility to promote him. And most importantly for me, it's considered by some, myself included, as the first true entry into one of my most favorite genres, American film noir.
In terms of noir, there is so much that makes
The Maltese Falcon
fit within the genre, yet it is also notably lacking a few significant pieces. As Roger Ebert points out, almost all the action takes place within tidy and well-maintained middle of the road hotel rooms; there is not the dank, dark grit and sleaze of
Force of Evil
or
Detour
. It is notably absent. Furthermore, there is astonishingly little use of significant shadows, such as those that make
The Third Man
an amazing visual experience. However, when it comes to hard-boiled dialogue and harder-boiled, dangerous characters,
The Maltese Falcon
has noir in its blood in spades. Literally – Sam Spade is our hero.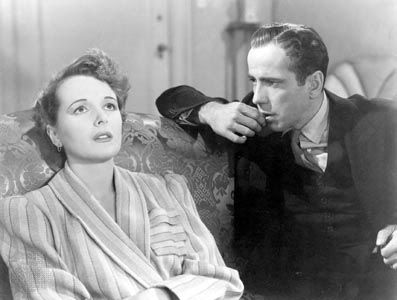 Humphrey Bogart's portrayal of Sam Spade is, so far, my favorite Bogart performance. His partner is killed in the opening five minutes of the film, and he barely blinks. Back at his detective office the next day, his partner's widow, dressed in black and clutching a handkerchief to her eyes, passionately kisses Spade. Oh, so THIS is the type of man we are dealing with! He seems to have extraordinarily little respect for anyone, be they cops, gangsters, or women. He refuses to play by anyone else's rules. He is not intimidated by the police when they suggest that he might have killed his partner, or by the shady gang of thieves he falls in with when they demand he brings them the eponymous bird. Highly questionable morals aside, Spade is thorough delight. When presented with a breathless and frightened woman who asks him to track her sister at the beginning of the film, you can see him practically rolling his eyes at her all-too-obvious act. He sees through people with unnerving clairvoyance, never taking anyone at face value. He laughs a lot, too, something highly unusual for a noir, but something that seems to fit with the character Bogart has created. Spade is not laughing from joy, but out of a dry, droll, cynical approach to every situation in which he finds himself. He sees the absurdity of the people and circumstances around him. He even laughs at himself, when he realizes that he has become just as absurd as those around him. It lightens the film, this characterization, and raises Spade above the dizzying plot twists and turns, grounding him as the only force that we, the viewer, can believe in. Well, mostly believe in. He is a noir hero, after all.
Humphrey Bogart does a phenomenal job as the lead of the film, but the rest of the cast meets him every step of the way. Mary Astor, an actress I admire more and more the more often I see her, plays the inscrutable Brigid O'Shaughnassy. She first appears in Spade's office as "Miss Wunderly." What a wonderful name, pun intended. She is pretending to be so good, so chaste, so pious, so nervous, so… wonderful. We know that this simply MUST be an act. Later, she says for Spade to find her under the name "Miss LeBlanc." Again, she is Miss White. Pure, virginal, innocent… these are the words conjured to mind at her second name. Astor does a phenomenal job, shifting from breathless fear to cunning viciousness at the turn of a hat. She is an unknowable femme fatale, something that makes her even scarier than Phyllis Dietrichson. We never see how evil she is, we simply hear about it, and this makes her frightening. The thought that at any moment she could turn from a fainting, weeping lady could turn into a tiger is unsettling, and certainly helps us understand why Spade so callously turns her in at the end of the film, despite her protestations of her love for him.
Then there's the incredibly delightful duo of Sydney Greenstreet, as The Fat Man, and Peter Lorre as Joel Cairo. The first onscreen pairing of the two, both would be seen together in such notable films afterwards as Casablanca. Lorre is sniveling, weasel-like, and effeminate – really, what else would he play? He does it so well! His first scene with Bogart is downright hysterical; Lorre, as Cairo, tries several times to hold Spade at gunpoint and search his office. Finally, after beating him several times, Spade laughingly relents and lets little Cairo, gun in hand, have his way. Cairo never had the upper hand, but it's legitimately funny watching him think he does. Greenstreet, in his first onscreen role, is shrewd, calculating, and oddly formal. As the closest thing the film has to a criminal mastermind, he gets to deliver some of the best lines of the film. "We'll talk, if you like. I'll tell you right out, I am a man who likes talking to a man who likes to talk." "I distrust a man who says 'when.' If he's got to be careful not to drink too much, it's because he's not to be trusted when he does." He has a strange appreciation for Sam Spade, one that makes him less evil and more likeable. Greenstreet's best turn is when he realizes the falcon is a fake. He is unnerved, unmanned, and utterly discomposed. He doesn't know what to do. He is thoroughly undone. And yet, in a matter of seconds, The Fat Man carefully rebuilds his calculating exterior, hoisting up his serious face, trying to conceal his anger and disappointment.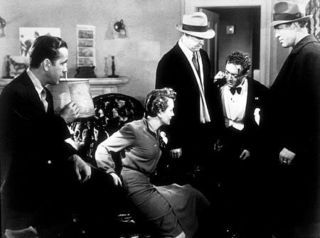 The photography, the last thing I'll mention, is utterly astounding. Huston's composition is on par with Welles' in
Citizen Kane
, which was made the same year. Shot after shot after shot is beautiful and gorgeous and breathtaking. Huston loves going from oneshot to oneshot in scenes where the entire criminal gang is assembled, most frequently shooting the close-ups from a slightly grotesque lower angle, one that shows all the shadows and wrinkles on the face. There is a seven-minute long take in the film that apparently took two days to rehearse and shoot. I would write about how awesome it is, but I still haven't found it yet. Why? Because it's done in such an inconspicuous manner that it blends seamlessly with the rest of the film. Even knowing of its existence, even specifically looking for it, I missed it in my recent rewatch. Huston's camerawork is brave and gutsy without crying out with too much overt braggadocio.
Notice I haven't mentioned the plot. The plot TRULY doesn't matter. This is a film about shady characters dangerously dancing with one another. Why they're dancing is totally irrelevant. The Maltese Falcon itself is another perfect example of a MacGuffin.
The first time I saw
The Maltese Falcon
was about six years ago and I did not know much, if anything at all, about film noir. I have since developed a delicious taste for noir – and I honestly believe it is an acquired taste. Noir grows on you, it slowly seeps into your blood, it infects your brain. At first glance, especially in today's modern world, it seems full of old-fashioned stereotypes. After awhile, however, the stereotypes seem to fall away, and you long for the gritty world of crime, shadow, duplicity, and moral ambiguity. It's a fascinating world to enter and play in, a world that makes me giddy with excitement. Having learned to truly love this world, revisiting
The Maltese Falcon
was an infinitely more satisfying experience than seeing it the first time. I loved seeing it again, and, given that I'm now running close to 1400 words, there is oh so much to say about it. It truly deserves its place as one of the greatest American films ever made.
Arbitrary Rating: 10/10. I got a thing for this genre, man. I really do.