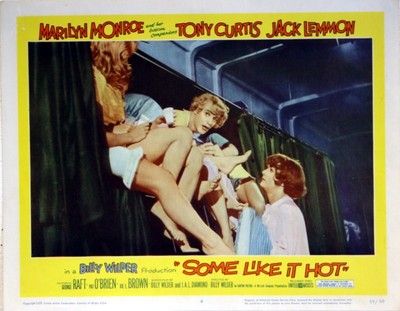 Some Like It Hot
1959
Director
: Billy Wilder
Starring:
Tony Curtis, Jack Lemmon, Marilyn Monroe, George Raft, Joe E. Brown
I have what I call "comfort movies." Movies I can count on to cheer me up when I'm feeling blue, movies I know will make me laugh or distract me from my problems. I'll be up front about this right now: these movies get a bit of a free pass from me when it comes to critical evaluation. If a movie is capable of repeatedly making me feel warm and fuzzy when I need it most, it gets entered into the pantheon of "comfort movies," and is forever cherished.
Some Like It Hot
is one such movie. Fortunately, though, my adoration of
Some Like It Hot
doesn't need to be apologized for; the film stands up for itself.
Set in Prohibition-era Chicago, broke jazz musicians Joe (Curtis) and Jerry (Lemmon) have the misfortune to be witness to a mobster's (Raft) hit. Fleeing the city for their lives, the only transportation or work they can find is for an all-women ensemble heading to Florida for the winter, so they decide to dress up like dames to land the gig and get out of town. Problems arise when Joe, posing as Josephine, falls for the band's lead singer Sugar (Monroe), and Jerry, posing as Daphne, catches the wandering eye of a bachelor millionaire (Brown) looking for his next ex-wife.
This is a full-on screwball comedy, constantly moving from zany to outrageous and back again. That being said, I give Billy Wilder such credit for managing to make the initial mob hit, the driving force for the plot, a little scary. He makes it perfectly clear these mobsters are not to be trifled with, and even though the violence pales in comparison to what we get nowadays, there's real tension in that scene. Likewise, when the gangsters show up in Florida, thus book-ending the film, Wilder brings back a bit of the mortal peril. This time, though, it's much more played for laughs as the triumphal finale of the screwball comedy. The only other time Wilder breaks from straight up screwball comedy is in a few key scenes between Curtis and Monroe, setting up the central romance. It helps the film that Wilder occasionally comes down off the wacky zany confection for moments of heart and just a touch of pathos. This IS Billy Wilder, after all.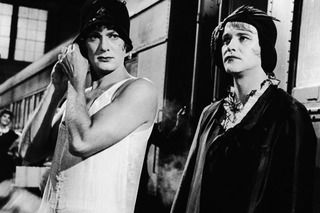 The script is an utter gem. It's gags and jokes and laughs at every angle. Not only are the situations hilarious, but it's the type of script where if you stop paying attention for a few seconds, you probably just missed at least three jokes. There are double entendres, plays on words, slapstick humor, one-liners, in-jokes and references, and more than enough cross-dressing jokes to shake a stick at. It's honestly impossible for me to try to pick a favorite bit or favorite lines; all I can do is gush about the all-together fantasmoniousness of it. This is a fast, witty, zany, FUNNY movie.
Perhaps the only thing more apparent than the comedy is the crazy sexiness. There are so many not-so-veiled references to getting laid and both female and male genitalia, it's no wonder that this film started the death knell for the Hays Code. It was so raunchy for the time that the studio didn't even bother trying to get it approved; they knew it wouldn't pass. But
Some Like It Hot
was released anyway, and turned out to be rollicking success, thus weakening the Hays Code forever. Personally, it's wonderful finding all these little sex gags in a movie from the fifties. Watching Jack Lemmon play a woman talking to a woman but inferring that he's a man and wants to sleep with her… well, it's trippy, but it's sexy, and very funny.
This is easily Marilyn's sexiest role. Although she's playing the dumb blonde to end all dumb blondes, and I prefer her roles with a bit more bite (think
Gentlemen Prefer Blondes
), there is nothing more blatant than when she sings "I Wanna Be Loved By You." The dress she wears is pure sex; she looks nude. The spot light on her cuts right down to her nipples, enhancing the illusion that she is naked; apparently, the spot was added in attempt to make it a little less sexy. I'm not sure if it didn't wind up making it more so! And then there's Marilyn herself; all luscious lips and bedroom eyes and a voice that makes clear the distinction between "loved" and, well, something else.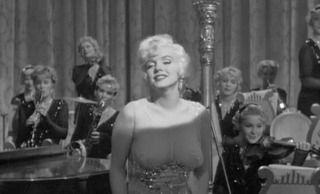 I honestly can't say who I prefer in this film, Tony Curtis or Jack Lemmon. When I start watching the movie, I prefer Jack Lemmon in all his nebbish glory. Lemmon playing Daphne is hysterical as he goes from prissy over-the-top femininity to lascivious hound dog, and I can't get enough. But then Tony Curtis launches into his Cary Grant millionaire impression, and I lose it, and the pendulum swings back in his direction. The two are absolutely perfect together. I suppose that Lemmon ultimately wins out for the storyline of Josephine and Osgood, which is so ludicrous and so hysterical, and ends the film, but I can be convinced either way.
When the AFI came out with their 100 Years, 100 Laughs list,
Some Like It Hot
topped the chart. At the time, I was still in college, and had only seen it once or twice. I was astounded that *this* was considered the greatest comedy of all-time. I mean, it was good, but best of all time? In the years since, though, my position has changed. Rare is the comedy that gets funnier on repeated viewings; to me, that's the mark of a truly great comedy.
Some Like It Hot
is exactly that. Granted, I still hesitate to call any one film the best of anything, but I completely understand why this movie wound up on the top of the AFI list. This is a movie I can count on. I know it will make me laugh, I know it will make me smile and snicker repeatedly, and I know I'll have a rollicking time while watching it.
Arbitrary Rating: 10/10. One of my favorite "comfort movies."