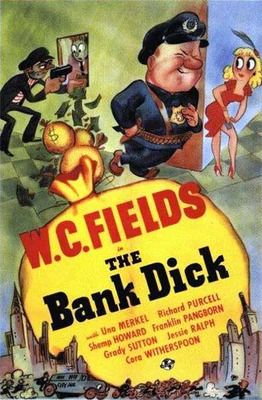 The Bank Dick
1940
Director:
Edward F. Cline
Starring:
W.C. Fields, Una Merkel, Cora Witherspoon, Franklin Pangborn
If ever there was a live action film that is essentially nothing but a real world cartoon,
The Bank Dick
is that film. This is W.C. Fields' film from start to finish and as it moves from scene to scene, it's just another chance for him to display his comedic talents.
The "plot" is about Egbert Sousé (Fields), accent grave over the "e" as the characters remind us (DAMMIT IT'S AN ACCENT AIGU, NOT AN ACCENT GRAVE!!! OK, I got that off my chest). He lives with a house full of women who constantly henpeck him, so he's constantly running off to the saloon. There's a scene where Sousé takes over as director on a movie set, but we mostly focus on how Sousé manages to unwittingly foil a bank robbery. On account of this, he's appointed the new bank detective, or bank dick. Of course, he immediately runs into trouble involving some misappropriated funds, and he has to hold off the bank examiner (Pangborn) from discovering the embezzlement. Naturally, the film ends with a raucous car chase.
This is not a movie to be judged on its plot or narrative structure at all. This is simply a series of set pieces for Fields to perform. I don't think there's a single serious scene in the movie at all. Even when the characters start to fret about the embezzlement charges, they do so by acting in funny ways, fainting in funny ways, and lashing out in funny ways. Throughout the entire thing is Fields' unique sarcastic mutterings and mumblings. Because a good portion of his brand of humor is relatively subtle, it translates well to modern audiences. Of course, though, there's also a tremendous amount of broad physical comedy; Fields seems constantly to be running into walls, doors, coat racks, etc. that he doesn't see. This stuff works too.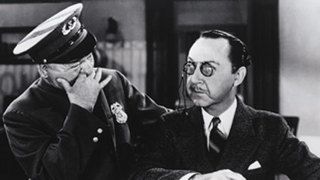 One of my favorite parts of this comedy was the Sousé family. His wife Agatha (Witherspoon) and her mother and their youngest daughter walk around as a triad, eating constantly and yelling at Fields in between bites. When the youngest daughter says she's going to throw a rock at her dad, Agatha says, "Respect your father. What kind of rock?" They cracked me up everytime they were onscreen.
The names in this movie are killers. Egbert Sousé, as silly as it sounds, is positively tame compared to some of the other doozies that appear on the cast list. The bank examiner is named J. Pinkerton Snoopington; the eldest daughter's fiancé is Og Oggilby; there's even a character named Filthy McNasty! I can picture W.C. Fields going to town while he was writing the script, creating the most ludicrous names he can come up with. The casting upholds the silliness of the names; this is probably one of the least attractive casts assembled in a classic Hollywood flick. But really, when you have a character named J. Pinkerton Snoopington, you don't want Errol Flynn playing the role. You want someone who, well, LOOKS like a J. Pinkerton Snoopington!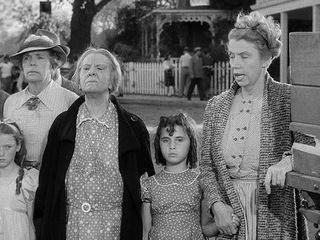 A great deal of the humor in this film comes from alcohol, and this film is from the era where drunks were silly and comic rather than a source of tragedy. Sousé loves the stuff and schedules his day around getting as many drinks in him as possible. A sequence in the middle of the film is all about Sousé getting Snoopington so drunk he can't audit the bank properly. Again, the drinking is played for extreme laughs. If you can get past that, it's good stuff.
I want to come back to the idea of this being a live action version of a cartoon. In this film, Sousé has several items thrown at him; glass, stone, etc. All of these items bounce off him with a silly little "boing" sound effect. Everytime there's a pratfall, we hear a slide whistle. The frenetic finale with the car chase is full on cartoon, with men literally flying into the air as if they were bouncing on trampolines. Every Bugs Bunny cartoon I ever saw owes a debt to W.C. Fields.
The Bank Dick
isn't a great film on the order of
Citizen Kane
, certainly, but it's solidly funny in many different ways. The plot is ludicrous, but the characters are ludicrous as well, so it fits. It's zany, but it's aged pretty well.
Arbitrary Rating: 7/10.