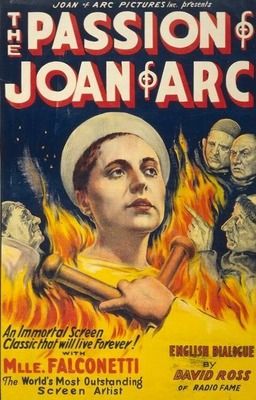 The Passion of Joan of Arc
1928
Director:
Carl Theodor Dreyer
Starring:
Maria Falconetti
Sight & Sound
's almighty critic's poll of "Best Films of All Time," published only every ten years, just came out. While all the media attention was focused on the fact that
Vertigo
ousted
Citizen Kane
for the number one spot (btw,
Kane
was still number two), I find it more interesting to focus on some other, more significant changes in the list. Like the presence of a film in the top ten list when it never breached that mark before.
The Passion of Joan of Arc
, a film considered lost until the 1980s, continues to climb in world esteem, jumping to the number nine slot on one of the most prestigious Top Ten lists in the world.
The story is based on the transcripts of Joan of Arc's trial and subsequent execution. There is no set-up; we jump right in. Joan (Falconetti) is interrogated by priests who ask her questions about her faith and her belief that God gave her a mission. She holds fast to her declarations. They threaten her, torture her, try to confuse her. Ultimately they charge her with heresy and she is burned at the stake. So, y'know, this summer's feel-good popcorn flick.
All kidding aside, this is a beast of film, a towering presence in the film canon. Anything I say about it is slightly ludicrous because it's all been said before by people far more eloquent. But hey, this is my blog, so I'll nobly make an attempt.
Yes, this film was made in 1928, but holy guacamole, it doesn't feel like it. There is such power and tension and dizzying drama here, this feels like it should slot in with the emotional powerhouses of cinema from much later decades. I compare
The Passion of Joan of Arc
to other movies of its time, and it's a total joke. For reference, we had a couple of melodramas in 1928 in
The Crowd
and
Docks of New York
; silent comedians were still busy putting out
The Kid Brother
in 1927 and
Steamboat Bill Jr.
in 1928; and Sergei Eisenstein continued his propaganda push from the USSR with
October
. While I've seen my fair share of films, I know that I have loads left to see, but from my limited experience, this was the film landscape in 1928 when
The Passion of Joan of Arc
was made. Melodramas, comedies, and the experimental/propaganda flicks.
The Passion of Joan of Arc
is none of these things, being instead a highly rigorous drama that never stoops to melodramatics, confronting issues of faith and politics and organized religion head-on, and doing it all with tremendous style.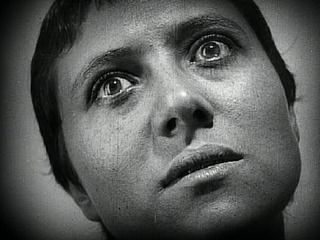 For me,
The Passion of the Joan of Arc
is impressive because of Falconetti's performance and Dreyer's camerawork. Falconetti was a stage actress at the time; thank goodness Dreyer did not go with a film actress. By using Falconetti, he was able to get a much subtler performance. Her face conveys such pain and despair; I perfectly understood the world of Joan in the film. She cannot understand why she is being interrogated; she cannot understand why she is being considered a heretic. She believes in God, she loves her God, and she ultimately comes to terms with the worldly fear that eats away at her. She makes her peace with the hate and intolerance that surround her. All of this through an incredibly simple yet wildly powerful performance. Straight up, there is not another silent film performance that matches this one.
Dreyer's camerawork is so unique. This is a film of faces; while it's not true that every shot is a close-up, I'd estimate that at least half of the film is up close and personal with the faces of the actors. And what faces they are; while Falconetti's is a beautiful portrayal of pain and anguish, all of Joan's judges are things of grotesquerie. Dreyer is unflinching in his camera, shooting from low angles and using harsh lighting and no makeup in order to highlight every wart, double chin, and wrinkle he can find. Without no sound and minimal intertitles, it is clear who the enemies are.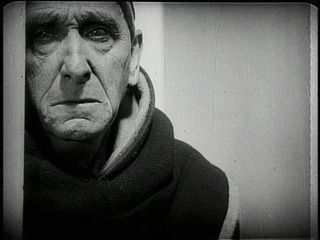 The set, which Dreyer built exclusively for this film, helps to contribute to this somewhat surrealistic treatment of its subject. In the actual castle that Dreyer built to stand in for the castle at Rouen where Joan was tried, everything, even the torture chamber, is sparkling clean and white and fresh. The set is borderline art nouveau, like a stripped down version of that style, with all the clean lines and geometric angles. There is a bare minimum of props or set decoration; the focus is squarely on the actor against a plain background. Against this set, Dreyer places his camera at some very unique angles. In one scene where the judges enter a room through a door – a simple enough shot – Dreyer's camera is at such a low and bizarre angle, it looks as though the judges are ascending up to the earth through a hole to the underworld. We do not see the door; we don't even see the room. We see the arched ceiling and watch these caricatures diagonally enter up and to the right in the shot. All of this makes for a very disconcerting shot, and why I call it somewhat surreal.
Ultimately,
The Passion of Joan of Arc
is a challenging film to watch. It's emotionally harsh; there is such injustice being carried out here, and Joan is so sympathetic in its face, it's hard to watch her burn at the stake. Furthermore, movies like this one push a very unique button in my soul. I have deep-seated problems with organized religion, so I have given it up completely. A movie like this reconfirms my belief in the injustice and intolerance perpetrated by The Church, not just in our current day and age, but over the centuries. But this movie is about more than that; I look at Joan, at how powerful her faith is, and I am fascinated and perhaps a little bit jealous. I still don't know where I fall in terms of my spirituality. Movies like this one make me think about that issue, and that's a very profound thing for me. Of all directors, Ingmar Bergman's work really taps into that vein in my soul; I find
The Passion of Joan of Arc
to feel like a precursor to Bergman's repertoire.
Arbitrary Rating: 9/10