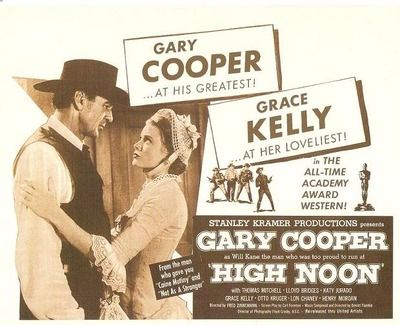 High Noon
1952
Director:
Fred Zinneman
Starring:
Gary Cooper, Grace Kelly, and many other recognizable faces
I make no bones about the fact that westerns aren't really my thing. Luckily,
High Noon
is touted as "the western for people who don't like westerns." I don't know if I would completely agree with that, but I do think that the themes present make it more accessible. For a western made in the fifties, there's a profound cynicism in
High Noon
that a modern audience can connect with.
Marshall Will Kane (Cooper) has just married his lovely new Quaker bride Amy (Kelly) when word comes in that an outlaw he put away five years ago has been pardoned and is on his way back for revenge. Amy protests, not believing in guns or violence, but Kane has his principles and must stay in town to fight the gang. Trouble is, Kane runs into massive difficulty in recruiting townspeople who are willing to help him fend off the outlaws.
High Noon
is a bit of a loaded film. It was made in the midst of McCarthyism, and screenwriter Carl Foreman was a victim of anti-Communist blacklisting. As such, the idea of Will Kane looking for help but having his friends one by one turn their back on him takes on a powerful allegorical meaning. The film won four Oscars, including Best Actor for Cooper, and was nominated for three other; it did not win in the Best Screenplay category. The weakness of the townspeople also riled up a number of Hollywood's biggest names, most notably John Wayne and Howard Hawks. Both were so disgusted with the portrayal of classic American Western in
High Noon
, they teamed up to make its antithesis in
Rio Bravo
in 1959. All of which makes
High Noon
have an interesting place in the social fabric of 1950s Americana, but how is it as a film?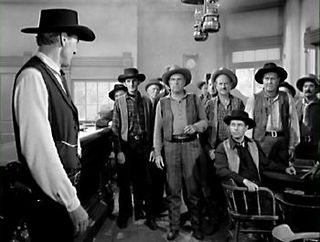 High Noon
shows a bit of creaky arthritis around the edges, and the plot certainly feels a touch predictable at times, but what I like about it is its central motif of "no one being there when you need them." One by one, each townsperson backs down and turns away from Kane. I'm fascinated by the reasons given for each of them, highlighting the various ways in which people are weak. There is the judge who sentenced the outlaw five years ago, being upfront about his cowardice and getting out of Dodge. There is a former deputy who will only join Kane if Kane helps him with a promotion. Kane refuses, saying he will not buy his help, so the deputy resigns. There are tired old lawmen are too jaded to see the point in continuing to fight the good fight. There is the mayor, who is worried that the town will lose what are essentially described as tourist dollars if other towns hear of a gunfight in Main Street, so he pushes Kane to leave in order to avoid bad word-of-mouth. I enjoy that there is not just one reason given, but multiple. As sad as it is, most of the reasons sound somehow legitimate. These are not evil people, but weak people, each weak in their own unique way. Although at the time the film was bathed in anti-McCarthy aura, it is not wholly obvious nowadays; instead, I read something different in the film. The idea of knowing what the right thing to do is, but having everyone around you constantly argue and bicker and give weak-ass reasons to avoid doing it did NOT necessarily read Blacklisting to me; rather, I heard "Modern America Political Quagmire." Again, I do not want to use these reviews to talk about politics, but I think that everyone can agree that it is near impossible to get anything done in American government these days. We constantly argue and snipe at one another while everything seems to be staying stagnant. The frustration I felt while watching
High Noon
was very much akin to that I have felt with the government and politicians. What's good about
High Noon
is I was able to equate it with my own feelings; the original allegorical intent was not laid on too thickly to keep me from interpreting it in my own way.
The very weakness of the townspeople – the heart of the black streak that runs through the film – must have come for a shock back in 1952. This is the era of classic cut-and-dry Westerns, where the good guys wore white and the bad guys wore black and there was a clear distinction between the two. Well, while Kane is clearly good and the outlaws he's fighting are clearly bad, the condemnation of pretty much everyone else had to be a shock to the system of people thinking they knew what Westerns were all about. I can understand (without agreeing) why John Wayne labeled this an "un-American" film; it does not paint a positive picture of an American town. In coming years, the type of people shown in
High Noon
would continue to pop up in Westerns, only their flaws would become more pronounced as the genre grew edgier and darker. Hollywood had certainly produced dark and cynical films prior to
High Noon
, but the Western seemed to be considered untouchable;
High Noon
broke that rule.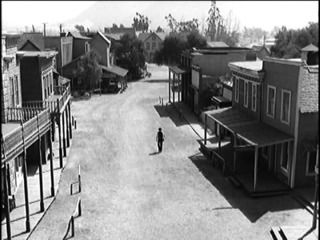 I love the musical theme of the song, "Do Not Forsake Me, Oh My Darling," repeated again and again as part of Dimitri Tiomkin's great score. It's a painfully beautiful little song; plaintive and lamenting, with a repetitive percussion that symbolizes both a heartbeat and the ticking of a clock. I would rank it highly amongst my favorite movie music themes. I hope you like it too; if you don't, they play it over and over again, and I can easily understand someone getting annoyed with that.
In terms of performance, I find Gary Cooper lacking. Yeah, he won Best Actor, but for what? For playing a particularly good version of himself? Fundamentally, I just don't think Gary Cooper is a good actor, and no film has yet convinced me otherwise. I think he has two expressions: bland smiling and blank frown. Don't get me wrong, I enjoy Gary Cooper. I just don't think he's a good actor. He always seems to play himself. With a Gary Cooper movie, I know exactly what I'm getting from him (bland smile, blank frown, everyone acting around him). I suppose I like his inherent charisma because, as I said, I enjoy Cooper, I just don't think he's a good actor.
Everyone else around him is superb. Grace Kelly in a career-making early role is fantastic as Kane's flinty-as-steel Quaker bride. Thomas Mitchell, he of nearly every early Western you can think of, shows up as the mayor. A boyish Lloyd Bridges (
Airplane!
) is Kane's deputy who is out for what he can get. There's also Lee Van Cleef, Otto Kruger, Lon Chaney Jr., Harry Morgan, and Katy Jurado, all familiar faces. They are all great, and all of them play their roles to perfection.
If I was recommending classic Westerns, this is probably one of my go-tos. It's short, it's accessible, and it has a nice gimmick of taking place in real-time. It's a bit stodgy, but I am convinced it was ahead of its time in terms of the dark streak running through it.
Arbitrary Rating: 8/10